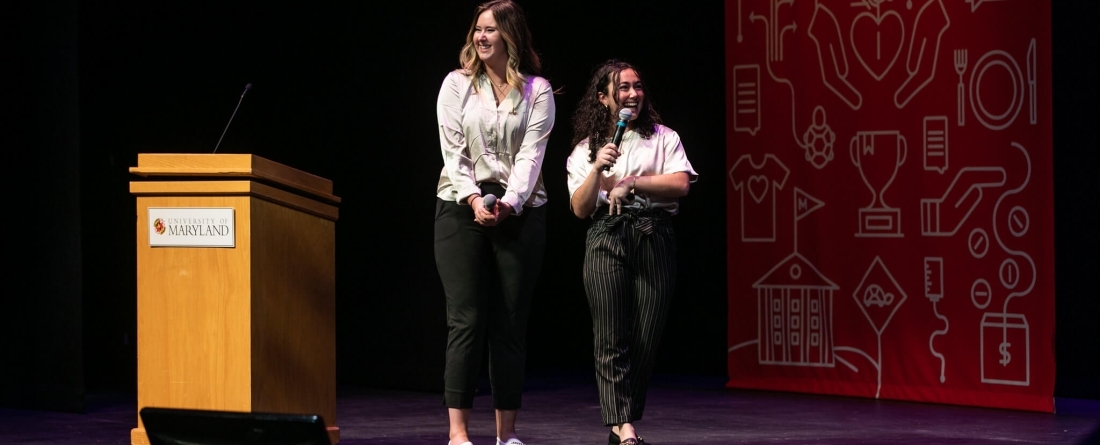 Share your social impact and compete for a chance to win a share of more than $20,000
Students from across campus spend the year advocating, fundraising, volunteering and developing solutions for pressing social issues. The Challenge culminates in a Finals event where six teams pitch their project or venture and the impact they've made for the chance to win a share of more than $20,000.
Apply by January 14
Register for an Information Session
You are a great fit to complete in the Do Good Challenge if you are… 
Currently engaged in a project, initiative, program or venture that is creating a significant positive social impact on or off campus 

Creating a positive social impact as an individual student or a new or existing student group, student organization, fraternity or sorority, or any other type of student-led, student-run project, initiative, program or venture

Looking to share your impact with the campus community and social impact leaders, innovators and entrepreneurs

Seeking additional funding, resources, recognition and visibility for your efforts

Committed to developing a pitch presentation with the assistance of Do Good Institute staff and coaching partners
Program Details
The Do Good Challenge is a social impact pitch competition in two tracks - projects and ventures. Students compete by first submitting a written application to share the impact that you or your team has created. Applicants are reviewed and advanced to Semi-Finals if they have created the most significant social impact. For Semi-Finals, competitors develop a 5-minute pitch that summarizes the issue or community they are focused on, their strategy for addressing it, the impact they've created, and their plan for the future. Semi-finalists will also answer impromptu questions from a panel of judges. Semi-Finals judges recommend the top competitors to advance to Finals. Finalists work closely with a coach to refine and develop their pitch. At the Finals event, the top six teams make their pitch and answer questions on stage from a panel of expert judges.
Important Dates and Deadlines  
December 1, 2023

: Applications Open

January 14, 2024

: Applications Close

March 8, 2024

: Semi-Finals Pitch Event

March 12, 2024

: Finalists Notified 

March 25 - April 30, 2024

: Finalist Coaching Sessions

April 30, 2024

: Do Good Challenge Finals
Learn More
Find out more information below about the Do Good Challenge, benefits of participating, eligibility requirements, application process, past winners and more.
Students and teams that advance to the Finals of the Do Good Challenge will be able to: 
Compete for up to $5,000 in prize funding as well as additional Audience Choice awards during the Finals event 

Share the impact that they've made with campus and community leaders 

Spread the word about their project or venture through Do Good Institute social media platforms and web stories 

Receive coaching on how to craft an effective and engaging pitch presentation and build public speaking skills with help from the Do Good Institute  
This Do Good Challenge is open to any student or student groups at the University of Maryland, College Park. The specific requirements include the following: 
Applicants may apply as an individual or a team. Teams may be new or existing (such as student organizations, fraternities or sororities, or academic programs).

Teams must have a designated lead applicant. Lead applicants must be full- or part-time, degree-seeking students at the University of Maryland, College Park when they apply. Lead applicants will be the main contact person for all ​communications​, notifications and questions, and take primary responsibility for receiving and responding to all correspondence. Lead applicants typically hold leadership roles for the organization, project, or venture and are highly familiar with its work and activities. 

Applicants must be full- or part-time, degree-seeking students at the University of Maryland, College. At least 50% of the team must be UMD students.

Applicants' proposals, projects, or ventures must be student-led and student-run. Faculty, staff and external partners should serve strictly as advisors or mentors.

Applicants authorize the Do Good Institute to edit and publish proposal, project, or venture information – including team member information (including names, colleges, majors and other affiliations), impact data, photos, videos, testimonials and success stories – in web and printed materials. Some teams may be profiled on our website and may appear in Do Good Institute, School of Public Policy, and University of Maryland publications and other promotional materials.
Students interested in the Do Good Challenge will need to apply using our application portal. Please submit your application before 11:59pm on January 14, 2024. 
Have questions about how to write a compelling application? Join our virtual Challenge Application Q&A Sessions to learn more about what makes a great application, the facts and figures you want to include, what you need before submitting, and so much more. There will also be plenty of time to ask questions! 
Challenge Application Q&A Session Dates:
December 4, 2023 at 11-11:30am EST

December 7, 2023 at 1-1:30pm EST

January 5, 2024 at 10-10:30am EST

January 10, 2024 at 2-2:30pm EST
Check out past teams and winners from the Do Good Challenge!
2023

: Kesem at UMD (Projects) and Sustainabli (Ventures)

2022

: Combating Overdoses in Rural Areas (Projects) and Vitalize (Ventures)

2021

: Roots Africa (Projects) and Chat Health (Ventures)

2019

: FLAME (Projects) and Hydraze (Ventures)

2018

: TerpThon (Projects) and Symbiont Health (Ventures)

2017

: Vintage Voices (Projects) and James Hollister Wellness Foundation (Ventures)

2016: Terps Against Hunger (Projects) and MedFund (Ventures)

2015: Miles for Smiles (Projects) and Press Uncuffed (Ventures)

2014: Students Helping Honduras (Projects) and Justlikeyou.org (Ventures)

2013: Microjusticia

2012: Food Recovery Network
FAQs
Explore the tabs below to find answers to your most frequently asked questions.
More than $20,000 will be awarded during the Do Good Challenge! Expert judges will select prizes based on issue, idea, impact, and potential shared in the team pitches and Q&A. Each of the three finalist teams in each track compete for a $5,000 first place prize, a $2,500 second place award, and a $1,000 third place prize. There will also be additional Audience Choice awards given out during the Finals event. 
Semi-finalist teams will also have the opportunity to compete for funding. During the Finals event, semi-finalist teams will participate in a Showcase to highlight their work. The audience's two favorite teams will get on stage to deliver a lightning pitch for the chance to win a $750 Audience Choice prize
The Venture Track is designed for students that are addressing an issue by creating a novel, innovative, or creative solution through a new or improved product, process, or service. The Project Track is for students that are addressing an issue through continued action, like fundraising, advocacy, volunteering, or community events and programs. Applicants also have the option in their application to request that we place you in the appropriate track if you are unsure which track to compete in.
The Do Good Challenge is a competitive opportunity. Past finalists have been well into the implementation phase of their development and are already seeing significant and measurable impact from their Project or Venture. Teams in the idea stage or that are just starting to implement may be better suited for Mini-Grants or being an Accelerator Fellow.
This year's Finals event will take place on April 30, 2024. The event is typically attended by at least 400 people. The audience will include other UMD students, local high school students, campus leaders including President Pines, deans, returning alumni, university donors, social impact professionals, and any of your invited friends and family.   
The event starts with a Private Reception for invited guests with refreshments, followed by a Showcase highlighting the work of the semi-finalist teams, and then the main Finals event where students will take the stage to make their pitches.
We will hold a Finalist Orientation Meeting on March 26, 2024 to go over the basics of the event and the preparation we recommend. All finalist teams will be assigned a coach to help them further develop their pitch presentation and their pitch deck. All finalist teams should expect to meet with their coach at least three times before the event. On the day of the Finals event, Do Good Institute staff will lead a tour of the event space and hold a dry run rehearsal so that everyone feels comfortable when they get on stage.
Sponsors
The Do Good Challenge and the Do Good Institute are made possible by the support and commitment of our dedicated partners, donors and community.
We are grateful to the Karen and Bruce Levenson Family Foundation for its visionary leadership and partnership since 2010. Today, thousands of student leaders are making a deep impact in their communities through UMD's Do Good Campus. 
A special thank you to Morgan Stanley Private Wealth Management for its decade-plus lead sponsorship of the Do Good Challenge; The Rothschild Foundation for its transformative partnership with the Do Good Institute and Do Good Challenge; and Freed Photography for capturing every in-person Do Good Challenge Finals.
Watch Here: Do Good Challenge Live Streams
Contact the Program Staff
Catherine Curtis
Program Coordinator, DGI
Catherine is a program coordinator at the Do Good Institute. She is responsible for managing the Impact Interns program in addition to several other on-campus educational programs for students.
Areas of Interest
Read Full Bio