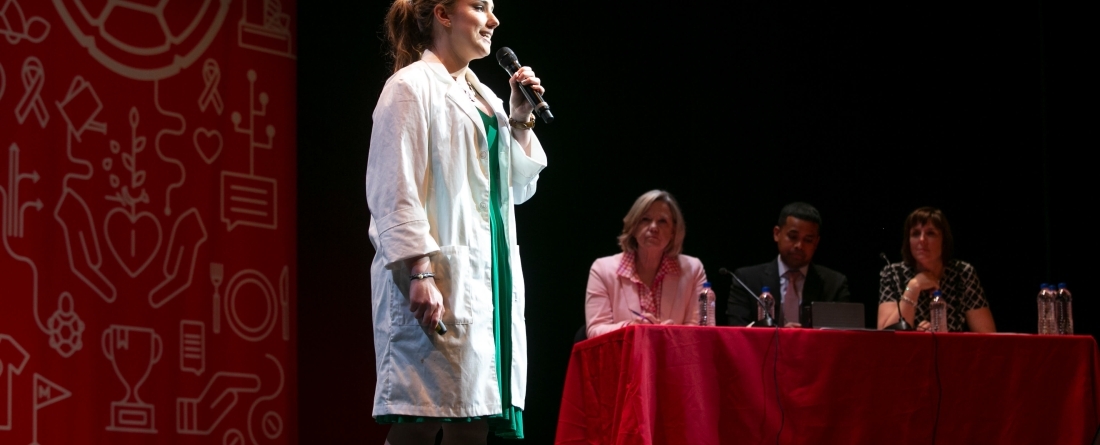 The annual Do Good Challenge inspires students to make a difference for the issues, ideas, and communities they care about.
Students from across campus spend the year advocating, fundraising, volunteering and developing solutions for pressing social issues. The Challenge culminates in a Finals event where six teams pitch their project or venture and the impact they've made for the chance to win a share of more than $20,000.
Please note, this year's Do Good Challenge Finals will take place at the Riggs Alumni Center.
Explore the 2023 Challenge Hub
Tune in to the livestream on April 24!
Do Good Challenge Details
Applications are open starting January 25, 2023 and are due on Sunday, March 12, 2023 at 11:59pm.
----
Have questions about how to write a compelling application? Join our Challenge Application Q&A Sessions to learn more about what makes a great application, the facts and figures you want to include, what you need before submitting, and so much more. There will also be plenty of time to ask questions!
February 6, 1pm

February 8, 11am

February 14, 2pm

February 17, 12pm

February 23, 10am
Mark your calendars now, with more details to follow!
January 25, 2023: Applications Open
March 12, 2023: Applications Due
April 1, 2023: Do Good Month Kick-Off
April 4, 2023: Semi-Finals Pitch Event
April 10, 2023: Finalists Announced
April 24, 2023: Do Good Challenge Finals at Samuel Riggs IV Alumni Center
More than $20,000 will be awarded during the Do Good Challenge! Expert judges will select prizes based on issue, idea, impact, and potential shared in the team pitches and Q&A. 
Project Track
1st Place: $5,000

2nd Place: $2,500

3rd Place: $1,000
Venture Track
1st Place: $5,000

2nd Place: $2,500

3rd Place: $1,000
Additional prizes (such as Audience Choice Awards) will be announced in the coming months. Prize amounts will vary.
Applicants may apply as an individual or a team. Teams may be new or existing (such as student organizations, fraternities or sororities, or academic programs).

Applicants must be currently enrolled toward a degree-seeking program at the University of Maryland, part time or full time. Over 50% of the team must be UMD students.

Teams must have a designated lead applicant. Lead applicants must be a full- or part-time, degree-seeking students at the University of Maryland. Lead applicants will be the main contact person for all ​communications​, notifications and questions, and take primary responsibility for receiving and responding to all correspondence.

Applicants' proposals, projects or ventures must be student-led and student-run. Faculty, staff and external partners are encouraged to serve strictly as advisors or mentors.

Teams are encouraged to incorporate members and/or mentors from different colleges or schools. Where appropriate, teams should consider mentors that represent community partners or industry experts with unique knowledge and experience in the field related to the proposal, project or venture.

Applicants authorize the Do Good Institute to edit and publish proposal, project or venture information – including team member information (including names, majors and other affiliations), impact data, photos, videos, testimonials and success stories – in web and printed materials. Some teams may be profiled on our website and may appear in Do Good Institute, School of Public Policy and University of Maryland publications and other promotional materials.
Contact Us
If you have questions email dogoodchallenge@umd.edu.
Want to stay in the loop with deadlines, opportunities for funding and coaching, and everything Do Good at UMD? Sign up for our newsletter and follow us on social @DoGoodatUMD.