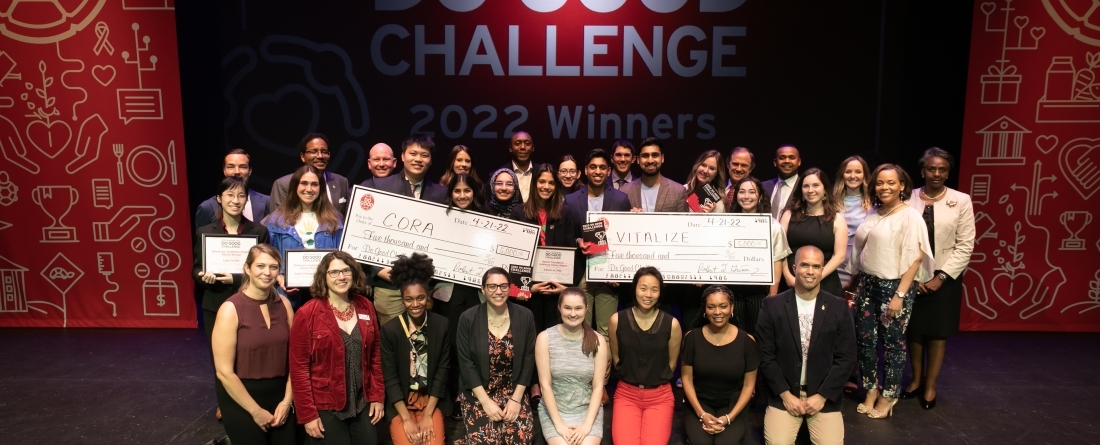 Six fantastic student teams competed for a share of more than $20,000 in last night's 2022 Do Good Challenge. The Challenge was held live and in person for the first time in three years at the Clarice Smith Performing Arts Center, serving as an engaging way for pioneering Terps to showcase their impressive impact. The evening included awe-inspiring student teams in a Do Good Showcase, commemorative 10th anniversary student-designed swag, fun with Testudo and the UMD Marching Band, and alumni cameos. 
Combating Overdoses in Rural Areas and Vitalize were each awarded the first place prize of $5,000 for their Do Good project and venture; and Kesem at UMD was awarded the $2,500 Neilom Foundation Audience Choice Award.  
University of Maryland President Darryll Pines helped kick off the show, speaking about the power of student innovation.
"Terps have found many ways to make a difference, from fundraising and advocacy to innovation," Pines said to the audience. "These students are dreaming up the fearless ideas that will move us fearlessly forward. Their imagination, motivation and determination are examples to all of us on how to pursue excellence and advance the public good." 
Venture track judge and former Do Good Challenge finalist Kahlil Kettering, MPM '15, offered his advice to the competitors while presenting awards.
"It is not easy being up here," Kettering said. "It is scary, it's intimidating, but it's a powerful experience. And I guarantee you that no matter what happens tonight, you will take the lessons from this experience with you into your professional life, and it's gonna make you a better person and a better professional."
After a welcome video and remarks from President Pines, Director Bob Grimm and Associate Director Sara Gallagher, the evening kicked off with our Project track. Co-founder and Executive Director Cedric Nwafor '18, CNML '21, of the 2021 Project track team ROOTS Africa introduced the Project track teams and shared updates since competing and winning last year. Then it was time for this year's Project track teams to take the stage. Teams had five minutes to pitch, then four minutes to answer questions from the judges. 
Project Track Finalists
Combating Overdoses in Rural Areas (CORA) is a student-led nonprofit that provides opioid education, resources and harm-reduction support to rural communities. Founded at University of Maryland, CORA has 100+ members spanning eight chapters across the nation. Members have dedicated more than 5,000 hours of service; raised $10,000 to support their partner rural communities; provided educational materials to 2,000+ community members; and testified on multiple pieces of Maryland legislation.
Get Ovary It engages in advocacy, outreach and service activities that support their vision of accessible and affordable menstrual health products, services and education as fundamental rights. In collaboration with the Student Government Association, Get Ovary It secured a $48,000 grant and successfully funded free menstrual product machines in 25 bathrooms on campus for the next three years. Their efforts started as a class project in professor Joannie Tremblay-Boire's Innovation and Social Change: Do Good Now and have been featured in a number of publications including The Washington Post's The Lily and The Diamondback.
Kesem at University of Maryland is one of the fastest growing student-led chapters across the nation that serves families impacted by cancer. Kesem at UMD provides year-long support including care packages, monthly calls and more to children ages 6-18 in the DMV area with the support of 80 community partners. Their flagship program is a free week-long summer camp that brings kids of similar circumstances together. Their 250+ student volunteers have dedicated an estimated 70,000 service hours to the cause. To date, they have raised $300,000 and supported 120 unique campers, with plans to host 100 kids at camp this summer.  
The Project judges had a wealth of expertise to offer from their work with underserved communities, environmentalism and higher education. Judges included Michelle Gilliard, Director, US Education and Workforce Department, FHI 360; Kahlil Kettering, MPM '15, Bezos Earth Fund Program Director, The Nature Conservancy; Paul Monteiro '02, Chief of Staff and Assistant Vice President of External Affairs at Howard University.
After the Project pitches, 2017 Do Good Challenge Venture winner Matthew Hollister, co-founder and Executive Director of the James Hollister Wellness Foundation, introduced the Venture track teams. 
Venture Track Finalists 
TeleShadowing is a virtual shadowing program open to all pre-health students from the undergraduate, post-baccalaureate and high school levels. As clinical shadowing opportunities have become limited because of the ongoing pandemic, TeleShadowing extends shadowing opportunities to students across the globe. 5,000+ students in more than 30 countries from 200 different universities have registered, and more than 250 students highlighted their TeleShadowing experience as a key part of their professional applications, with that number expected to grow as their reach expands. Since February 2021, the organization has provided 55 shadowing sessions for students. 
North Star Creations was founded by Mat and Elaine Parsons to address the gaps in emotional intelligence development for pre-elementary school children. Their philosophy is simple: give every child the best opportunities to learn emotional intelligence and empathy. In five months, they have brought in $9,100+ in sales with products reaching 450 children, and donated products to 250 teachers, reaching 4,500 children. They continue to grow their community partnerships with organizations like National Alliance of Mental Illness, Hope For Henry and Toys for Tots.
Vitalize is building the first clinician-centric mobile mental health app and web-based dashboard for hospital leadership. Vitalize has developed a library of 100+ mindfulness meditations addressing the unique challenges of working in healthcare; published initial peer-reviewed research to support its product development process; and raised $70,000 in non-dilutive funding. Vitalize conducted interviews with 150+ clinicians and hospital administrators to launch a successful beta product that is being tested by 100+ clinicians, with interest from other companies such as CareTech, which could reach more than 11,000 social workers. 
The Venture track judges came equipped with years of knowledge, having navigated careers in the social sector in areas such as philanthropy, childhood health and development and workforce preparedness. Judges included Chike Aguh, 2020 Tech and Human Rights Fellow, Harvard Carr Center; Chief Innovation Officer, U.S. Department of Labor; Chad Bolick, Executive Director, Head of Philanthropy Management, Morgan Stanley Private Wealth Management; and Kirsten Craft, MBA/MPP '17, President of Innovation, Strategy, Operations, Potomac Debate Academy.
While the judges finished their deliberations, Vanessa Barker, co-founder of Pawsible, and 2019 Showcase Audience Choice Award winner, took the stage to share how the organization has grown since competing and introduce the Showcase lightning pitches. Before the Finals, audience members were able to text in their vote for the Showcase team they believed could have the greatest impact. Two semi-finalist teams who earned the most votes were given the opportunity to present a lightning pitch on stage. The audience was then given the chance to text a vote for their favorite team to win additional funds for their projects. 
The two showcase teams that presented their lightning pitches were Lean On Me, an emotional support text line for college students and Game Changers New York, a nonprofit that donates gently used sports equipment to underserved youth.
2022 Do Good Challenge Awards
Project Track Awards
First Place Project Team ($5,000): Combating Overdoses in Rural Areas
Second Place Project Team ($2,500): Kesem at UMD
Third Place Project Team ($1,000): Get Ovary It
"We really liked how you were able to in such a short time expand nationally, especially providing positive impact and growth during a pandemic in very challenging locations where infrastructure is hard," Kettering said while presenting CORA with their first place prize. 
Venture Track Awards
First Place Venture Team ($5,000): Vitalize
Second Place Venture Team ($2,500): North Star Creations
Third Place Venture Team ($1,000): TeleShadowing
"Huge congratulations to these men. They have raised a ton of money, and they're building an amazing product that we think is going to have a significant impact in the world that we live in today," Craft said while presenting Vitalize with their first place prize. 
Audience Choice Awards
After watching the finalist pitches, audience members were invited to text in a vote for their favorite finalist team to win an additional $2,500. The winner of this year's audience choice awards are: 
$2,500 Neilom Foundation Audience Choice Award: Kesem at UMD 
$750 Showcase Audience Choice Award: Lean On Me
$500 Showcase Audience Choice Award Runner-Up: Game Changers New York
10th Anniversary Sponsors
The Do Good Challenge was founded by the University of Maryland School of Public Policy's  Do Good Institute in 2012. This year's Challenge Finals was sponsored by Morgan Stanley Private Wealth Management, The Rothschild Foundation, the Richard E. and Nancy P. Marriott Foundation, the UMD Center for Engineering Concepts Development, the Neilom Foundation, and Freed Photography.