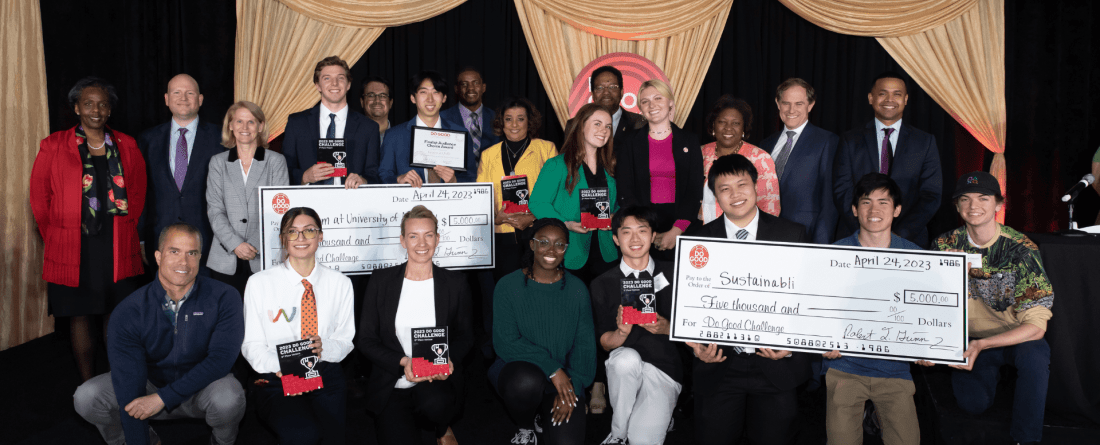 Six purpose-driven student teams competed for a share of more than $20,000 in last night's 2023 Do Good Challenge. Hundreds of students, staff, faculty and community members gathered in Orem Hall of Riggs Alumni Center to witness a night full of unforgettable impact. The evening included awe-inspiring student teams in a Do Good Showcase, alumni cameos, three video features from the new Change the World exhibit, and trailblazing finalist teams sharing their stories of impact. 
The 2023 Finalist teams were selected from groups and organizations across campus that are tackling issues ranging from combating isolation in the elderly community to helping families impacted by cancer. Ultimately, Kesem at UMD and Sustainabli were each awarded the first place prize of $5,000; and Kesem at UMD was also awarded the $2,500 Finalist Audience Choice Award.  
University of Maryland President Darryll J. Pines helped kick off the show, speaking about the power of student innovation.
In every corner of our campus, you can find students, staff and faculty from all backgrounds making a difference. Each of them is living out our core truth, that our individual well-being is enduringly bound to our collective well-being. Our Do Good Campus is one to make sure that we continue to inspire students to turn their ideas into action and make impact in communities both near and far to College Park.

Darryll J. Pines President, University of Maryland
Venture track judge and former Do Good Challenge finalist Kahlil Kettering, MPM '15, offered his advice to the competitors while presenting awards. "What we've witnessed tonight is not just great presentations. We've had an opportunity to play a role in stories. Stories are one of the most powerful tools we've had throughout human history. The ability to tell a story is invaluable, because in every job you have, you're gonna have to tell a story. Whether advertising, giving reports and presentations, or talking with a patient; being able to tell a story is so critical. I want to recognize each of these teams tonight who came up here to tell their story because it's really hard to do." 
Do Good Institute Director Bob Grimm and Associate Director Sara Yousefnejad Gallagher, MPP '14, both offered remarks, outlining how the competition works, and sharing updates on the Institute's growth. The competition kicked off with our project track, which was introduced by Evan Lutz '14, founder and CEO of Hungry Harvest, a farm to doorstep produce delivery service on a mission to end food waste and hunger.  He also shared updates on his company since competing in the 2014 Do Good Challenge. In their nine year existence, Hungry Harvest has grown from a single farm stand on UMD's campus to a full blown organization who struck a deal on Shark Tank, and today has rescued more than 40 million pounds of food, launched more than 50 of their own branded products and served 100,000+ individuals through their 'food is medicine' program. 
Then it was time for this year's Project teams to take the stage. Teams had five minutes to pitch, then four minutes to answer questions from the judges who have a wealth of expertise to offer from their work with corporate finance, strategic leadership, civic innovation and social entrepreneurship. Judges included Rosie Allen-Herring, president and chief executive officer, United Way of the National Capital Area; Paul Monteiro '02, Secretary of the Maryland Department of Service & Civic Innovation; and Cedric Nwafor '18, CNML '21, chief executive officer, Roots Africa and 2021 Do Good Challenge winner. 
Project Track Finalists
Kesem at University of Maryland is one of more than 130 student-led chapters across the nation that serves families impacted by cancer. Kesem at UMD provides year-long support including care packages, monthly calls and more to children ages 6-18 in the D.C., Maryland and Virginia area. Their flagship program, a free week-long summer camp meant to bring kids of similar circumstances together, hosted a record-breaking 62 campers and through community partnerships  brought 45 counselors as well. This summer, they already have 80 registered campers. On Giving Tuesday, they raised more than $50,000,  bringing their fundraising total to more than $400,000. Since the group started, its 400 student volunteers have dedicated an estimated 85,000 service hours to the cause. 
Preventing Sexual Assault (PSA) is dedicated to protecting and uplifting survivors, as well as acting as the voice for students in all matters related to Title IX and power-based violence. The 100+ members of the group conduct education and prevention programs to create safe spaces for survivors and facilitate conversations with UMD Administration and all Greek life organizations on campus. PSA sits on the Sexual Assault Prevention Committee and Title IX Advisory Board and works toward the prevention of sexual assault on campus by combating rape culture and advocating for policies that address sexual assault. The organization raises awareness and funds through events such as the Occupy McKeldin 12-hour sit-in, fundraisers at College Park restaurants, and a "Slut Walk" to end victim-blaming, with the most recent "Slut Walk" garnering more than 150 students protesting. In 2021, PSA's Occupy McKeldin event received a showing of more than 1,000 attendees, and their organization has grown from seven initial members to more than 100 in their eight year existence. 
The 2nd LT Richard W. Collins III Foundation was established to defeat the intolerance and fear that robbed the Collins family of their beloved son, and promote scholarship and mentoring to ensure the success of young people of color. The Foundation successfully lobbied the Maryland General Assembly for the enactment of the 2nd LT Richard W. Collins III Hate Crime Law as well as the 2nd LT Richard W. Collins III Scholarship Program Legislation, which provides $1 million in annual scholarships, with 700+ Maryland HBCU students receiving scholarship funding since 2018. Through partnerships with Bowie State University and the Chesapeake Bay Outward Bound School, the Foundation brings together ROTC students from historically Black colleges and predominately white institutions for outdoor leadership exercises aimed at fostering community. 
After the project pitches, 2021 and 2022 Do Good Challenge winner Veeraj Shah '21 introduced the venture teams and shared updates on his journey since competing in the Challenge. "Through the Do Good Institute, I learned how to formulate ideas, how to execute on them, how to build teams, and how to raise funding. For me, the Do Good Challenge and coming to this event is always a homecoming. I have everything to owe to the people in this room who have given me the opportunity to make my dreams a reality." 
The venture track judges came equipped with years of knowledge, having navigated careers in the social sector in areas including philanthropy, corporate social responsibility, and natural climate solutions. Judges included Michelle Gilliard, Corporate Social Responsibility (CSR) leader, IBM Americas; Kahlil Kettering, MPM '15, Bezos Earth Fund program director, The Nature Conservancy, and 2014 Do Good Challenge finalist; and Daniel Widome, executive director, senior philanthropic advisor, Morgan Stanley. 
Venture Track Finalists 
Repurpose Farm Plastic LLC is designing a small-scale cleaning technology specifically for plastics used in agriculture. Plastic films and tubing are essential for farming, but at the end of the season, most of these materials end up in landfills, burnt in the field or buried in the soil. Repurpose Farm Plastic LLC is creating a process to collect and clean agricultural plastic waste at UMD farms and beyond - and has already been able to save 2 tons of plastic from landfills. The organization took first prize in the UMD 2020 AgEnterprise Challenge and has been accepted into the National Science Foundation I-Corp Program, the Mokhtarzada Hatchery (tech accelerator program), and received an $18,000 Sustainability Grant to continue to develop their machine that aims to help recycle some of the 1,800 tons of plastic waste produced by Maryland farmers each year. 
Sustainabli is a startup that creates B2B sustainability solutions for research labs, focusing on cost-effective fume hood management tools to reduce energy waste and carbon emissions. After completing a year-long pilot with 28 fume hoods in the chemistry department at University of Maryland, the startup saved the university nearly $15,000, with 89 percent of the scientists reporting they felt that the technology was nondisruptive to their work, and 95 percent reporting they would recommend the tech to other scientists. Sustainabli is working with university administration on potential plans to expand their tech to the rest of UMD and has developed partnerships with the International Institute for Sustainable Laboratories, My Green Lab, the University of Virginia, the University of Colorado Boulder, and the University of Alabama Birmingham. Their expansion could potentially reduce the University of Maryland's annual carbon footprint by more than 1,000 metric tons, translating to a 1,500 MWh reduction in energy waste and nearly $100,000 in savings annually. The group has raised about $10,000 in non-dilutive grants and participated in 3 Accelerator programs, including NSF I-CORPS. 
WISE Cities, LLC is a female-run startup focused on designing accessible technology to address the issue of social isolation among the elderly. The company's first app allows seniors to form local groups and gives community centers and local businesses the opportunity to connect with this typically hard-to-reach audience. Through the Smart City Challenge, WISE Cities was selected for a pilot opportunity with the City of Fairfax that provides them direct access to a community interested in their service for the benefit of their senior population and local businesses. Additionally, they have been able to connect with almost 200 community centers, businesses, governments, and networks to refine their product. They have received close to $20,000 in grants, credits and resources through the Dorm Room Fund, AWS Activate, Google Cloud and more. The product has been featured on MSN and Patch and has gained support from National Village to Village Network as well as individuals connected through AARP. 
2023 Do Good Challenge Awards
Project Track Awards
First Place Project Team ($5,000): Kesem at UMD
Second Place Project Team ($2,500): The 2nd LT Richard W. Collins III Foundation
Third Place Project Team ($1,000): Preventing Sexual Assault
"Your story is one of resiliency. You have competed in the Do Good Challenge three different times, delivering impact year after year. We saw resiliency in your story and we know there is nothing stopping you on this journey," Nwafor said while presenting Kesem with their first place prize. 
Venture Track Awards
First Place Venture Team ($5,000): Sustainabli
Second Place Venture Team ($2,500): Repurpose Farm Plastic
Third Place Venture Team ($1,000): WISE Cities
"Your well thought out financial model really resonated with us. Such a simple and yet creative solution. There's a really clear market niche that you've looked into and discovered, and you know who your audience is. There's a clear impact that can happen right away," Kettering said while presenting Sustainabli with their first place prize. 
Audience Choice Awards
Before the Finals, audience members were able to text in their vote for the Showcase team (Dare to Dream; Latina Pathways; Science Competitions Advocating for Learning Equity (SCALE); Terrapin Think Tank; and YOOL) they believed could have the greatest impact. Two semi-finalist teams who earned the most votes were given the opportunity to present a lightning pitch on stage. The audience was then given the chance to text-to-vote for their favorite team to win additional funds for their projects. 
The two showcase teams that presented their lightning pitches were Latina Pathways, a nonprofit with a mission to provide Latina immigrants pathways towards higher education, and Terrapin Think Tank, the first student-led policy incubator at UMD. 
After watching the finalist pitches, audience members were invited to text in a vote for their favorite finalist team to win an additional $2,500. The winner of this year's audience choice awards were: 
$2,500 Finalist Audience Choice Award: Kesem at UMD 
$750 Showcase Audience Choice Award: Terrapin Think Tank
$500 Showcase Audience Choice Award Runner-Up: Latina Pathways
2023 Do Good Challenge Sponsors and Partners
The Do Good Challenge and the Do Good Institute are made possible by the support and commitment of our dedicated partners, donors and community. A special thank you to Morgan Stanley Private Wealth Management for its decade-plus lead sponsorship of the Do Good Challenge; The Rothschild Foundation for its transformative partnership with the Do Good Institute and Do Good Challenge; and Freed Photography for capturing 10 years of Do Good Challenge Finals.
Did you miss the Finals event? You can watch it on YouTube here. And, you can learn more about this year's Do Good Challenge at go.umd.edu/challenge23.
Publications Carousel
All Finalists on stage at the 2023 Do Good Challenge Finals
President Pines gives remarks before the Challenge Finals
Students share their work at the Do Good Showcase
Guests gather at Riggs Alumni Center
Sustainabli, Venture Track First Place Winners
Repurpose Farm Plastic, Second Place Venture Track Winner
WISE Cities LLC, Third Place Venture Track Winner
Kesem at UMD, First Place Project Track Winners and Finalist Audience Choice Award Winners
2nd LT Richard W. Collins III Foundation, Second Place Project Track Winner
Preventing Sexual Assault, Third Place Project Track Winners
Terrapin Think Tank, Showcase Audience Choice Award Winners
Latina Pathways, Showcase Audience Choice Award Runner-Up