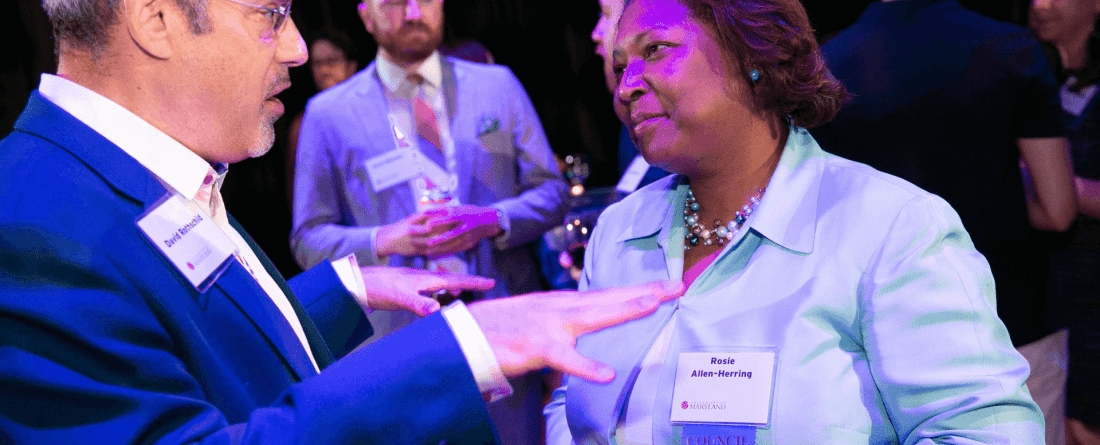 Prominent and Award-Winning Business, Nonprofit, and Government Leaders Make Up Our Advisory Board
In 2017, the Do Good Institute formed and launched its Advisory Board, a diverse group of change-makers from across industries – from nonprofits, social enterprises, government and the private sector. Our Advisory Board boasts a former cabinet secretary, a two-time Pulitzer Prize winner, a Forbes Top 30 Social Entrepreneur Under 30 and Do Good alums.
The Board works hands-on with students, staff, and faculty to further the Do Good Institute's mission. To learn more about how they support our work, click here. Advisory Board Members include:
Advisory Board Formation and Launch Announcement
Advisory Board Member Bios
Dedicated to helping his clients realize financial independence, David offers comprehensive, sophisticated guidance aimed at demystifying the complexities of the financial world. David, who holds a Bachelor of Science from the University of Maryland, entered the financial world in 1999 when he accepted the role of private client investment consultant at Charles Schwab. He later earned the role of senior wealth management advisor at TIAA in Austin and Houston, Texas, where he worked for 15 years. In 2019, he proudly joined Raymond James. An active member of his community, David is proud to volunteer his time to causes near and dear to his heart, including the Houston Food Bank and Star of Hope. In his free time, David is involved with the University of Texas System's Chancellor's Council, the Do Good Institute at the University of Maryland and the MD Anderson Cancer Center Advance Team.
Rosie Allen-Herring has served as President and CEO of the United Way of the National Capital Area since 2013. Immediately prior, she was the Managing Director of the Community Investment and Engagement Division at Fannie Mae. In that role, she led Fannie Mae's corporate philanthropic strategy, and oversaw the organization's social responsibility investments and employee engagement efforts nationwide. Prior to Managing Director at Fannie Mae, she served as the National Regulatory Compliance Manager, Housing & Community Development. She was also the Senior Deputy Director, Washington, DC Community Business Center.  She holds key leadership roles with several business and civic organizations, including serving on the Board of Directors for the Greater Washington Board of Trade, MedStar Health, Inc., District of Columbia Chamber of Commerce, Washington Area Women's Foundation, and the Girl Scouts Council of the Nation's Capital.  She earned a B.A. in Economics from Howard University, an M.B.A. from Strayer University and was an International Fellow of the United States-Southern Africa Center for Leadership and Public Values at the University of Cape Town (SA) Graduate School of Business and Duke University Graduate School of Public Policy. 
Nicky Goren is the president of NG Strategies. Before launching NG Strategies, she served as the President and CEO of the Eugene and Agnes E. Meyer Foundation, which awards nearly $7 million annually to organizations working to create lasting improvements in the lives of low-income residents in the Washington, DC region. Prior to joining the Meyer Foundation in 2014, Ms. Goren served for four years as president of Washington Area Women's Foundation and spent 12 years in senior positions at the Corporation for National and Community Service, including Chief of Staff  (2006-2008) and acting CEO (2008-2010). Ms. Goren currently serves on the Raise DC Leadership Council and on the boards of the District of Columbia College Access Program (DC-CAP), Federal City Council, Greater Washington Board of Trade, Trinity Washington University, and Washington Regional Association of Grantmakers. She holds a bachelor's degree from Brandeis University and a J.D. from Cornell University. 
Kahlil Kettering is the Bezos Earth Fund Project Director, The Nature Conservancy. He provides strategic management and oversees all of The Nature Conservancy (TNC) deliverables associated with the $100M Bezos Earth Fund gift to TNC. He serves as the point person working with project teams around the globe to collaboratively deploy and scale natural climate solutions to capture greenhouse gas emissions. Prior to this position, he served as the inaugural Urban Conservation Program Director for The Nature Conservancy Maryland/D.C. Chapter from 2015-2021 where he developed conservation strategies in Washington, D.C. and Baltimore, centered on implementing projects that elevate the intersection of protecting nature in urban areas and the benefits nature provides people in cities. Previously, he worked for five years as a program analyst with the National Parks Conservation Association in Miami, and one year working on sustainability challenges with the Cadmus Group. He began his career with the US EPA doing program analysis. Kahlil holds a Bachelor's degree in International Studies from American University, a Master's degree in Global Environmental Policy from American University, and a Master's of Public Policy degree specializing in Nonprofit Management and Leadership from the University of Maryland.
Bruce Levenson, Co-Founder, United Communications Group, began his career working in journalism at the Washington Star. In 1977, after working as a reporter for Observer Publishing's energy information newsletter, he and Ed Peskowitz launched United Communications Group (UCG) to provide proprietary, trusted content, expert analysis, news alerts and fast-changing data electronically to customers in the energy, government contracting and defense industries. UCG is now an international, privately held business information company that specializes in data, news and analysis for healthcare, energy, mortgage banking, technology, telecommunications and other industries. Bruce was a founding board member of publicly traded TechTarget, a company started inside UCG before going public in 2003. He has also served on the Boards of the Specialized Information Industry, Community Foundation of Washington, DC, Hoop Dreams Foundation and was president of the "I Have A Dream" Foundation of Washington. He was also a co-owner of the Atlanta Hawks.  He and his wife, Karen, are the driving forces behind the creation of the Do Good Institute. He holds a degree in political science from Washington University in St. Louis and a J.D. from American University. He loves to play basketball and golf, spend time with his grandchildren and eat Maryland hard-shell crabs. 
An award-winning journalist, Mr. Peskowitz worked for a number of newspapers and publications covering everything from congressional hearings on complex energy regulations to high-profile sports events. Prior to UCG, he was a speechwriter and legislative analyst for a trade group representing independent petroleum marketers.  Mr. Peskowitz served in the U.S. Army in Vietnam.  He and his wife, Penelope, have created non-profit foundations that support co-existence and bridge-building in the Middle East.  Mr. Peskowitz holds a bachelor's degree in History and Political Science from the University of Buffalo, and a Master's in International Affairs from the University of Pittsburgh. 
Dana Priest serves as the John S. and James L. Knight Chair in Public Affairs Journalism in the Philip Merrill College of Journalism at the University of Maryland. Ms. Priest is a two-time Pulitzer prize-winning investigative journalist who writes for The Washington Post.  She has spent the majority of her career focusing on national security, military operations and the U.S. intelligence agencies. In 2015, she worked with students to found Press Uncuffed, a student-led project to raise awareness about the plight of journalists who are jailed around the world. Under Ms. Priest's leadership, the organization competed in the Do Good Challenge. Since the project launched, eight journalists profiled by the project have been released. Ms. Priest holds a B.A. from the University of California Santa Cruz. 
Ambassador Schwab served as U.S. Trade Representative from 2006 to 2009.  She previously served as Dean of the University of Maryland School of Public Policy from 1995 to 2003.  Before joining the Administration, Ambassador Schwab served as President and CEO of the University System of Maryland (USM) Foundation and USM Vice Chancellor for Advancement.  Previous positions include Director of Corporate Business Development at Motorola, Inc. and Assistant Secretary of Commerce and Director General of the U.S. & Foreign Commercial Service during the Administration of George H.W. Bush.  Earlier in her career, she worked on trade policy for Senator John C. Danforth (R-Mo.).  She began her career as an agricultural trade negotiator at USTR.  Ambassador Schwab is a member of the Council on Foreign Relations and the Aspen Strategy Group, among other organizations.  She serves on the boards of Boeing, Caterpillar, FedEx and Marriott. She holds a B.A. from Williams College, a Masters from Stanford, and a Ph.D. from GWU. 
Prior to co-founding Imperfect Produce, which reduces food waste and hunger by collecting and distributing "ugly" produce, Mr. Simon served as Executive Director of the Food Recovery Network (FRN), which he founded in 2011 while he was a student at the University of Maryland, College Park.  Under Mr. Simon's leadership, FRN became the largest student movement against hunger with chapters at over 150 colleges. Mr. Simon is a Forbes 30 Under 30 Social Entrepreneur and won a Do Something Award on VH1.