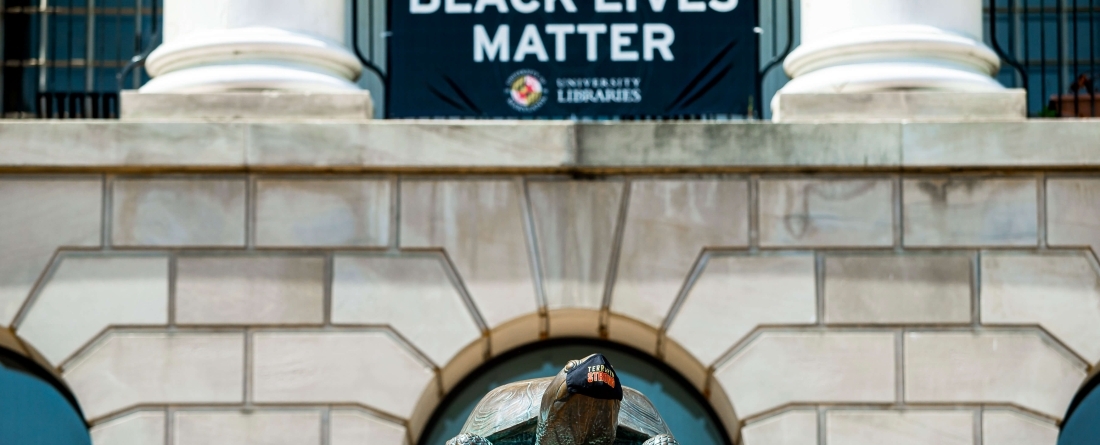 As the country continues to battle a pandemic, we have been faced - time and time again - with the devastating reminder of the hate, racism, and inequalities ingrained throughout our nation. In the face of such pain and uncertainty, the Do Good Institute is committed to working from within to bring about lasting change. 
The Institute is driven by passion and collaboration and rooted in empathy and the belief that any person can make a difference, now. Whether it is a student team working on a new community project, a staff member coaching a student, or a faculty member teaching a class, we understand that to ignite meaningful and lasting change, everyone in our community must consistently and intentionally embody inclusion and respect. But, we know that's not enough.
Throughout this academic year, we've been working to create a more equitable, inclusive, accessible, and just community and offer opportunities for all Terps – and we know we have more work to do. Since our letter last June, the Do Good Institute has been engaging with leaders, learning from our community, and investing in this work, by:
Educating Ourselves to Create an Equitable Do Good Community.
We're reading more, actively listening, watching films, and are committed to having difficult and open discussions about race and injustices in this country.
Over the summer, our full team joined the Black Students in Public Policy and the Diversity, Inclusion, and Belonging Taskforce for the SPP Antiracist Discussion Series using Ibram X. Kendi's How to Be An Antiracist as a tool to guide the discussion (which all team members have read).
We supported five student leaders with a scholarship to the Emerging Leaders Impact Fund program, through the Community Foundation in Prince George's County. The program is designed to engage more young people with philanthropy, civil engagement, and collective giving by pooling resources, learning first-hand about the issues affecting UMD's surrounding county from area nonprofits, and investing in organizations that help often overlooked communities. In addition, two Do Good staff members are participating alongside our students to learn more about the issues affecting Prince George's County and the impactful community-driven approaches that local nonprofits implement to serve our diverse community.
Our team is regularly attending workshops and trainings to help us ensure our programs and expertise are rooted in equity. Some of the continued education includes: a Intro to Equity Centered Human Design workshop; the 3-day Upswell conference, hosted by Independent Sector, focused on anti-racism and COVID-19 recovery; Stanford Social Innovation Review Nonprofit Management Institute's conference focused on reshaping social innovation; managing during COVID-19, racism in the philanthropic sector, and community-centered design; and School of Public Policy workshops and events, including a conversation with Howard Ross and Dr. Johnnetta Betsch Cole – two of the nation's leading voices on the topics of diversity, inclusion, unconscious bias, and belonging in workplaces and academia.
Supporting Black Communities and Leaders.
We're tapping on our networks to provide opportunities to leaders of color; using our platforms to amplify and celebrate diverse voices; and directing our resources to support Black Terps working to create effective change.
The third annual Give 8/28, a day of giving to support Black-led and Black-benefiting nonprofit organizations raised more than $250,000 from over 2,200 donors (a remarkable increase from last year's total of $30,949). Give 8/28 is led by the Young, Black and Giving Back Institute, founded by adjunct lecturer Ebonie Cooper Jean and supported by Accelerator Fellow and Philanthropy Fellow double alum Chelsea Brown (MPM '21). The Do Good Institute supported the event with a sponsorship that provided prizes during several "power hours" throughout the day to further incentivize Maryland nonprofits to participate. Five organizations won prizes: Community Advocates for Family and Youth, Creative Nomads Ltd, Focus Services Inc., iFLY Youth, and the Neighborhood Well, enabling them to expand services and programs; serve more families; offer more college scholarships; and build capacity.
We placed a heavy emphasis on working to recruit leaders of color for the Nonprofit Leadership and Management Graduate Certificate program with strong results. We continue to increase the diversity of our student body; half of the new students are POC and half of our TIAA Nonprofit Leadership Fellowship recipients are POC. And, this spring 100 percent of admitted students who are people of color decided to enroll in the program, compared with 80 percent just a semester ago. Our TIAA Fellows also receive professional development support including the opportunity for leadership coaching.
The Institute committed $5,000 (which will be matched 100% by the School of Public Policy) to the School of Public Policy Faculty Research Fund that aims to support research on racial equity and justice.
Our newly launched Impact Interns program ensures students have access to paid internships in the social sector and nonprofit leaders have added capacity, skilled interns, and the resources to fund this human capital. During the summer and fall programs, we paired nine undergraduate and seven graduate students with paid internship opportunities at 15 nonprofit and social impact organizations - 56 percent of interns are students of color, and 60 percent of nonprofits are led by POC. After positive response from the community, we've expanded the program and are offering 38 internship positions this summer with diverse organizations.
Making Our Programs More Accessible, Inclusive, and Diverse.
We're dissecting and reevaluating our program offerings such as Do Good Mini-Grants, the Do Good Challenge, Accelerator Fellows, workshops, and other programs. Terps come from diverse backgrounds, with unique voices and identities and we want to amplify them. We're working to ensure we include diverse voices and perspectives, that we consider the historical, political, and social contexts of the social issues students are working on, and that we're "decolonizing" any curriculum and programs we offer.
Our Mini-Grants program shifted to include priority issue area funding, for the first time in the program's seven-year history. In an effort to address the large need created by dual pandemics and the communities they impact, the Institute launched four priority funding areas to support teams that are working to address COVID-19; racism—especially anti-Blackness—or racial equality/intersectionality within the social issue; established community partnerships or extensive stakeholder engagement to show their initiative is welcome and needed; as well as new or emerging teams. Read about this year's recipients: September 2020; November 2020; March 2021.
To provide students with an opportunity to hear and learn from a range of nonprofit and social change leaders, the Institute launched a virtual speaker series called The Leadership Exchange to amplify diverse voices in the sector, with a focus on conversations with leaders of color and women. Taking place on a (mostly) weekly basis during the fall and spring semesters, we've convened 17 compelling and compassionate leaders. During the events, speakers share their diverse perspectives on a range of nonprofit, philanthropic, and civic sector challenges and important leadership lessons. The series has covered topics ranging from equitable community building with Michael Smith, My Brothers Keeper Alliance at the Obama Foundation; Philanthropy in Communities of Color with Tyrone Freeman, author, Madam C.J. Walker's Gospel of Giving: Black Women's Philanthropy During Jim Crow; the risks of not speaking up with Terri Freeman, President of the National Civil Rights Museum; Community-First Crisis Response with Tonia Wellons, Greater Washington Community Foundation; and more.
We have developed a set of Do Good Community Commitments highlighting the values and expectations present for our Do Good community and our efforts to support continual education; creating inclusive, diverse, and equitable communities; recognizing our own bias, and more.
To make sure all Terps know about our opportunities, we're assessing our current communications channels, developing targeted outreach lists for clubs, organizations, and departments where we can reach our diverse student population.