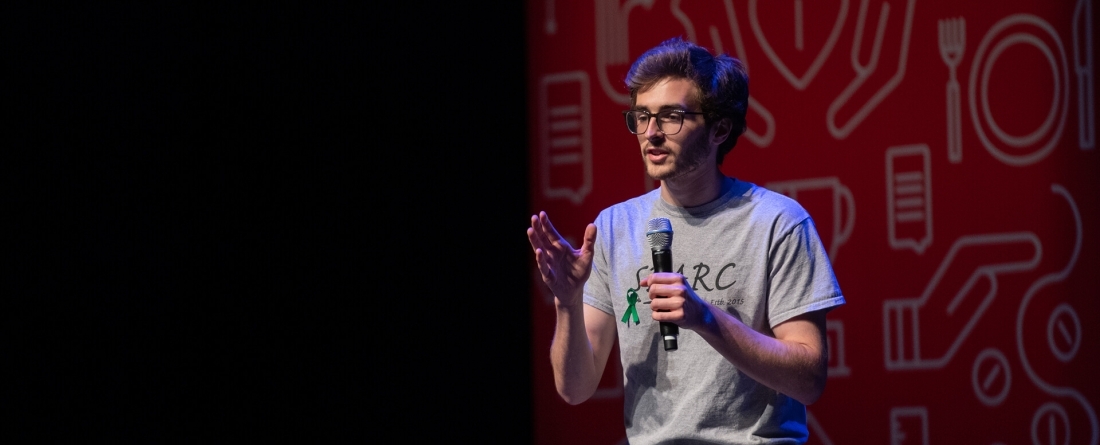 STORY FIRST PUBLISHED BY THE UNIVERSITY OF MARYLAND ALUMNI ASSOCIATION ON THEIR BLOG. READ THE BLOG HERE. 
WRITTEN BY ALLISON EATOUGH '97
Just days before the state of Maryland closed schools due to the COVID-19 pandemic, Anthony Sartori '18 walked into a Baltimore City public school to teach the last of his inaugural Mindful Living for Educators classes.
Sartori, a former psychology major and co-founder of UMD's Scholars Promoting and Revitalizing Care (SPARC), designed the 10-week pilot program to arm educators with resilience and mindfulness strategies.
"Some of the resilience-based skills that resonated the most were gratitude, joy and kindness," he said. "For example, we'd all be sitting in a circle, tossing a tennis ball around. If you catch the ball, you answer the question, 'What are you grateful for?'… The more time you devote towards the skill, the more you can move a room full of strangers to this incredible place of connection and sharing."
The idea, Sartori said, was for educators to go back and share the strategies with their students. Little did they know how crucial those strategies would become as schools across the city switched to virtual and then hybrid learning.
Recognizing the growing need for access to mental healthcare, Sartori and fellow Terp Roxy Kazemzadeh '20 launched Evolving Minds in the spring of 2020. The nonprofit organization empowers communities to "create a culture of care" through programs like Mindful Living for Educators and Resilient Leaders – a four-week program for students and professionals. It also hosts an e-learning platform for online mindfulness and resilience-based trainings.
"There's so much dehumanization in the world, and oppression," Sartori said. "Within the pandemic and outside of the pandemic, we live in a culture of crisis, one after another... Part of our mission is reminding people that there's so much value in pausing, slowing down and caring about the people around you."
Since the summer, more than 200 Baltimore City educators have participated in Evolving Minds' now virtual programs. And the strategies seem to be working. Surveys reveal participants experienced significantly fewer symptoms of stress, depression or anxiety and a boost in psychological well-being as a result of the programs, Sartori said.
"The really neat thing is seeing them bringing the skills into their lives, with their families and practicing with their kids before they're going to bed," he said. "That has been really a by-product and not something we expected to see."
Evolving Minds is a graduate of the Do Good Institute's Scale Your Impact program and a previous Do Good Challenge Finalist. To learn more about Sartori's work at UMD and with Evolving Minds, click here.