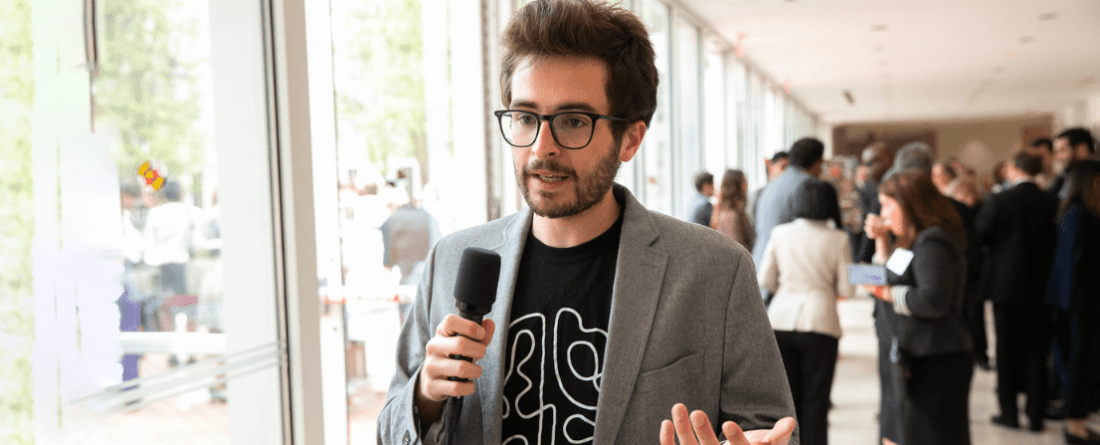 Personalized Support and Programing to Advance Your Impact
Are you committed to doing good and making an impact through a project, highly advanced student group, nonprofit or social impact initiative? Are you looking for expert advice and mentorship to guide and help to develop your leadership skills? The Do Good Institute's Scale Your Impact program might be just what you need. Scale Your Impact is an advanced, year-long mentorship and project development program for current UMD students and alumni. The signature program provides customized support that focuses on effective partnership cultivation and development, fundraising strategy, and impact measurement to University of Maryland students and alum looking to extend their reach and create a larger social impact. Scale Your Impact is seeking groups who have already begun implementation, have had success to date, and are ready to scale.
Each year, up to four projects or organizations demonstrating significant impact and innovation will be selected to participate and will receive support that will assist in the advancement of their project or organization, as outlined below. Applications are accepted on a rolling basis, from January through December. The program begins in January and runs through December.
Programming and Resources
Assistance with Fundraising, Communications & Marketing: develop an ongoing fundraising strategy, test marketing tactics and set and reach communications goals
Board Development: identify needed perspectives and expertise; board member recruitment support; interviewing and selecting members
Coaching and Mentoring: bi-weekly meetings with your portfolio manager to discuss progress, get advice and work on problems together. And, get connected to relevant corporate, nonprofit and government contacts.
Collaborative Work Space: meeting, event and work space that can be customized for your needs
Course Offerings (undergraduate and graduate level): learn from expert faculty who have real world experience; gain new skills and learn best practices in a variety of leadership, financial, fundraising and strategy courses that you can apply to your work immediately
Impact Measurement: research and create custom program evaluation tools and develop your long term impact measurement strategy
Issue Area and Sector Expertise: exclusive access to relevant workshops and programming as well as leaders who are tackling big problems and creating real solutions
A History of Supporting Terps Who Are Changing the World
The Do Good Institute has a history of supporting individuals and the advancement of innovative and impactful projects and ventures. Many Do Good alumni are now leading high-impact organizations with ambitious missions to change the world.
We have supported the development of numerous student groups, projects, nonprofits and businesses that have helped rescue imprisoned journalists from abroad (Press Uncuffed); raised more than $100,000 and built multiple schools for students in Honduras (Students Helping Honduras); and recycled and supplied medications to more than 50,000 people from South America who would otherwise not have access to the life saving health care. (James Hollister Wellness Foundation). Do Good alumni also include the founders of Imperfect Produce and Hungry Harvest, who were each named to Forbes' Top 30 Under 30 list of social entrepreneurs; the founder of Microjusticia Argentina, who was named the Ernst and Young's 2017 Social Entrepreneur of the Year; the Urban Conversation Director for the Nature Conservancy and CEO of District Stormwater, a finalist for the 2018 Pritzker Emerging Environmental Genius Award; and four alums named to DC Inno's 25 under 25, from the Washington Business Journal.
Who Should Apply
We are looking for UMD students and alum who are working on social impact initiatives and who are interested in benefiting from a mentorship program that will help them to scale their impact. University of Maryland students and alumni who have developed innovative projects, nonprofits or businesses that provide viable solutions to real-world problems are eligible to apply. Ideal candidates for Scale Your Impact have at least one year proven track record of impact and are more advanced than our Accelerator Fellows cohorts.
To gain maximum impact from the program, it is suggested that participants allot 10-15 hours per week throughout the year working on advancing their project, including submitting a monthly progress report, participating in at least one skills development workshop per month, executing at least one fundraising campaign or grant application, and coaching at least one Accelerator Fellow.
All participants will be matched with a portfolio manager who will lead them through the program and will be paired with other expert coaches as they progress. 
Submit Your Proposal Today!
Proposals should be 1-3 pages (single spaced, 12pt, Times New Roman) and describe your project, venture or organization's mission, results to-date, six goals that you would like to accomplish during the year long mentorship, any barriers to success that you've faced, as well as resources that would be most beneficial in helping you to scale up your organization. 
Proposals are accepted on a rolling basis January through December. Cohorts begin in January and July. Proposals should be emailed to Kisha Monroe, Do Good Accelerator Manager, at kvmonroe@umd.edu.