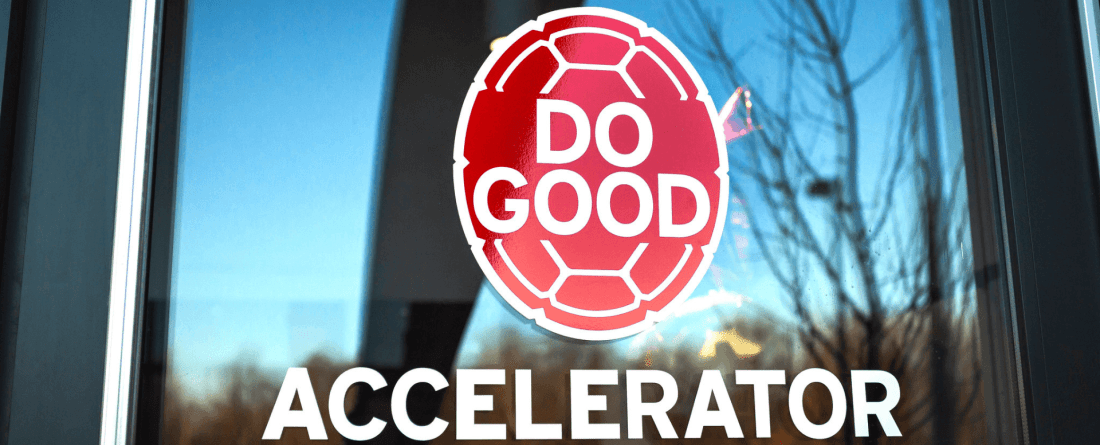 The Do Good Institute is excited to announce that 12 dynamic and gifted students will be serving as Accelerator Fellows this spring! The Accelerator Fellows program provides students with resources and opportunities to explore, test or scale up their idea, project or venture while working with peers who are also tackling important social issues. Throughout the 8-week program students meet with other Fellows, participate in 1:1 coaching sessions with field experts, engage in robust workshops and immerse themselves in various group activities with industry leaders. Fellows were selected after a competitive application process and will receive a stipend of $1,500 to support their work over the course of the program.
I'm very excited to welcome 12 Do Good Accelerator Fellows into our Spring '23 cohort and I am looking forward to working with each of them as they work diligently and passionately to reach their goals!

Kisha Monroe Do Good Accelerator Manager
From developing a website to improve policy advocacy and communication to designing technology for more efficient solar panels, our Spring Fellows are focusing on a number of important social issues. Read more about each Fellow's project below.
Aamna Cheema, Sehat4All
Aamna is a junior majoring in biological sciences and the student coordinator of Sehat4All, a free clinic that provides telemedicine check-ups for patients in rural Punjab, Pakistan. Aamna empowers students and healthcare providers to think globally and use their skill sets to further their support, whether it's providers administering free healthcare consultations, students volunteering to scribe clinic visits, or assisting with patient intake and outreach at medical camps. As a returning Accelerator Fellow, Aamna's goal for this semester is to establish Sehat4All as a 501(c)3 and apply for grants within the next 2-3 months. Aamna is also working to establish a social media presence for Sehat4All's website.
Aayush Gupta, Sequest
Aayush is a sophomore letters and sciences major and the founder of Sequest. Sequest is a part of Startup Shell and is testing a minimal viable product , the first, functional version of Aayushs' design, in the sandbox maker space. Aayush is making a mount that ensures that solar panels always point toward the sun, increasing the energy generation by 40 to 60 percent. During his time as a Fellow, Aayush is looking to accelerate Sequest's customer discovery and the development of its business plan. He plans to build a full-scale prototype that can go through wind tunnel testing and other certifications. By the end of the program, Aayush hopes to have signed letters of intent from solar installers.
Delara Rajabi Abhari, Global Health Brigades
Delara is a senior public health science major and the president of Global Health Brigades. The University of Maryland is a chapter of Global Health Brigades, a nonprofit organization of student volunteers and medical professionals working alongside local communities and staff to implement sustainable health systems. It works in remote, rural, and under-resourced communities in Honduras, Panama, Nicaragua, Greece and Ghana, communities that would otherwise have limited to no access to health care. This summer, Global Health Brigades plans to go to a refugee camp in Athens, Greece to provide medical services to refugees in the region. Through the UMD team's brigade, Delara plans to work with a local group of healthcare workers who will continue to volunteer year round so that the impacts of the brigade are not limited to their two-week time.
Devin Moore, Race to Speak Up 
Devin is a freshman psychology major with a minor in nonprofit leadership and social innovation and the founder of Race To Speak Up, an anti-bullying organization. Race To Speak Up educates youth about bullying prevention and empowers them to be upstanders. Devin is a first-time author of "Devin Speaks Up!", a children's anti-bullying book. The book talks about the importance of being okay with being different, the importance of kindness, and encourages kids to speak up to someone they trust and be upstanders for each other. Devin believes the conversation about anti-bullying needs to begin at a young age, and is working on the best ways to set up speaking engagements and furthering their anti-bullying and entrepreneurship work. 
Dhruvak Mirani, Advoc.io
Dhruvak is a freshman pursuing dual degrees in computer science and government and politics, and is the founder of Advoc.io, a website designed to help individuals and organizations communicate with their elected representatives and advocate for policy initiatives. Advoc.io allows users to turn their email into a template that they can share on social media or directly to their networks. From there, any other person can click the shared link and send the same email, making scalable issue organizing more effective than ever before. This semester, Dhruvak wants to adapt Advoc.io for local and state advocacy.
Ina Kovacheva, Arch Dash
Ina (B.S. '09, architecture) is currently taking graduate courses in computer science and is the CEO of Arch Dash. Arch Dash provides users with a comparative analysis of buildings and their sustainability. A car tells the driver its miles per gallon, an iPhone collects data on screen time, and a BGE bill tells a homeowner how efficient they are compared to their neighbors. However, there is very little about the design of buildings and how they compare to each other. Buildings have a huge impact on the environment and the people who use them. They account for over 40 percent of greenhouse gas emissions and 76 percent of electricity use in the U.S alone. More shocking is that 30 percent of that–or $200 billion–is lost annually. Arch Dash ensures that this data is easily accessible and helps inform the right decisions to create a more sustainable future and a healthier built environment. 
Isha Yardi, Terrapin Think Tank
Isha is a senior public health science major and the co-founder and co-director of Terrapin Think Tank. The Terrapin Think Tank (TTT) is the University of Maryland's first student-led think tank that seeks to develop innovative, community-driven policy solutions to health challenges facing Prince George's County community members. TTT hopes to be a mechanism through which students from the University of Maryland, faculty from the School of Public Health, and the Prince George's County Health Department can work together to improve the health of the local Prince George's community. Since its inception, TTT has been working directly with the Prince George's County Health Department to create, advance and critically evaluate county-wide policy initiatives to promote the health of county residents, such as working to implement Community Health Workers and telehealth workers in low-income private housing complexes and broadening transportation services to allow residents more access to health centers. TTT has just onboarded a team of six student fellows to support these projects. Student fellows are also taking a 3-credit course taught by TTT leadership on local policy advocacy, which includes a final project proposal that will be pitched to community stakeholders and faculty at the end of the semester. 
Kat Close, WISE Cities
Kat is a senior double majoring in environmental science and policy and graphic design and the founder and chief product officer of WISE Cities. WISE Cities is a female-run startup focused on designing accessible technology to address the issue of social isolation among the elderly. The company's first app allows seniors to form local groups and gives community centers and local businesses the opportunity to connect with this typically hard-to-reach audience. Through the Smart City Challenge, WISE Cities was selected for a pilot opportunity with the City of Fairfax that provides them direct access to a community interested in their service for the benefit of their senior population and local businesses. They have received close to $20,000 in grants, credits, and resources through the Dorm Room Fund, AWS Activate, Google Cloud, and more. The product has been featured on MSN and Patch and has gained support from National Village to Village Network as well as individuals connected through AARP. 
Nithya Rao, Students Engaged in Public Health (SEIPH)
Nithya is a junior public health science major and the president of Students Engaged in Public Health (SEIPH). SEIPH, the student organization of the Public Health Science program, aims to increase health equity in each of the following committee fields: mental health, minority health and environmental health. SEIPH concentrates on UMD and Prince George's County community, tackling real-world issues facing its residents such as health disparities for Black and brown communities and the realities of climate change. The minority health committee continues to research health disparities while the environmental committee plans to host events to promote sustainable living. Nithya's goal for the Fellows program is to support SEIPH's committees with additional resources, allowing them to conduct more research and plan even more events in the community.
Rie Kamikubo, Towards the Inclusion of the Deaf Community for Building Sign Language AI
Rie is a PhD student studying information studies and is the project lead for Towards the Inclusion of the Deaf Community for Building Sign Language AI, which aims to foster inclusion of the deaf community in the development of sign language AI. The development of AI for sign languages like American Sign Language (ASL) has received great attention in the machine learning fields, such as applying computer vision to recognize isolated signs or natural language processing to translate sign language glosses into spoken words. However, there are barriers in the domain that go beyond linguistic complexities. The goal of Rie's project is to develop an intervention to facilitate collaboration between machine learning experts and ASL experts. As a first step, Rie conducted a survey study with machine learning and deaf communities to understand their attitudes and expectations toward developing and/or using sign language AI and identify any mismatches among them. To address (potential) disconnect, Rie's next step is to implement online workshops to invite these two groups of experts as co-designers to explore strategies and future tools for effective communication of demands and collaborative practices in developing sign language AI.  
Saad Pirzada, inhale.AI
Saad is a senior majoring in biological sciences and the founder of inhale.AI. Growing up in a low-income working-class neighborhood, Saad was keenly aware of how his community was devastated by poor health literacy. In the summer before his junior year of college, he saw a tweet describing one of the few things that are the same between wealthy and working-class people: access to smartphones. This prompted his passion for digital health. Saad founded inhale.AI, a mobile app that provides easy-to-use, personalized and diagnostic inhaler education. Recent studies have shown that up to 84 percent of people use their inhalers incorrectly. Furthermore, these statistics affect marginalized communities the most and exacerbate pulmonary issues, furthering the health-economic gap. Features include machine learning that tracks most-made mistakes, personalized enhanced instructions, technology so a medical provider can scan your app to know where to help you right away, and universal language and audio support. With inhale.AI, the goal is to help everyone breathe with ease. As a returning Accelerator Fellow, Saad hopes to learn how to successfully collect data from a pilot, create an investor pitch presentation based on initial pilot results and develop a plan to further advertise the app for marginalized communities within the U.S. and globally.
Takiyah Roberts, Dare to Dream
Takiyah is a sophomore creating her own major based on entrepreneurship, minority studies and STEM with a heavy focus in art. She is dedicated to creating opportunities for underrepresented communities. She is the founder of Dare to Dream, which aims to provide underrepresented youth with the resources, opportunities and education to chase their dreams unapologetically. Takiyah and her team of 10 are diligently working to organize a tour that makes entrepreneurship more equitable while also working on a docuseries and programming for K-12 students. Currently, Dare to Dream is working on getting into high schools to deliver entrepreneurial education, with a number of visits scheduled in the coming months. As a returning fellow from last semester, Takiya hopes to successfully create a funding plan, learn how to find donors while managing donor relations, develop a digital platform for Dare to Dream that its students can use and develop a system in which Dare to Dream can effectively measure its impact.
If you would like to learn more about the Spring Accelerator Fellows' initiatives or would like to provide any feedback or assistance regarding their projects please reach out to Kisha Monroe, Accelerator Manager, at kvmonroe@umd.edu. You can learn more about our Accelerator Fellow program and past fellows here.