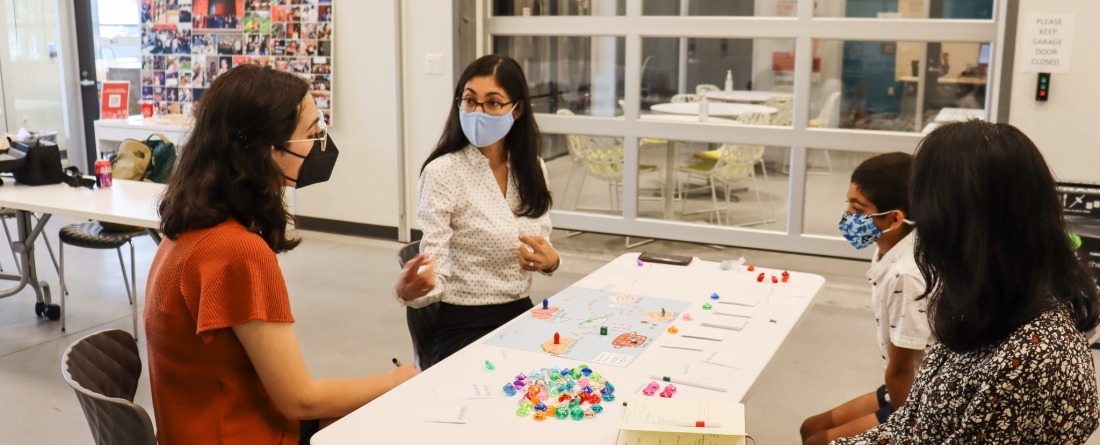 The Do Good Institute is excited to announce that ten dynamic and gifted students will be serving as Do Good Accelerator Fellows this fall! The Accelerator Fellows program provides students with resources and opportunities to explore, test or scale up their idea, project or venture while working with peers who are also tackling important social issues. Throughout the 8-week program students meet with other Fellows, participate in 1:1 coaching sessions with field experts, engage in robust workshops and immerse themselves in various group activities with industry leaders. Fellows were selected after a competitive application process and will receive a stipend of $1,500 to support their work over the course of the program.
The fall semester has been a busy semester for our Do Good Accelerator Fellows. This semester we are working with a cohort of ten and I am very motivated by their passion to tackle life's challenges and support one another as they work on their social impact projects.

Kisha Monroe Do Good Accelerator manager
From boosting literacy rates in rural areas to fighting microaggressions in the classroom, our Fall Fellows are focusing on a number of important social issues. Read more about each Fellow's project below. 
Aamna Cheema, Sehat4All
Aamna is a freshman neurobiology and physiology major in the College of Computer, Mathematical, and Natural Sciences and the student coordinator of Sehat4All. Sehat4all is a free clinic that provides telemedicine check-ups for patients in rural Punjab, Pakistan. Aamna empowers students and healthcare providers to think globally and use their skill sets to further their support; whether it's providers administering free healthcare consultations, students volunteering to scribe clinic visits, or assisting with patient intake and outreach at medical camps. Aamna is the younger sibling of Minahil Cheema, a past two-time Fellow, and founder of Teleshadowing. 
Tani Levisohn, DUNK
Tani is a junior economics major and the current president of DUNK, a volunteer after-school basketball program that aims to provide a free-of-cost, fun and healthy environment for elementary and middle school students in Prince George's County. Each week, volunteers from UMD travel to schools around the county to run programming for students — running drills, organizing scrimmages and cultivating an active environment all while emphasizing the importance of good sportsmanship, strong leadership, and living a healthy lifestyle. Tani believes that with the right guidance and proper resources, DUNK can expand to numerous schools in the area and make it a positive and crucial fixture of the larger PG county community.
Tani is working to expand DUNK to at least six elementary schools, enlist 20 student volunteers, acquire club status from UMD and secure SGA funding by the Spring 2023 semester. 
Kamal Narra, Kestrel
Kamal is a sophomore computer science major in the College of Computer, Mathematical and Natural Sciences and the CEO of Kestrel, a neobank for rural farms. Smallholder farmers are the future of global food security, producing more than 80 percent of food in the global south. Yet, because lenders lack the data required to comfortably invest in rural agriculture, only 3 percent of the industry's demand for financing is currently met. By combining digital finance with data analytics, Kestrel makes it easier to move money across agricultural value chains. Their machine-learning algorithms analyze agricultural data alongside transaction histories to create financial profiles for rural farmers, which allows Kestrel to provide farmers with data-driven financial statuses through their mobile app. Instead of traveling to pay for agricultural inputs and equipment in cash installments, farmers can now remotely purchase these products up front, all while building credit and contributing data back into Kestrel's algorithm models. Kamal is finishing app development by connecting databases to the user interface (UI), and strategizing the establishment of the product in rural markets through customer discovery and outreach.
Saad Pirzada, Inhale.AI
Saad is a senior majoring in physiology and neurobiology. Growing up in a low-income working-class neighborhood, Saad was keenly aware of how his community was devastated by poor health literacy. In the summer before his junior year of college, he saw a tweet describing one of the few things that are the same between wealthy and working-class people; access to smartphones. This prompted his passion for digital health. Saad founded inhale.AI, a mobile app that provides easy-to-use, personalized and diagnostic inhaler education. Recent studies have shown that up to 84 percent of people use their inhalers incorrectly. Furthermore, these statistics affect marginalized communities the most and exacerbate pulmonary issues, furthering the health-economic gap. Features include machine learning that tracks most-made mistakes, personalized enhanced instructions, technology so a medical provider can scan your app to know where to help you right away, and universal language and audio support. With inhale.AI, the goal is to help everyone breathe with ease.
Takiyah Roberts, Dare to Dream
Takiyah is a sophomore creating her own major based on entrepreneurship, minority studies and STEM with a heavy focus in art. She is dedicated to creating opportunities for underrepresented communities. She is the founder of Dare to Dream, whose mission is to provide underrepresented youth with the resources, opportunities and education to chase their dreams unapologetically. Takiyah and her team of 10 are diligently working to organize a tour that makes entrepreneurship more equitable while also working on a docuseries and programming for students K-12.
Mary Sangurima Loayza, Edu-Futuro
Mary is a first-year Master of Finance student at the Robert H. Smith School of Business at the University of Maryland, and founder of Edu-Futuro. Edu-Futuro believes that literacy can have a profound impact on the lives of individuals and their communities. As an international student from an underserved community in Ecuador, Mary experienced firsthand the lack of support for literacy in kids and youth in Ecuador. This inspired her to start the Edu-Futuro project last summer. The organization seeks to incentivize youth to embrace the habit of reading by providing easily accessible, Spanish-language books via book boxes located in the school halls where students can take a book, read it and then return it so that other students can read the book as well.
Mahum Qadeer, The Lahore Project
Mahum is a senior majoring in the innovation of extended reality and game design and is the [title] of The Lahore Project. The Lahore Project brings to life an interactive, augmented reality (AR) experience at the Lahore Museum in Pakistan. The project centers specifically around their most exclusive gallery, The Mughal Exhibit. This AR experience immerses museum visitors in a virtual tour that ushers them through the exhibit and educates them about the artifacts and their significance in South Asian history. The Lahore Project hopes to bring to light the importance of this history, the museum's contributions to preserving centuries-old artifacts and how each visitor has the potential to positively impact the museum's future.
Kenneth Yeaher, Frontground
Kenneth is a junior information science major and founder of Frontground, which means "The Cerner of Africa''. Frontground is a social enterprise focused on creating an electronic health record system for developing nations and emerging markets. Throughout Africa, most healthcare institutions are currently using a paper-based record system which is inefficient, insecure and disorganized. Current systems and processes slowdown work performance, disrupts medical workflow, costs hospitals money and time and lead to limited or no retrieval of previous patient records along with limited tracking of patient records from one institution to another. Frontground will provide cloud-based solutions for each problem along with a data warehouse for physicians and institutions to securely transfer and retrieve patient records in real-time.  
Jiawen Zhang, Microaggressions in the Classroom
Jiawen is a Ph.D. student in the department of communication. She earned her master's degree in higher education with an emphasis on student affairs and a bachelor's degree in media studies from Penn State University. As an instructor of record, she has always devoted herself to advocating for diversity and inclusion in teaching and learning. She initiated a training program - Microaggressions in the Classroom - to provide resources to support BIPOC and international instructors of record/graduate teaching assistants in addressing microaggressions in the classroom. The training program includes an individualized needs assessment of BIPOC and international GAs; modules that contain information about microaggressions, implicit bias, hate bias, etc., and different solution plans to those issues; as well as the customized impact evaluation of individuals who have completed the program. This training program was designed to deepen the awareness of microaggressions among BIPOC and international communities and to advocate for solidarity among all communities to promote diversity and inclusion in the higher education system. Jiawen is completing her second Fellows cohort this fall. Conducting usability tests for the resource site, Jiawen will invite five users to evaluate the site for the features and functions that need to be improved and receive approval for updates. 
Xinyi Zhang, The Multicultural Game
Xinyi is a doctoral student in the School of Psychology and the creator of the Multicultural Game Project. The Multicultural Game is a fun tool for parents, psychologists and educators to engage in conversations regarding anti-racism and multicultural issues with elementary and middle school children. The Multicultural Game is the first of its kind to blend elements of board game adventure with cultural awareness building. Through this game, Xinyi and her team (Mazneen and Amber) aim to 1. Validate the lived experiences of children of color and make them feel proud of their own cultures; 2. Increase children's cultural competency and social-emotional learning (SEL) skills; and 3. Empower parents and adults working with children to initiate deep discussions around cultural issues in their everyday life. Xinyi is thrilled to become a Do Good Accelerator Fellow and can't wait to further develop the game with her team this fall!
If you would like to learn more about the Fall Accelerator Fellows' initiatives or would like to provide any feedback or assistance regarding their projects please reach out to Kisha Monroe, Accelerator Manager, at kvmonroe@umd.edu. You can learn more about our Accelerator Fellow program and past fellows here.