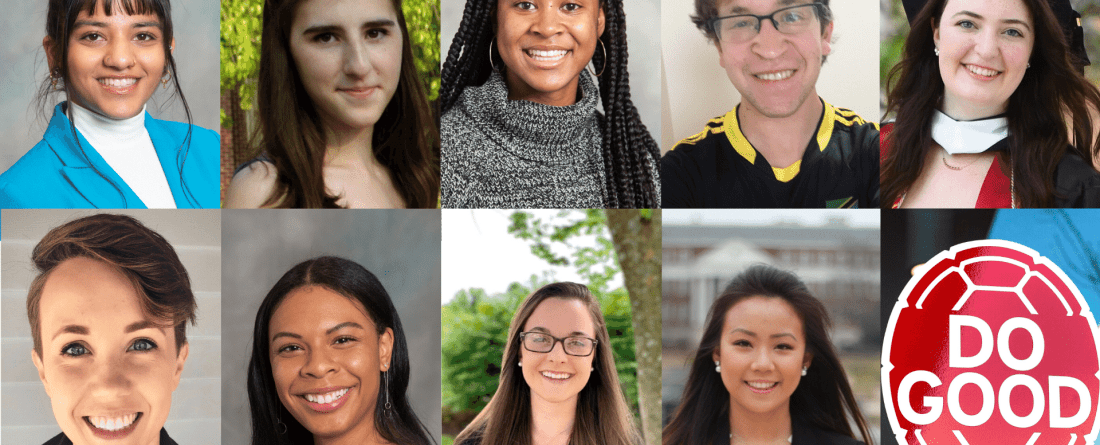 On June 15, nine University of Maryland students began their work as interns for local nonprofits as part of The Do Good Institute's new Impact Interns program. Launched in response to COVID-19 limiting summer internship opportunities, this professional development and leadership pipeline links Do Good students to project- and social impact-based summer internship opportunities with alumni organizations and partners of the Do Good Institute. The program provides emerging social sector leaders with meaningful opportunities to gain professional experience, develop skills, build a professional network, and learn more about working in the nonprofit and social impact sphere. 
From working on conservation projects to supporting youth experiencing homelessness, Impact Interns are eager to make meaningful change during their time. Read more about each intern and what they are working on below. 
Shasche Allen, Noble Uprising 
With a long-time passion for social change and impact, Shasche Allen graduated from the University of Maryland with a Master's of Public Policy. She hails originally from New York with her Bachelors in Sociology, where she developed a better sense of American social systems; and how they operate to the advantage of some but to the disadvantage of most., While at the University of Maryland, she specialized in social policy with special interests in education, housing, and criminal justice reform. 
This summer, Shasche is working with Noble Uprising, an organization working to empower and connect homeless women in shelters with sustainable jobs. She is working as an Impact Research Intern and will be researching ways to better prepare and equip women with the employable skills in a post-COVID-19 economy. 
Emily Berry, Vikara Village 
Emily is a rising senior studying Government and Politics in the BA/MPP program in the School of Public Policy. She will spend her senior year working on her government and politics honors thesis and serving as president of the Residence Hall Association, a BSOS Senator on the Senate Executive Committee, and the Alumni & Member Engagement Chair for Omicron Delta Kappa. Emily is also an incoming Student Advocate in the Student Legal Aid office, a Resident Assistant, and a staff member in the Student Organization Resource Center. After graduation, Emily plans to finish her last year in her academic program and then attend law school. 
This summer, Emily will be working with Vikara Village, an organization that empowers individuals to reach their full potential through healing yoga and arts. As the Marketing and Development Intern, Emily will be helping to develop a long-term marketing strategy and managing their social media accounts.
Manpreet Dayal, Bright Beginnings
Manpreet Dayal is a rising senior and BA/MPP student who is in the process of obtaining a dual degree in Public Policy and Sociology along with a Master's degree in Public Policy. Manpreet currently works as the Office Assistant for the Asian American Studies Program and as the Marketing Intern for the International Bar Association. Manpreet is interested in learning more about social structures, inequality, education and housing.
This summer she will be working with Bright Beginnings, an organization that operates early childhood and family learning centers for children and families experiencing homelessness in Washington, D.C. She will be working with the Eligibility, Recruitment, Selection, Enrollment, and Attendance team to help implement a new program and help families enroll to receive these services for their children.  
Abigail (Abi) Eberman, Giving Square 
Abi is an undergraduate senior Psychology major with minors in Human Development and Nonprofit Leadership and Social Innovation. She is currently a Behavior Technician and is interested in a career in School Psychology, and is passionate about continuing to work with both nonprofits and children. 
This summer, Abi will be working at the Giving Square, an organization that offers dynamic civic experiences to 3rd through 5th graders that develop their philanthropic capacity. Abi will be working on multiple projects with the Giving Square, including research on the importance of children developing empathy. 
Jessica Jiang, Smith Center of Healing and the Arts 
Jessica is a recent graduate from the University of Maryland, earning two bachelor's degrees in Neurobiology & Physiology and Public Policy. In the future, she hopes to attend medical school and pursue a future as a physician who is able to integrate her experiences in medicine with working to improve health inequities and social justice. She is most passionate about trauma-informed and holistic care. 
This summer, Jessica will be working with the Smith Center of Healing and the Arts, a local nonprofit focused on providing holistic care and healing to cancer patients. She will be working with their development team to help program events and research new sponsorship-seeking strategies during COVID-19 to support continued service to their patients.
Kelly Peaks, Maryland League of Conservation Voters 
Kelly Peaks is a second-year Master of Public Policy student at University of Maryland's School of Public Policy specializing in environmental policy with a focus on environmental justice and human rights. She previously graduated with a Bachelor of Science in Environmental Science from Marist College in 2018. 
This Summer, Kelly is working with the Maryland League of Conservation Voters Water Quality office where she is assisting their team with Chesapeake Bay nutrient trading research, stormwater projects, and forest conservation legislation.
Jeremy Schmidt, ROOTS Africa 
Jeremy Schmidt is a Master of Public Policy graduate student at University of Maryland and is specializing in international development with a specific interest in the intersection between development and climate resilience. Most recently, he worked for Conservation International where he researched the viability of carbon pricing mechanisms paired with natural climate solutions offsets in East and West African countries. He also served in the Peace Corps from 2015 to 2017 where he worked with trainers and community to devise sustainable programs. 
This summer he will be working with ROOTS Africa, a social venture whose mission is to combat hunger and poverty in Africa by connecting academic institutions and experts in the US to farming communities in Africa. Jeremy will be working on bolstering student experiences, measuring program effectiveness, and helping fundraise. 
Sophie Siebach-Glover, Perfect Strangers 
Sophie is pursuing a dual Master's Degree in Social Work and Public Policy. She was born and raised in Utah and moved to the East Coast to attend Georgetown University. After graduating, she worked as a Community School Director with the United Way of Salt Lake. During her two years there she became interested in housing policy and its impact on student retention, which ultimately led her back to school to pursue the dual Master's Degree which she will complete in May of 2021. Her policy interests include affordable housing, homelessness, and community formation. During her graduate studies she has worked with Miriam's Kitchen based in Washington, DC and will begin working with the National Low Income Housing Coalition in the Fall. 
This summer she will be working with Perfect Strangers, an organization which aims to support those most impacted by COVID-19. Sophie will be helping build up the new DC chapter, as well as support Perfect Stranger's national growth. 
Olivia Smith, The Giving Square
Olivia recently graduated from the University of Maryland with a bachelor's. in Public Policy focusing on economic policy. She is currently a Master of Public Policy graduate student at the University of Maryland, specializing in nonprofit leadership and management. Her previous work experience includes work in nonprofit development and fundraising. 
This summer, Olivia is interning at The Giving Square, where she will help to create a year-long fundraising plan, research ways to incorporate anti-racism curriculum into the current programs, and launch new programming pertaining to student service learning hours.

For more information on Impact Interns, or to learn more about how to get involved, please contact Megan Masterson at meganjm@umd.edu.