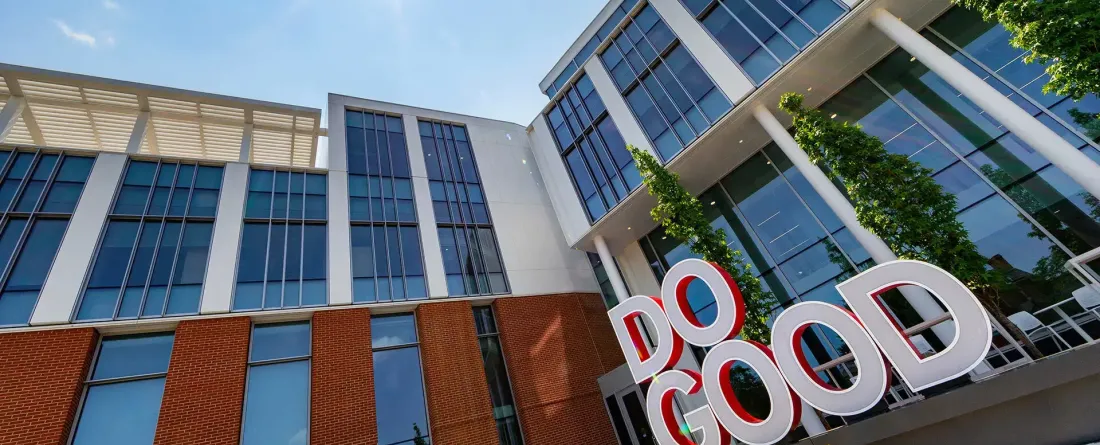 Investments Aim to Support, Celebrate Efforts With Social Impact
Senior Vice President and Provost Jennifer King Rice sent the following email to the campus community this afternoon: 
Dear Faculty, Staff and Students,
Terps inspire me every day through their work to reimagine learning and tackle humanity's grand challenges—from literacy to climate change, digital accessibility to global health, social justice to renewable energy—in ways that have a transformative impact on our community, our nation and our world. Here at the University of Maryland, through our Fearlessly Forward strategic plan, we are committed to investing in our student, faculty and staff's work to create solutions for a more equitable, sustainable and resilient world. 
At the heart of this is our shared commitment to Do Good. We're proud to be a Do Good Campus, developing and growing programs that are centered around supporting all Terps to take what they are passionate about and make an impact. Today, I am pleased to announce additional campuswide investments to expand our university's leadership and impact to advance the public good. 
Campus Fund Call for Proposals
Our commitment to provide UMD students with an unparalleled educational experience is central to everything we do. The new Do Good Campus Fund will support efforts by faculty, staff and student groups to reimagine learning in our classrooms and communities with Do Good learning principles: experiential, inclusive, innovative, social impact-oriented and in service of humanity. The fund will award up to $320,000 this academic year to faculty and staff who are looking to enhance academic or co-curricular programs focused on social impact, as well as student groups that are looking to enhance their social impact. The fund will award grants in three tiers from $5,000 to $50,000. Proposals for the Do Good Campus Fund are due by Nov. 5.
Leadership Council and Provost Innovator Awards
To further support our Do Good Campus expansion, we recently formed a Do Good Campus Strategic Leadership Councilcomposed of an incredible group of senior administrators from colleges, schools and units across campus. Council members will support the operation of the Do Good Campus Fund, support students in their unit to access growing Do Good Institute program opportunities, and surface new collaborative opportunities to advance our Do Good Campus. 
Council members will also manage the nomination and awarding of new Provost's Do Good Innovator Awards to celebrate the social impact already being made by faculty and staff across campus. The awards will recognize excellence by members of the campus community who create, nurture, expand and amplify social impact through education, programs and research, both in and outside the classroom. The nomination process for these awards will open later this fall. 
Doing Good
Our work to Do Good is truly transformational because it addresses all four commitments of our strategic plan: to reimagine learning, invest in people and communities, advance the public good and take on humanity's grand challenges. 
Thank you for your shared commitment to our pursuit of excellence and impact, as we work together to change our world for good. 
Sincerely, 

Jennifer King Rice
Senior Vice President and Provost
She/Her/Hers