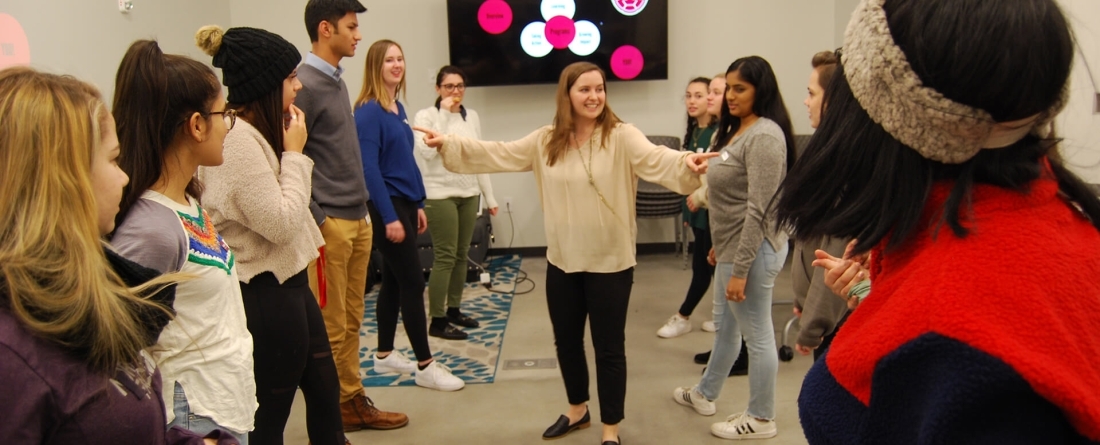 On January 31, 2020 fourteen passionate students gathered together for the kick-off of the Do Good Institute's newest program, Do Good Ambassadors. The Do Good Ambassadors is a professional development and community-building program that engages passionate, inspired, and innovative Terps to Do Good in their communities, careers and the world.
Undergraduate students from eight colleges and schools, 14 majors and minors, and spanning freshmen to seniors, were selected as the first cohort of Ambassadors. These students will have the unique opportunity to expand their knowledge and participation in Do Good campus activities, while developing leadership skills and joining a community of changemakers. 
The first cohort of Do Good Ambassadors includes: 
Sadia Alao
Sadia is interested in entrepreneurship and content creation and currently serves as an Innovation Catalyst at StartupUMD. Sadia is particularly passionate about mental health awareness and representation of marginalized groups, and in the future, she plans to head her own multimedia production company highlighting the successes and narratives of people of color. She is a senior marketing and theater major. Expected Graduation Date: Fall 2020
Vanessa Barker
Vanessa is a puppy raiser and an area coordinator for the Guide Dog Foundation chapter at UMD and is currently raising future guide dogs. She founded a project, Pawsible, which supports fellow puppy raisers, and was a Fall 2019 Do Good Accelerator Fellow. In her free time, she loves to run and plays for the Maryland Quidditch team. She is currently working on establishing Pawsible as a registered nonprofit. Vanessa is passionate about neuroscience research and plans to go to grad school for science journalism. She is a senior, double majoring in biology (NeuroPhys) and film studies. Expected Graduation Date: May 2020
Georgia Chahalis
Georgia is a second-year CIVICUS member, a living and learning program focused on leadership and community service; serves on the executive board of the Greek Heritage Society; and is an active member of the Orthodox Christian Fellowship. Georgia is also a player on the Greek National Lacrosse team, which she trains for by playing on Maryland's club lacrosse team as well. She looks forward to soon begin a hospital internship at Suburban Hospital-Johns Hopkins Medicine and is particularly passionate about food insecurity. Georgia is a sophomore on the pre-nursing pathway and is pursuing a minor in nonprofit leadership and social innovation. Expected Graduation Date: May 2023
Lauren Hamilton
On campus, Lauren is a reporter for WMUC 88.1FM Radio's "Drop the Pop", the director of social media for UMSuccess, the secretary for the Student Success Leadership Council, and a second-year College Park Scholar in the Media, Self, and Society program. She works as a Terp Host for Maryland Athletics Facilities, as well as a marketing intern for the Alumni Association. In her free time, you can catch her listening to podcasts or getting work done on the sixth floor of McKeldin Library. Lauren is currently a sophomore studying Journalism with a concentration in Spanish Language, Linguistics and Culture. Expected Graduation Date: May 2022
Jesus Herrera
Jesus is very involved on campus and is an executive member of Political Latinx United for Movement and Action in Society (PLUMAS), the Latinx Student Union, and La Voz Unida. His goal is to help uplift the financial, educational, and societal status of historically marginalized groups. In his free time, he loves to play soccer at La Plata, enjoys hiking, and likes to hang out with friends. Jesus is a senior set to graduate with a bachelor's in international relations and a minor in general business. Expected Graduation Date: May 2020
Hope Kahn
Hope applied to become an ambassador after being inspired by the Do Good Now course she took during her first semester at UMD. During that class, Hope became a founding member of the 3-section Course Challenge winning group, "Get Ovary It". Together, Hope and her team are working toward the implementation of free and accessible menstrual products in all UMD bathrooms. Hope is particularly passionate about gun violence awareness and women's rights and has published pieces regarding these topics in "Since Parkland", Ms. Magazine, The Diamondback, and even the New York Times. Hope is a freshman studying journalism. Expected Graduation Date: Spring 2023
Preritha (Ritu) Konanur
Ritu currently serves as the vice president of community service for the Woman in Business Association, along with being an ambassador for the Do Good Institute. She is extremely passionate about women's rights in developing countries, climate change, and gun control. In the future, she hopes to use business to create social value and social impact throughout her career. Ritu is currently a junior majoring in operations management & business analytics and supply chain management in the Robert H. Smith School of Business and is also completing a minor in nonprofit leadership and social innovation from the School of Public Policy. Expected Graduation Date: May 2021
Kanika Mehra
As a member of the Media, Self, and Society living and learning program, Kanika is passionate about studying political polarization and social media. Her primary interests are comedy, politics, and pop culture, and she hopes to eventually pursue some intersection of those three fields. In her free time, she writes for several campus-wide organizations, is part of the school debate team, and enjoys listening to music that can only be described as alienating her from her peer group and solidifying her personality as a 40-year-old dad. Kanika is a freshman interested in studying political rhetoric and English. Expected Graduation Date: May 2023
Rishi Parikh
Rishi is a member of Engineers Without Borders and first-year student in the Business, Society and the Economy living and learning program. He is passionate about equal STEM opportunities for young students, which inspired him to establish his own nonprofit, InspireNC, which connects students in North Carolina to robotics education. In his free time, he plays the guitar and works on his car. Rishi is currently a freshman studying Aerospace Engineering. Expected Graduation Date: May 2023
Shivani Shah
Shivani is the president of Peer to Peer, a tutoring group for refugees, and the vice president of the Banneker Key Community Council. She has also served as an Accelerator Fellow with the Do Good Institute, where she received funding, resources, and connections to grow Peer to Peer's work and impact. Shivani is particularly passionate about health and wellness and plans to become a physician. In her free time, she loves to hike, read, and cook. Shivani is a senior studying neurobiology and Spanish. Expected Graduation Date: May 2020
Sophia Shepard
Sophia is a member of the CIVICUS Living and Learning Program and is particularly passionate about education inequity and making sure children have the tools necessary to adequately pursue a quality education. In the future, Sophia hopes to establish her own nonprofit that tackle issues of education inequity and inequality. In her free time, she does service projects and enjoys running. Sophia is passionate about social change and wants to make the world a better place. Sophia is a sophomore majoring in public policy with a minor in nonprofit leadership and social innovation. Expected Graduation Date: May 2022
Peyton Siegel
Peyton is an active member of College Mentors for Kids and is in CIVICUS, a living and learning community on campus. She is very interested in studying education policy, specifically researching racial disparities in public education. In her free time, she can be found reading a book or hiking with her dogs. Her favorite spot to study on campus is the McKeldin Mall in the warm weather. Peyton is currently a freshman double majoring in public policy and African American studies, with a minor in leadership studies. Expected Graduation Date: May 2023
Zoe Weisberg
Zoe is very passionate about women's rights and is a team member of "Get Ovary It", a group established during a Do Good Now course that is actively working to bring free and easily accessible menstrual products to all UMD bathrooms. he is passionate about environmental sustainability and healthcare reform. In her spare time, she is a campus tour guide with Maryland Images and Senator of Ellicott Hall through the Resident Hall Association. Zoe Weisberg is a freshman studying marketing. Expected Graduation Date: May 2023
Isha Yardi
Along with being an Ambassador, Isha is a mentor for Maryland Impact and a member of the Sierra Leone project team through UMD's Public Health Without Borders. She is passionate about equal-access STEM education and health literacy and has served on a number of community STEM education projects. Currently Isha is the executive director of Innovation Stations, an outreach initiative focused on developing free-to-use makerspaces for local community centers. In her free time, Isha enjoys rock climbing and traveling. Isha is a freshman public health science major in the Gemstone Honors Program. Expected Graduation Date: May 2023
To learn more about the Do Good Ambassador Program click the button below.
Learn More About Do Good Ambassadors