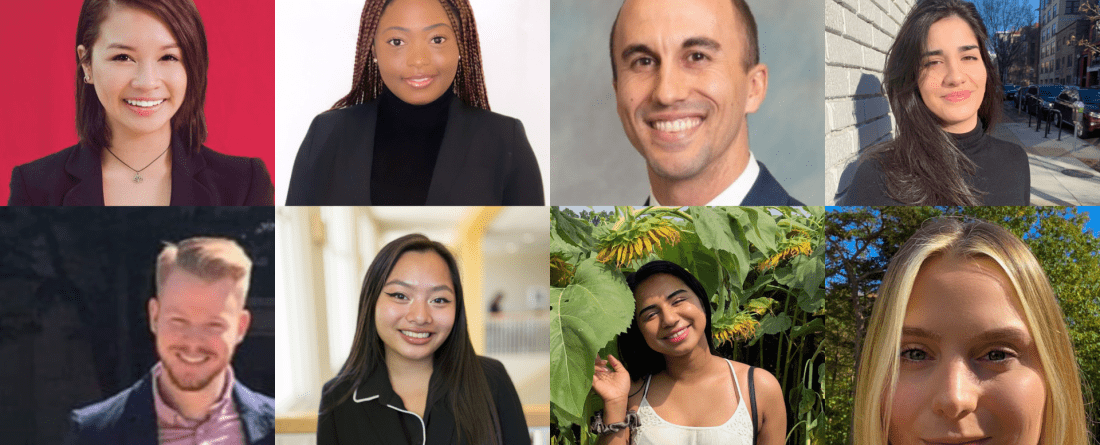 Seven passionate University of Maryland students are beginning their work as interns for local nonprofits as part of the Do Good Institute's Impact Interns program. Launched this year in response to COVID-19 limiting summer internship opportunities, this professional development and leadership pipeline links UMD students to project- and social impact-based internship opportunities with partners of the Institute. The program provides emerging social sector leaders with meaningful opportunities to gain professional experience, develop skills, build a professional network, and learn more about working in the nonprofit and social impact sphere.
Impact Intern coordinator Megan Masterson expresses her excitement about the program, and notes "What I love most about this program is that it not only provides valuable experiences to our students, but also greatly benefits our partner organizations by giving them capacity for projects they may not have had otherwise. We are supporting our community and doubling our impact, which is exciting!" 
From working on impact investing to empowering survivors of crime, both graduate and undergraduate Impact Interns are ready to support local organizations who are creating change across the region. Read more about each intern and what they are working on below. 
Ayesha Amsa, Congressional Hunger Center (CHC) 
Ayesha is a senior Public Policy major, with a focus on Social Policy and Nonprofit Management. With a passion for social justice and equity, Ayesha is currently the treasurer of Cooperative Housing at the University of Maryland (CHUM), which provides affordable, community-based housing for UMD students. She is involved with numerous student-run social justice organizations that advocate for racial equity, decolonization, and mental health resources on UMD's campus. 
As an Impact Intern, Ayesha will be supporting the Hunger Center's mission of making domestic and international hunger a priority to policymakers in the U.S. government. She will be working with CHC's development team to implement a revamped fundraising strategy, grow outreach, and assist with grant-writing. 
Grace Deleon, Network for Victim Recovery of DC (NVRDC) 
Grace is a junior studying Behavioral and Community Health and has a long-lasting passion for mental health advocacy and holistic, trauma-informed care. In her free-time, Grace is involved with Alpha Phi Omega, the UMD Mental Health Coalition, and is a yoga instructor. She is also a research assistant for the Maryland Psychotherapy Clinic and Research Lab, and a Crisis Hotline Specialist for Community Crisis Services Inc. Upon graduation, Grace plans on taking a gap year before attending graduate school to pursue an MSW/MPH dual degree. 
Grace will be joining NVRDC's advocacy team and work on projects that empower survivors of crime to achieve justice through advocacy, case management, and legal services. Grace's work will include drafting training, survey, and promotional materials that inform medical providers on the best trauma-informed care practices. 
Joey Heavner, Calvert Impact Capital 
Joey is a second year Master's of Public Policy student at the University of Maryland, passionate about sustainable finance and impact investing. During his undergrad, he studied accounting and economics at Mercer University, and obtained his CPA while working as an auditor in the private sector. Joey has also worked at a number of microfinance institutions, providing finance and operations support to international programs. Joey lives in Baltimore with his wife, Courtney, and loves reading, bicycling, and watching soccer in his free time.
As an Impact Intern at Calvert Impact Capital, he will be helping Calvert conduct interviews with clients who have repaid their loans to assess the impact of Calvert's investments and assist the development of faith-based investor profiles.
Cody Impton, IMPACTdmv
Cody Impton is a second year Master of Public Policy student passionate about education policy. Cody's interest in education equity stems from being a first-generation college graduate himself. During his undergrad, Cody earned a Bachelor's of Science in Civil Engineering at the University of Florida, and later taught high school engineering in Charlotte, North Carolina for two years. These experiences shaped his passion for making an impact in the education sector. 
Cody will be interning for Impact DMV, an organization dedicated to empowering young people in Prince George's county through professional development experiences. Cody will be joining their team as a grant-writing intern and will be learning how to effectively draft and submit grants. 
Mariam Kone, Aumazo 
Mariam is a first year Master of Public Policy student who is passionate about international development, finance, economics and security, and politics. During her undergrad, she studied International Affairs at the State University of New York at New Paltz and now hopes to continue studying policy through the lens of international development and economics. Mariam has experience working with various nonprofits and is eager to apply her skills as an Impact Intern.
Mariam will be interning with Aumazo, an organization dedicated to transforming the lives of girls in rural Cameroon by introducing them to quality STEM education and vocational training. With the founder, Mariam will be helping the organization develop a comprehensive communication strategy, as well as a successful Giving Tuesday campaign. 
Jessica Nguyen, Court Appointed Special Advocate (CASA) Prince George's County 
Jessica is a sophomore studying Government & Politics and Public Policy. She is a part of the University Honors living-learning community, First-Year Innovation and Research Experience (FIRE) program, Behavioral and Social Sciences College Ambassadors program, and this year's Federal Fellows cohort. Outside of class, she serves as the director of public relations for the Filipino Cultural Association, volunteers with the Help Center, and works as a guest services assistant for UMD's STAMP Student Union.
Jessica will be interning with CASA Prince George's County, a nonprofit organization whose mission is to serve all children in the foster care system of PG County. With CASA, she will be assisting the development of new marketing and communications campaigns, creating a story bank, and drafting social media posts for the organization. 
Kayla Norton, Nonprofit Village
Kayla is a first year Master of Public Policy candidate with a passion for working at the intersection of public health and public policy. She recently completed her undergraduate degree in Public Health Science at UMD, graduating last spring. Her inspiration for combining public health and public policy stems from experiences growing up in Western Maryland and she hopes to be a voice for those who are often unheard and underrepresented. 
Kayla will be working at Nonprofit Village, an organization dedicated to broadening the capacity and increasing the sustainability of nonprofits through education, collaboration, and operational support within a shared workspace. At nonprofit Village, Kayla will be a program evaluation and coordination intern, supporting the organization measure impact. 
Roya Rahimi, IMPACTdmv
Roya is a senior studying Communication with an emphasis in Digital Media and Visual Communication. Roya has experience creating compelling social media and design content for various different companies in the DMV area and has a passion for everything creative. Eventually, she is interested in having a career in marketing. Outside of school, Roya enjoys photography, film, traveling, and spending time with her friends and family. 
Roya will be working with IMPACTdmv's marketing team, aiding in strategic planning and content design for the organization's social platforms. IMPACTdmv is a nonprofit based in Prince George's County that provides 14- to 30-year-olds with resources designed to promote intellectual, artistic, and social growth through early adulthood.