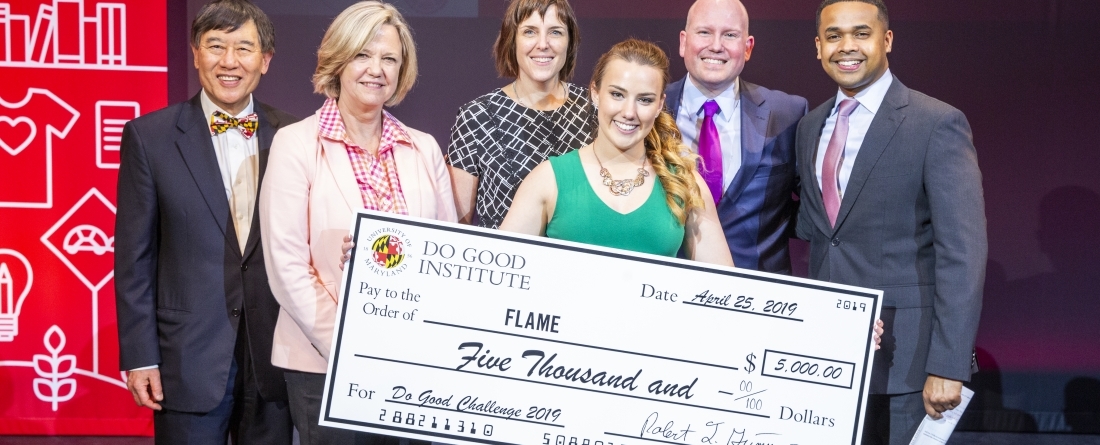 2022 marks 10 years of the Do Good Challenge at the University of Maryland. For the past decade, we've showcased some of the most promising and impressive student teams that have made tangible differences in their communities and beyond. To celebrate this milestone, we're taking a look back at highlights from the past 10 years of innovation, impact and excitement. 
Kevin Bacon Challenges UMD Students to Do Good
In February of 2012, actor Kevin Bacon posted a video announcing the Challenge's launch. He called on UMD students to execute a project that furthered their favorite social cause, then enter the competition. The inaugural Do Good Challenge received 131 student submissions, and Bacon helped pick the winners as a judge.
Food Recovery Network Wins the First Ever Do Good Challenge
Food Recovery Network (FRN) co-founders Evan Ponchick '12 and Ben Simon '14 began looking for ways to combat food waste on campus in 2010, and officially established the Food Recovery Network as a club in 2011. The group collected surplus food from the dining halls that would otherwise go to waste and redistributed it to local organizations. As FRN began expanding to other campuses, they discovered and decided to enter the Do Good Challenge. Their creative and humorous pitching style coupled with their demonstrated impact propelled them to victory, winning the first ever Do Good Challenge. FRN would go on to reach over 180 campuses nationwide, and Simon would later co-found Imperfect Foods. Read more about Food Recovery Network's journey from College Park into the national spotlight here.
Venture and Project Tracks Introduced
For the first time in its history, the Do Good Challenge crowned two first place winners in the 2014 Do Good Challenge. That year saw the introduction of the venture and project tracks. This allowed applicants to enter into whichever category best fit their organization, and for more winners to be awarded prize money. Students Helping Honduras, UMD's chapter of the national nonprofit raising money to build a school in Honduras, was the first place project winner. justlikeyou.org, an anonymous social network for people going through the coming out process, was the first place venture winner. 
Finalists Make their Returns to the Challenge as Judges
Food Recovery Network co-founder and Imperfect Foods co-founder and former CEO Ben Simon '14 returned to the Challenge spotlight, this time behind the judges' table, in 2015. "It's amazing to come back," Simon told The Diamondback. "It feels like I've come full circle. This is one of the most inspiring aspects of my job, to interact with students the next generation of social entrepreneurs." Simon would later return to judge the 2019 Challenge. 
Kahlil Kettering MPM '15 would also come back to College Park as a judge in 2018, 2021 and 2022. Kettering presented his finalist pitch for the project Ride4ECO at the 2014 Do Good Challenge and is now the Bezos Earth Fund Program Director for The Nature Conservancy (TNC) where he provides strategic management and oversees all TNC deliverables associated with the $100M Bezos Earth Fund gift to TNC. He serves as the point person working with project teams around the globe to collaboratively deploy and scale natural climate solutions to capture greenhouse gas emissions. Linda Powers (Miles for Smiles) and Kirsten Craft (Press Uncuffed) have also returned to serve as judges since competing. 
"As a young adult, I think we all have to make a lot of decisions about what we do with our life, how we spend our time," Craft said at the 2022 Do Good Challenge when presenting awards. "And it is thanks to Bob and the Do Good Institue that I choose to wake up every day and to think 'how can I make the world a better place? How can I personally do good?'"
Do Good Accelerator Opens in the Discovery District
In February 2019, the Institute opened the doors to its Do Good Accelerator, a collaborative space on campus that supports and helps to scale up students' innovative solutions to our world's most pressing challenges. The Accelerator offers a number of training, development and networking opportunities to enable promising nonprofits, projects and socially-minded businesses the chance to grow their reach and impact. A number of Challenge finalists and winners - including Audrey Awasom (Noble Uprising), Anthony Sartori (SPARC/Evolving Minds), Cedric Nwafor (ROOTS Africa) have scaled their impact and grown their organizations through our Accelerator Fellows and Scale Your Impact programs.
Celebrities, Changemaking Alumni and Purpose-Driven Leaders Judge the Challenge 
Over the years, the Do Good Challenge has been fortunate to be judged by a wide variety of accomplished individuals, nonprofit and social impact leaders and field experts including: 
Actor and founder of SixDegrees.org Kevin Bacon 
Today Show correspondent Joy Bauer
Former University of Maryland men's basketball coach Gary Williams
Actress and founder of Cancer Schmancer Fran Drescher 
Nine-time Olympic gold medalist and United Nations Ambassador for the Food and Agriculture Organization Carl Lewis 
Former NFL quarterback Boomer Esiason '84
Legendary sports agent David Falk
President and CEO of United Way National Capital Region Rosie Allen-Herring 
Director of U.S. Education and Workforce Development at FHI360 Michelle Gilliard
President and CEO of the Eugene and Agnes E. Meyer Foundation Nicky Goren
Chief of Staff and Assistant Vice President of External Affairs at Howard University Paul Monteiro
President and CEO of the Aspen Institute Dan Porterfield
Do Good Challenge Goes Virtual
The COVID-19 pandemic led to the cancellation of the 2020 Do Good Challenge. A year later, with the pandemic still creating uncertainty, the Do Good Institute converted the 2021 Challenge to a virtual format. Student teams were able to create incredible impact despite the many challenges presented by the pandemic. Instead of pitching in-person, students were sent personal production packages with spotlights, lapel mics and tripods. Using computer and phone platforms, teams conducted personal interviews, delivered their pitch and engaged in a judge Q&A. Audiences watched safely from home as the Awards Premiere was broadcast live on YouTube. ROOTS Africa and Chat Health were each awarded the first place prize of $5,000.
8. Challenge Alumni Form Meaningful Partnerships to Expand Impact
The Do Good Challenge offers competitors a platform to elevate their cause and reach valuable partners and mentors. In some cases, these partnerships have been between previous Challenge teams. 2017 venture winner James Hollister Wellness Foundation is now working with 2016 venture winner MedFund to provide $20,000 worth of medications to Bolivia to assist with COVID-19 relief in 2021. Currently, the groups are working with the Ministry of Health of Ukraine to provide 5 million refugees with medication.
9. Challenge Alumni Honored With Alumni Association Awards
Several previous Challenge competitors went on to win Alumni Association awards. These inspiring Terps are constantly emulating what it means to do good and create meaningful impact in their communities and beyond. These awardees include:
Audrey Awasom '18, founder of Noble Uprising; 2022 Rising Terp Award recipient
Matthew Hollister '18, chairman and CEO of the James Hollister Wellness Foundation; co-founder of Save Pharmaceutical; 2022 Rising Terp Award recipient
Cedric Nwafor '18, executive director of ROOTS Africa, 2022 Outstanding Young Alumnus Award recipient
Evan Lutz '14, CEO of Hungry Harvest; 2020 EnTERPrenuer Award recipient
Jonathan Fix '16, founder and chairman of Terps Against Hunger; 2019 Outstanding Young Alumnus Award recipient
Linda Powers '15, Miles For Smiles; 2019 DDS candidate, University of Maryland School of Dentistry; 2019 Do Good Award recipient
10. DGI Hosts 10th Anniversary Do Good Challenge
On Thursday, April 21, 2022, the Do Good Institute hosted its 10th Do Good Challenge, live and in-person. Combating Overdoses in Rural Areas and Vitalize were each awarded the first place prize of $5,000 for their Do Good project and venture, and Kesem at UMD was awarded the $2,500 Neilom Foundation Audience Choice Award. The show included a video compilation of what doing good means to Challenge competitors, Do Good staff and Do Good alumni. Audience members received student-designed Challenge T-shirts, pins and stickers, and were escorted to the theater by the UMD marching band. Read more about the 10th anniversary Do Good Challenge here. 
The Do Good Institute and its Do Good Challenge are made possible by the support and commitment of our dedicated partners, donors and community. A special thank you to Morgan Stanley for its decade-long sponsorship, to Freed Photography for capturing a decade of memories, and to The Rothschild Foundations for their transformative partnership.