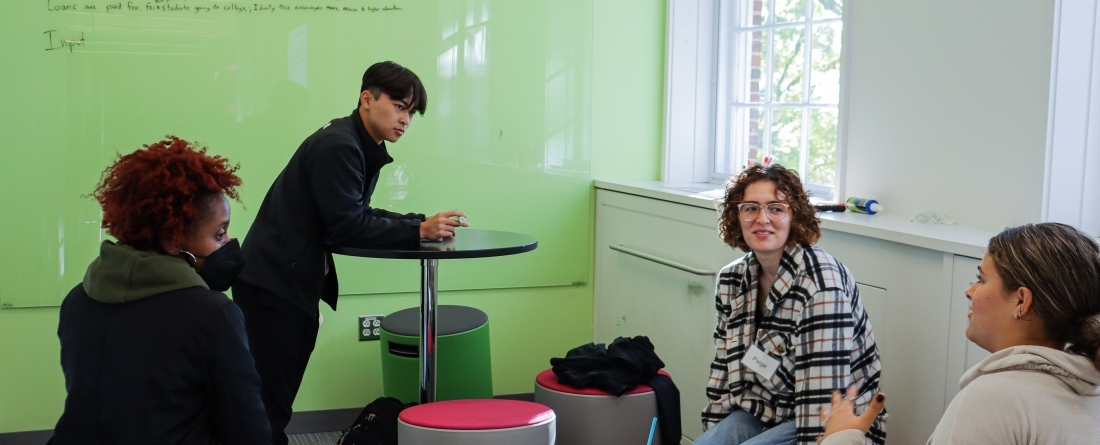 This fall, the Do Good Institute has selected 22 exceptional student teams to receive Mini-Grants that support their social impact project ideas.  Awardees are addressing a wide variety of pressing social issues from mental health to water pollution to childhood education. With close to $10,000 in grants at their disposal, this year's Mini-Grants cohort is sure to create a positive impact and step into their roles as student changemakers.
Mini-Grants is a special program - it directly rewards student innovation and encourages students to use the skills they already have and think about what they could do for a social issue they care about. I'm very excited about this year's cohort and can't wait to see the amazing impact that they create.

Catherine Curtis program coordinator
The Do Good Institute is excited to support these wonderful student teams and their inspiring projects. Learn more about the Fall 2022 Mini-Grant teams below. 
 
Asian American Student Union at UMD
The Asian American Student Union hosts the Yuri Kochiyama Leadership Program, which leverages the guidance of Asian Pacific Islander Desi American college students and Asian American Studies minors to educate local high school students on Asian Pacific Islander Desi American issues and advocacy. Over five weeks of programming -  at no cost to the students - participants come together to learn about topics related to Asian American migrant groups, diasporic history, subverting Asian American stereotypes of success, cross-cultural student-led efforts to advance ethnic studies, healing from intergenerational trauma, and more. This past spring, the Asian American Student Union serviced a cohort of 22 high school students through 20 hours of programming. ($500)
College Mentors for Kids
College Mentors for Kids is a national nonprofit with student-run chapters on local campuses. The University of Maryland chapter serves 70 kids from Whittier Elementary and Riverdale Elementary. It connects kids and college students of all years and pairs them in one-on-one mentoring relationships. Through weekly on-campus activities, the organization inspires growth, confidence, and brighter futures. ($500)
Cut to a Healthier Planet
A new initiative at UMD, Cut to a Healthier Planet aims to repurpose human hair fibers to clean polluted water. Annually, oil spills play a significant role in contaminating our waters and harming wildlife. To combat this, Cut to a Healthier Planet partnered with Matter of Trust, a San Francisco based organization that creates mats out of hair, fur, wool, and fleece. Donated hair from UMD students is sent to Matter of Trust to become hair mats, used to soak up petrochemicals from our oceans, beaches and storm drains. ($400)
DUNK
DUNK is a volunteer after-school basketball program that aims to provide a free, fun and healthy environment for elementary and middle school students in Prince George's County. Each week, volunteers from UMD travel to schools around the county to run programming for students — running drills, organizing scrimmages and cultivating an active environment all while emphasizing the importance of good sportsmanship, strong leadership and living a healthy lifestyle. ($500)
FLAME
A student-run organization at UMD, FLAME aims to create a K-12 mentorship pipeline in middle schools to make an impact on their career choices and help them gain insight into the wonders of the STEM field. They have a 96 percent program satisfaction rate with 92 percent of students more interested in STEM careers. Seeking to empower the next generation of STEM leaders, the organization encourages the interests of underrepresented students through experiment-based after-school mentorship programs, which help to close the socioeconomic education gap. ($500)
Girl Up UMD
Girl Up is a campaign of the United Nations that works to support girls around the world, that focuses on five aspects of life: education, health, safety, leadership and documentation. Girl Up UMD embodies this through grassroots efforts, raising money and awareness, and empowering girls on campus to make change. Since the beginning of Spring 2019, they have grown our club to 129 members and have held consistent meetings throughout the year. ($250)
inhale.AI
inhale.AI is an app that provides easy-to-use, personalized and diagnostic inhaler education so that people can breathe with ease. Research shows that up to 84 percent of people misuse their inhalers; marginalized communities, including those from Black, Native American, and Latinx backgrounds, being affected the most. To provide a solution for the lack of asthma education, long wait times for doctor appointments and non-personalized help videos, inhale.AI is working with two hospitals, using information from dozens of interviewed pulmonologists, to curate the most user-friendly interface, and is seeking to launch a pilot by the summer of 2023. ($500)
Kesem at University of Maryland
Kesem at University of Maryland is one of the fastest growing student-led chapters across the nation that serves families impacted by cancer. Kesem at UMD provides year-long support including care packages, monthly calls and more to children ages 6-18 in the DMV area with the support of 80 community partners. Their flagship program is a free week-long summer camp that brings kids of similar circumstances together. Their 250+ student volunteers have dedicated an estimated 70,000 service hours to the cause. To date, they have raised $300,000 and supported 120 unique campers, with plans to host 100 kids at camp this summer. ($500)

Kidney Disease Screening and Awareness Program
The mission of The UMD chapter of the Kidney Disease Screening Awareness Program is to conduct community outreach screenings to prevent the development of kidney disease and to expose students to scientific and medical professions within the field of nephrology. The program works with surrounding community partners to host free kidney disease health screenings, health education events and student career development events for general body members. ($500)
Latina Pathways
Latina Pathways is a nonprofit student-led organization that seeks to educate, advocate and fundraise to provide pathways for Latina immigrants to higher education and community development in the United States. Having established more than nine community and campus partnerships and tripling their membership in less than one year, Latina Pathways is also advocating for Maryland immigration laws to be changed, with members supporting legislation that made it to the Maryland General Assembly this past year. ($500)
Lean on Me College Park
Lean on Me (LOM) is a nonprofit that focuses on students' mental health, offering an anonymous service targeting stressors that students may feel are not severe enough for professional services. Providing support via text 24/7, LOM provides a safe space for students to connect and reflect by allowing students to reach out with common issues such as stress, loneliness and grief. Since it was founded in 2020, LOM has received over 450 conversations from fellow students on campus consisting of more than 18,000 texts exchanged in total. ($250)
Migrating Shells
By uplifting their immigrant experience, identity and history, Migrating Shells serves to inform and educate students in the community about current events and issues and misconceptions about immigration/migration. Migrating Shells challenges negative perceptions of immigration and is in solidarity with groups, people and issues that also affect immigrant communities. Along with other activities, Migrating Shells hosts its DREAM Ball every year to raise money for undocumented students in need of financial assistance. ($375)
Multiracial Biracial Student Association
The Multiracial Biracial Student Association (MBSA) strives to create a tight-knit community of racially, ethnically and culturally mixed students. They aim to enable students to explore their identity and engage in cross-cultural collaboration within the university. MBSA also promotes interracial discussions and serves as a liaison to the student body and other cultural organizations. ($300)
Pink P.A.I.R. Project
The Pink P.A.I.R. (Providing Awareness, Inspiration, and Radiance) Project is an organization that provides a positive, encouraging and supportive community for breast cancer survivors and thrivers, who may be recently diagnosed, currently in treatment, in recovery or in post-treatment. They provide personal support to individuals anywhere in their breast cancer journey through small goodie bags, care packages and cards/messages of hope. The Pink P.A.I.R. Project hosted their first community service event, pairing with the Maryland Promise Program (MPP) to provide 96 PAIR packets and two chemo care packages. ($500)

Preventing Sexual Assault
Preventing Sexual Assault (PSA) is a student organization on campus dedicated to protecting and uplifting survivors, as well as acting as the voice for students in all matters related to Title IX and power-based violence. PSA sits on the Sexual Assault Prevention Committee and the Title IX Advisory Board. The team, growing to over 70 members, has led many education and prevention programs aimed at engaging the community as well as creating space for survivors and students in the conversation with the administration. ($500)
Smiles for Our Future
Smiles for Our Future (SOF) is a community-service-based organization that collects oral health products and donates them to resettled refugee youth, as well as provides engaging lessons on oral health upon a donation of the products. SOF is significant for not only spreading awareness of the importance of oral care but also providing oral care products for refugees who are in need and may not otherwise be able to obtain such products. ($500)
TeleShadowing
TeleShadowing is a free clinical shadowing program open to all pre-health students from undergraduate, post-baccalaureate and high school levels. As clinical shadowing opportunities have become limited due to the ongoing pandemic, TeleShadowing aims to extend shadowing opportunities to students across the globe. TeleShadowing experiences are designed to inspire the next generation of future healthcare professionals by providing equal access to educational opportunities. ($500)
Terp Thon
Terp Thon is a student-run organization at UMD that supports patients and families fighting pediatric illness and injury in our local community. They aim to unite the campus and local community to inspire hope and healing in the children and families at the Children's National Hospital. They host many events throughout the school year, including a 12-hour dance marathon each March, celebrating their year-round efforts. Over the past 13 years, they have raised more than $6 million towards their goal. ($500)
The Every Child Project
The Every Child Project is a UMD student organization that provides free and accessible virtual tutoring to K-12 students and families across Maryland. The club's services are primarily geared toward helping bolster student skills in foundational, core subjects including math, reading and writing,and helping to improve their chances of success in secondary and higher education. Since 2020, the organization has enlisted over 50 tutors to aid over 80 students across more than 1,000 hours of volunteering. ($300)
Ukrainian Student Association
The Ukrainian Student Association strives to facilitate a supportive community for students of Ukrainian descent and to promote Ukraine's culture within the UMD community. Their purpose is to educate the community on Ukrainian culture, history, language and customs as well as support people affected by the ongoing war in Ukraine. They have raised more than $1,200 for humanitarian aid and the purchase of new ambulances in Ukraine. ($500)
Vitalize
Vitalize works with healthcare employers to improve the mental health of their staff. They offer a mobile app with healthcare-centric group coaching, peer support and mindfulness content. Additionally, they provide an analytics dashboard for hospital leadership that provides data on staff well-being and app engagement to help them better support their staff. They launched a paid health system contract valued at $35,000, where they are growing to 2000 staff members in January along with six more sales in their pipeline.($500)
WISE Cities
Where Innovation Supports the Elderly (WISE) Cities is a female-run startup developing easy-to-use technology with a local focus to help older adults avoid social isolation and its long term health effects. Loneliness is associated with a 50 percent increased risk of dementia, and low social ties double the risk of premature death. To combat this issue, the team works closely with their target audience to come up with frameworks that are maximally convenient and useful. They recently completed a 15-month pilot and are working towards the release of the first version of their platform. ($500)

If you would like to learn more about the Mini-Grant team's initiatives or would like to provide any feedback or assistance regarding their projects please reach out to Catherine Curtis, Program Manager at ccurtis5@umd.edu. You can learn more about our Mini-Grant program and past awardees here.