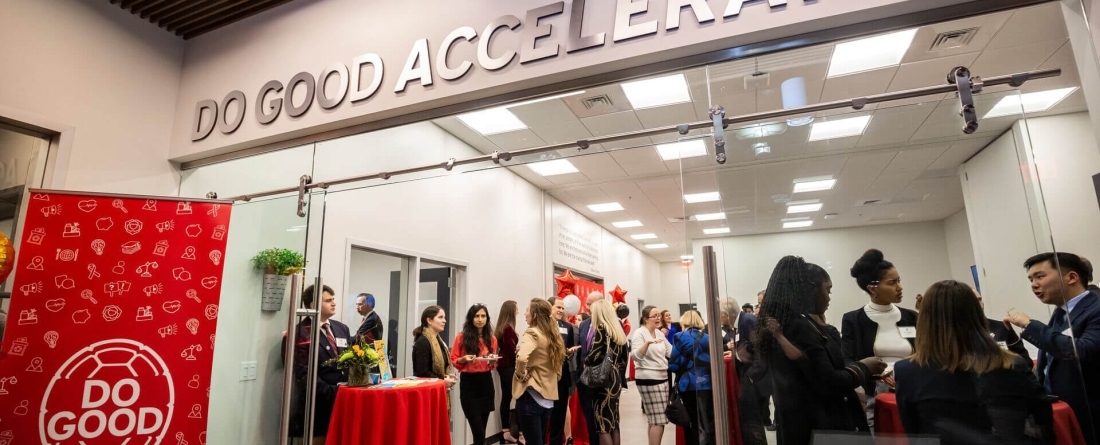 The Do Good Accelerator is a collaborative space on campus that supports and helps to scale up students' innovative solutions to our world's most pressing challenges. The Accelerator offers a number of training, development and networking opportunities to enable promising nonprofits, projects and socially-minded businesses the chance to grow their reach and impact. 
This creative community space provides students with leadership coaching, mentoring opportunities with local businesses, foundations, nonprofits and NGOs, financial support and training to further their ideas. 
Apply for up to $30,000, a suite of valuable resources, and Do Good Accelerator membership today!
Are you a UMD student or alumni focused on doing good through a project, student group, nonprofit or social impact business? If so, then submit your one page proposal to Scale Your Impact today!
Scale Your Impact is a signature activity of the Do Good Accelerator that provides customized support and financial resources to University of Maryland students and alumni looking to extend their reach and create a larger social impact. Scale Your Impact is seeking groups who have already begun implementation, have had success to date, and are ready to scale.
The individuals and groups demonstrating the most significant impact and innovation could be awarded up to $30,000 to support the advancement of their project or venture as well as a suite of other valuable resources outlined below.  
Available Resources
Coaching and Mentoring
Financial Assistance
Legal Support and Advice
Issue/Sector Expertise
Board Development
Course Offerings (undergraduate and graduate level)
Collaborative Work Space
Assistance with Fundraising, Communications & Marketing
Corporate, Nonprofit, and Government Connections
A History of Supporting Students & Alums Who Are Changing the World
The Do Good Institute has a history of supporting individuals and the advancement of innovative and impactful projects and ventures. Many Do Good alumni are now leading high-impact organizations with ambitious missions to change the world. We have also supported the development of numerous student groups, projects, nonprofits and businesses that have helped rescue imprisoned journalists from abroad (Press Uncuffed); raised over $100,000 and built multiple schools for students in Honduras (Students Helping Honduras); and recycled and supplied medications to more than 17,000 people from low-income backgrounds in South America (James Hollister Wellness Foundation). Do Good alumni also include the CEOs of Imperfect Produce and Hungry Harvest, who were each named to Forbes' Top 30 Under 30 list of social entrepreneurs; the founder of Microjusticia Argentina, who was named the Ernst and Young's 2017 Social Entrepreneur of the Year; and the Urban Conversation Director for the Nature Conservancy and CEO of District Stormwater, a finalist for the 2018 Pritzker Emerging Environmental Genius Award.
Who Should Apply
University of Maryland students and alumni who have developed innovative projects, nonprofits or businesses that provide viable solutions to real-world problems. We are looking for exciting groups that we can support and advance.
Submit Your Proposal Today!
Proposals should be no more than one page single spaced (12pt, Times New Roman) and describe your project, venture or organization, results to-date, future plans, as well as what resources would be most beneficial in helping you scale. 
Proposals are accepted on a rolling basis and should be emailed to Kisha Logan, Do Good Accelerator manager.
The Do Good Accelerator hosts the Lunch with Leaders series on the second Wednesday of most months. This series provides students and members of the local community a chance to meet and engage in dialogue with local nonprofit leaders.
By sitting down and speaking with leaders from local nonprofit organizations who are already tackling today's biggest challenges, students can deepen their understanding about social issues, learn about why these issues exist, what current solutions are being implemented, how current gaps can be filled and ask questions that will enable students to think of new and innovative approaches to solve today's pressing challenges.
Get Paid to Do Good This Summer
Applications were accepted through April 1
Where will you be this summer? Do you have an idea that could change someone's life?  Are you working on a Do Good project or social venture that could benefit from coaching, programming, and/or financial support? Apply for the Do Good Accelerator summer program to transform your ideas into impact.
Spend 8 weeks (June 3 - July 26) exploring, testing, or scaling up your idea, project, or venture. Each week, you will spend 2 days participating in 1:1 coaching sessions with field experts, participating in workshops that provide insights to valuable tools and resources, and participate in group activities with your peers who are also tackling a variety of social issues. On top of all this, you will be paid $3,000! 
For questions, contact Kisha Logan.