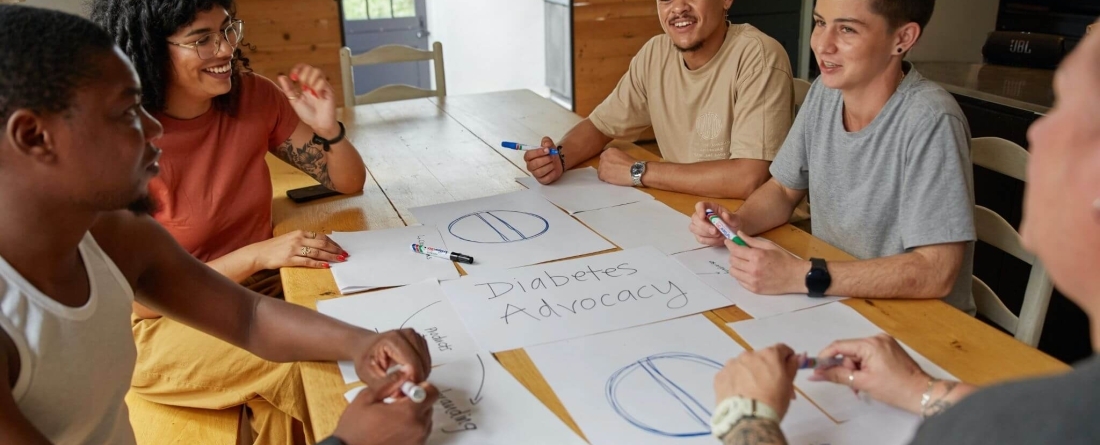 Learn how you can be a Changemaker at the University of Maryland!
Changemaker Pathways is a 5-week experiential program primarily for first-year, second-year, or transfer students. You will explore ways that you can Do Good in your personal, professional, or educational life through interactive and discussion-based workshops.
You are a great fit for the Changemaker Pathways program if you…
Want to Do Good but don't know where to start
Are a first-year, second-year, or transfer student
Want to build a community within the Do Good Institute
Program Details
You will embark on an enriching five-week journey with our immersive program designed just for you. In this transformative experience, you'll delve into the realm of Changemaker exploration, discovering how your unique skills can make a difference in the world. Engage in dynamic team-building exercises that will forge deep connections with your peers, setting the stage for collaborative success. A highlight of the program is the day of service, where you'll actively contribute to your community, applying newfound insights to create tangible impact. Learn the art of project creation through hands-on workshops, acquiring the tools and strategies needed to bring your innovative ideas to life. Finally, gain invaluable wisdom from a diverse panel of seasoned students, absorbing their stories and advice, and setting your course for a remarkable academic journey ahead. Seize the opportunity to grow, learn, and leave your mark during this empowering five-week journey into the heart of meaningful change.
This is a 5-week program during the fall semester. There will be one session per week with topics listed below.  In addition, you must attend at least 1 breakout session during the duration of the program. You will also have 1:1s with the program coordinator, which is scheduled based on your mutual availability. 
Fall 2023 Schedule 
Participants will have 5 in-person Changemaker Pathway sessions either Tuesdays at 12:00 p.m. - 1:00 p.m. or 5:00 p.m. - 6:00 p.m. based on the availability you provide in registration, with the exceptions of our optional DGI Program Participant Mixer on October 18 at 6:00 pm and Good Neighbor Day on Saturday, October 21. 
October 3: Session 1: Welcome and Introduction
October 10: Session 2: Changemaker Exploration
October 18: DGI Program Participant Mixer (Optional)
October 21: Session 3: Good Neighbor Day 
October 24: Session 4:  Project Creation 101
October 31: Session 5: Do Good Student Panel/Showcase
Learn More
Find out more information below about the Changemaker Pathways program, the benefits of participating, eligibility requirements, the registration process, and more!
Ideation and Problem-Solving: Identify a social issue you are passionate about and how to brainstorm and ideate potential solutions
Resume and Cover Letter Session: Review your resume and cover letter with us to build and refine your personal application materials                   
Career Exploration: Explore how you can do good in your career field
Storytelling Session: Learn about storytelling, its history, and its importance as it relates to social impact
Receive a recommendation letter from the program coordinator if you complete all requirement components of the program 
Learn how you as a student can Do Good and what that looks like personally, professionally, and educationally
Complete a day of service in conjunction with Good Neighbor Day 
Start to think about how to be a changemaker and how to start a project of your own
Build a community with a cohort of changemakers, activists, and idea creators in social impact 
Earn a Changemaker Pathway program certificate
The Changemaker Pathways program is open to undergraduate students at the University of Maryland, College Park. This program gives preference to first-year, second-year, or transfer students.
Registration for the Fall 2023 Changemaker Pathways program has closed.
Registration typically requires you to provide your contact and demographic information, pick a session time that works for your schedule, and answer a brief questionnaire.
Once you complete your registration form you will then need to take a Changemaker Onboarding Session to fully complete your registration for the program.
FAQs
Explore the tabs below to find answers to your most frequently asked questions.
Only the virtual breakout sessions will be virtual. All 5 Changemaker sessions and the DGI Program Mixer will be in person.
We do require that you attend all 5 Changemaker Pathway sessions and at least one virtual breakout session unless there is an extenuating circumstance. If you do not complete or attend all required sessions this will result in you not receiving your recommendation letter or certificate.
Contact the Program Staff
Tyrese Fenty
Program Coordinator, Learning and Development, DGI
As program coordinator, Tyrese Fenty plays a critical role in the creation and development of new experiential and educational student programs that develop, inspire and equip individuals and teams for positive social impact. 
Areas of Interest
Read Full Bio