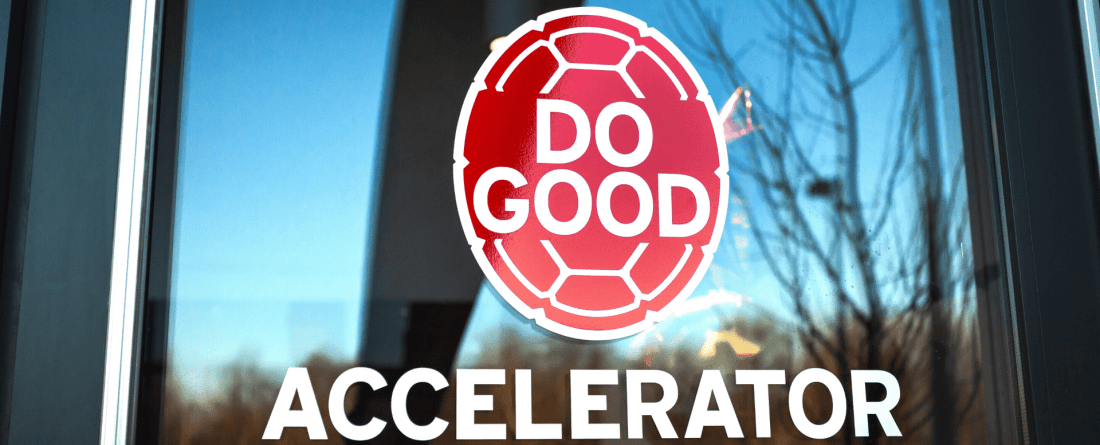 The Do Good Institute is excited to announce that a mix of undergraduate and graduate students, as well as alumni have been selected as this summer's Do Good Accelerator Fellows. The Summer Accelerator Program provides students resources, and opportunities to explore, test, or scale up their idea, project, or venture and work with peers that are also tackling important social issues. Due to COVID-19, the program has shifted to an online environment where students can meet with their peers, participate in 1:1 coaching sessions with field experts, engage in robust workshops, and immerse themselves in group activities with other leaders. 
Fellows were selected after a competitive application process and will receive a stipend of $1,500 to support their work over the course of the program. The program will launch on June 1, 2020 and will close on July 24, 2020. Our 2020 Summer Fellows are focusing on a range of issues from education equity to empowering young girls and responding to COVID-19. 
This Summer's Fellows Include: 
Isha Angadi, Yogi Terps
Isha is the founder and president of Yogi Terps, a student-run organization at UMD focused on creating awareness of the benefits of yoga and meditation among college students and the campus community. Isha aims to better the lives of all UMD students by offering free yoga classes and mediations that tackle issues of anxiety, depression, and other college stressors. Isha is excited to grow Yogi Terps to include more UMD students, as well as innovate the ways in which they can empower others to lead mindful and healthy lives. 
Chelsea Brown, The Black Mill Giving Circle
Chelsea (MPM '20) is leading the charge of The Black Mill Giving Circle, a giving circle engaging black millennials with the promise to provide $1 million dollars to black-led nonprofits nationally. The Black Mill Giving Circle aims to provide funding for black-led nonprofits without usual barriers such as geographical restrictions, access to the "inner circle" of foundation grantors, intensive applications/reports, and ever-changing focuses set by foundations. By offering streamlined funds, Black Mill provides opportunities for access to nonprofits who need it most. Black Mill also highlights the impact of black millennial engagement, power, and funding and highlights nonprofits making an impact in their community.
Charles Grody, Hydraze, Inc.
Charles began Hydraze, Inc. after realizing how much water is wasted by automatic flushing. Together with a group of classmates, he worked to create Hydraze, Inc., a sustainability-oriented venture with an aim to reduce average toilet water consumption by 45 percent, saving almost 4 billion dollars and 200 billion gallons of water annually in the United States. Hydraze is working to achieve this by innovating bathroom stalls and installing a stall latch-activated flushing mechanism, so the water flushes when one moves the latch to open the bathroom stall. This mechanism offers a far more accurate reading than existing automatic sensors and saves hundreds of gallons of water waste. Hydraze, Inc. secured first place in the venture track at the 2019 Do Good Challenge Finals and most recently won the 2020 PItch Dingman Competition. 
Laura Griffin, Perfect Strangers
Laura (MPM '19) is helping grow the new nonprofit, Perfect Strangers, a national organization providing delivery or free groceries, medications, and supplies to those at-risk for exposure to COVID-19. The organization serves the elderly, immunocompromised, frontline workers, and other at-risk individuals. Laura is leading the efforts to launch and develop Perfect Strangers' presence in Washington, DC. This summer, Laura is focusing on recruiting and managing a large team of volunteers in the region, identifying and marketing Perfect Strangers' services, and partnering with local communities to broaden their impact in the District. In Perfect Strangers' first three weeks in NYC, it completed more than 2,000 deliveries, amassed 10,000 volunteers, and was covered in NBC Nightly News with Lester Holt, Vogue's Heroes and Heroines, and others. 
Steven Jettoo, Memley
Steven is inspired to shift the way middle school students learn and is planning to do so with a new app called Memley. Aimed at changing the cycle of students taking a class, then a test, then forgetting nearly everything they've learned a few months after finals, Memley is integrated with Neuroscience-backed learning techniques to reduce the amount of time spent on skill-and-drill assessment both inside and outside of the classroom. The group aims to cut through education fads such as "learning styles" and instead deliver methodologies that are proven to work.
Sarah Kirby, The Letter Project UMD
The Letter Project's mission is simple: invite women into a community that lifts each other up and encourages collaboration. The primary goal is to remind women and girls that they are enough, no matter what. The organization achieves this through letter writing: anyone can submit a letter request online for a girl in their life that is going through a tough time.The Letter Project compiles letter requests from its website to bring to the 'Write Nights' at UMD, where Terps come together to write letters of support to these girls. Other chapters around the country - as well as independent letter writers - write letters too! Once letters are written, they are mailed off to the national headquarters where they are packaged and mailed to the girls. This way, women and girls around the country are surprised with 15 or more letters of support written just for them.
Elizabeth Mafrici, The Semanhyiya Project 
While studying abroad, Elizabeth had the chance to stay at a rural village in Ghana. It was here where her vision for The Semanhyiya Project was born. She was struck by the issue of "period poverty" and that many Ghanian girls in the village could not afford sanitary products, causing them to leave school, or turn to toxic relationships in order to receive feminine hygiene products. Since studying abroad, she has created a long-term solution and is working with Ghanian community members to introduce reusable pads into the village, providing women extra income and a sustainable solution. The Semanhviva Project enrolls older girls to sew reusable pads through an elective sewing class offered in high school and allows the pads to be distributed among those in need, while excess pads can be sold at the local markets for extra revenue to purchase additional material. 
Veeraj Shah, Chat Health
Chat Health, an organization aimed at improving health literacy and uptake of preventative healthcare services through the applications of digital health and artificial intelligence, was co-founded by Veeraj Shah and Neil Johnson. Chat Health has built an SMS-based chatbot to answer questions about healthcare services offered on and off-campus for UMD students. Currently, due to the urgency of COVID-19 and the importance of accurate information, Chat Health aims to provide resources and technological tools for users to stay healthy during this pandemic, and always.