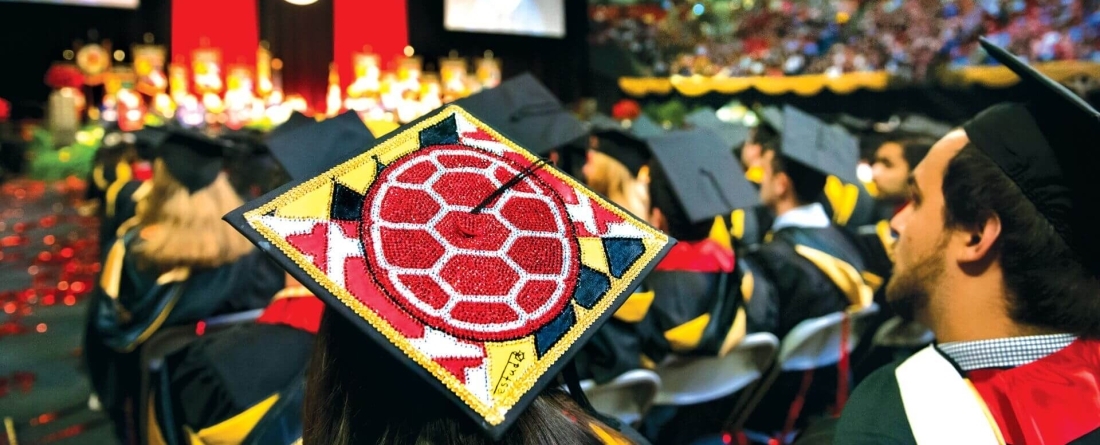 While the coronavirus pandemic upended every aspect of the Spring semester, the University of Maryland community has come together to support and celebrate students as they address crucial issues, tackle this unprecedented virus head-on, and continue to achieve impressive milestones. The Class of 2020 is full of bold thinkers, philanthropists, changemakers, entrepreneurs, advocators, researchers and nonprofit leaders who are committed to doing good on campus, in their communities, and throughout their careers. 
The Do Good Institute is thrilled to honor 38 of these passionate students who make up the Class of 2020 with a Do Good Medallion. Each are being recognized for their extraordinary commitment to social impact and innovation and their efforts to transform the University of Maryland into the nation's first Do Good Campus. These Do Good grads are working to tackle social and environmental issues from climate change to public health, from cybersecurity to access to education, from hunger to human rights.  
The Do Good Medallion honorees – both undergraduate and graduate students – were selected from thousands of students across campus who competed as a semi-finalist or finalist in the annual, campus-wide Do Good Challenge; participated in our selective Do Good Fellows program; served in the first cohort of Do Good Ambassadors; or completed the TIAA Fellows or Graduate Certificate in Nonprofit Management and Leadership. These graduates represent nine colleges and schools at University of Maryland and include both undergraduate and graduate students from A. James Clark School of Engineering, College of Agriculture and Natural Resources, College of Arts and Humanities, College of Behavioral and Social Sciences, College of Computer, Mathematical and Natural Sciences, Office of Undergraduate Studies, Robert H. Smith School of Business, School of Public Health, and School of Public Policy and nine living/learning programs within College Park Scholars, Honors College, University Honors, and QUEST.
The Do Good Institute offers its congratulations to the following graduates: 
Brianna Aldridge: Graduate Certificate Nonprofit Leadership and Management, School of Public Policy           
Annabelle Arnold: College of Agriculture and Natural Resources | Do Good Challenge semi-finalist with Algal "Terp" Scrubber and Roots Africa
Vanessa Barker: College of Arts and Humanities; College of Computer; Mathematical and Natural Sciences | Founder, Pawsible | 2019 Do Good Semi-Finalist; Showcase Audience Choice Award Winner | Do Good Fellow | Do Good Ambassador
David Boegner: A. James Clark School of Engineering | 2018 and 2019 Do Good Challenge Finalist with Synapto
Rachael Day: Graduate Certificate Nonprofit Leadership and Management, School of Public Policy       
Donald De Alwis: College of Agriculture and Natural Resources; School of Public Health; Honors College (Integrated Life Sciences) | Founder, The Motion Project | Do Good Challenge Semi-Finalist
Logan Dechter: Office of Undergraduate Studies | Camp Kesem at University of Maryland | 2019 Do Good Challenge Finalist; Audience Choice Award winner
Dylan Fishbein: College of Agriculture and Natural Resources | 2019 Do Good Challenge Semi-finalist with ROOTS Africa   
Noah Fogelson: A. James Clark School of Engineering | 2017 Do Good Challenge Semi-Finalist with The Bee's Needs
Ferddy Gedeon: Office of Undergraduate Studies; College Park Scholars (Science Discovery and the University) | 2018 Do Good Challenge Finalist; Finalist Audience Choice Award winner with SPARC (Scholars Promoting and Revitalizing Care)
Charles Grody: A. James Clark School of Engineering; QUEST; Honors College (Entrepreneurship and Innovation) | Founder, Hydraze | 2019 Do Good Challenge winner | Do Good Fellow 
Megha Guggari: College of Computer, Mathematical and Natural Sciences; Honors College (Integrated Life Sciences) | 2018 and 2019 Do Good Challenge Finalist with Synapto
Sreya Gunna: Office of Undergraduate Studies; CIVICUS | 2018 Do Good Challenge Finalist; Finalist Audience Choice Award winner with SPARC (Scholars Promoting and Revitalizing Care)
Jesus Herrera: College of Behavioral and Social Sciences | Executive Member of Political Latinx United for Movement and Action in Society (PLUMAS), the Latinx Student Union, and La Voz Unida | Do Good Ambassador
Amanda Hobgood: A. James Clark School of Engineering | 2017 Do Good Challenge Semi-Finalist with The Bee's Needs
John Hoerauf: A. James Clark School of Engineering | 2017 Do Good Challenge Semi-Finalist with The Bee's Needs
Ryan Howard: A. James Clark School of Engineering; Honors College (Entrepreneurship and Innovation) | 2018 Do Good Challenge Semi-Finalist with FlushX
Andrew Jasiura: College of Behavioral and Social Sciences |  Founder, LifeView | Do Good Fellow
Isha Kamara: College of Computer, Mathematical and Natural Sciences | Founder, Iced Out Cosmetics | Do Good Fellow
Roxanna Kazemzadeh: Robert H. Smith School of Business; College Park Scholars (Public Leadership) | 2018 Do Good Challenge Finalists; Finalist Audience Choice Award winner with SPARC (Scholars Promoting and Revitalizing Care)       
Zak Kmir: College of Computer, Mathematical and Natural Sciences | Founder, Biokmir | 2019 Do Good Challenge Finalist
Dan Kossoy: Robert H. Smith School of Business | 2017 Do Good Challenge Semi-Finalist with The Bee's Needs
Kyle Liu: A. James Clark School of Engineering; College of Computer, Mathematical and Natural Sciences; Honors College (Entrepreneurship and Innovation) | Co-Founder, Symbiont Health | 2018 Do Good Challenge winner
Christopher Look: College of Computer, Mathematical and Natural Sciences | 2018 and 2019 Do Good Challenge Finalist with Synapto
William Mast: College of Agriculture and Natural Resources | 2018 and 2019 Do Good Challenge Semi-Finalist with ROOTS Africa
Casey McCarthy: Robert H. Smith School of Business; Honors College (Entrepreneurship and Innovation) | 2018 Do Good Challenge Semi-Finalist with FlushX
Elizabeth Middleton: School of Public Policy | TIAA Fellow
Ian Moss: A. James Clark School of Engineering | Founder, Break Box | Do Good Fellow                       
Melissa Anne Moynahan: Graduate Certificate Nonprofit Leadership and Management, School of Public Policy           
Thanuri Navarathna: College of Computer, Mathematical and Natural Sciences | Do Good Challenge semi-finalist with The Motion Project
Anoop Patel: A. James Clark School of Engineering; College of Computer, Mathematical and Natural Sciences; Honors College (Design Cultures & Creativity) | 2018 and 2019 Do Good Challenge Finalist with Synapto
Dhruv Patel: A. James Clark School of Engineering; College Park Scholars (Life Sciences) | 2018 and 2019 Do Good Challenge Finalist with Synapto
Maddy Pekosz: College of Computer, Mathematical and Natural Sciences; College Park Scholars (Global Public Health): 2019 Do Good Challenge Finalist with Public Health Without Borders
Jennifer Piazza-Pick: Graduate Certificate Nonprofit Leadership and Management, School of Public Policy     
Rolane Qian: A. James Clark School of Engineering; Honors College (Entrepreneurship and Innovation) | 2018 Do Good Challenge Semi-Finalist with FlushX
Shivani Shah: College of Computer, Mathematical and Natural Sciences; University Honors | Founder, Peer to Peer | Do Good Fellow | Do Good Ambassador           
Kelsey Talarico: College of Computer, Mathematical and Natural Sciences | 2019 Do Good Challenge Finalist with Public Health Without Borders          
Rick Marving Tamno: School of Public Policy | Founder, Beloved Community | Do Good Fellow