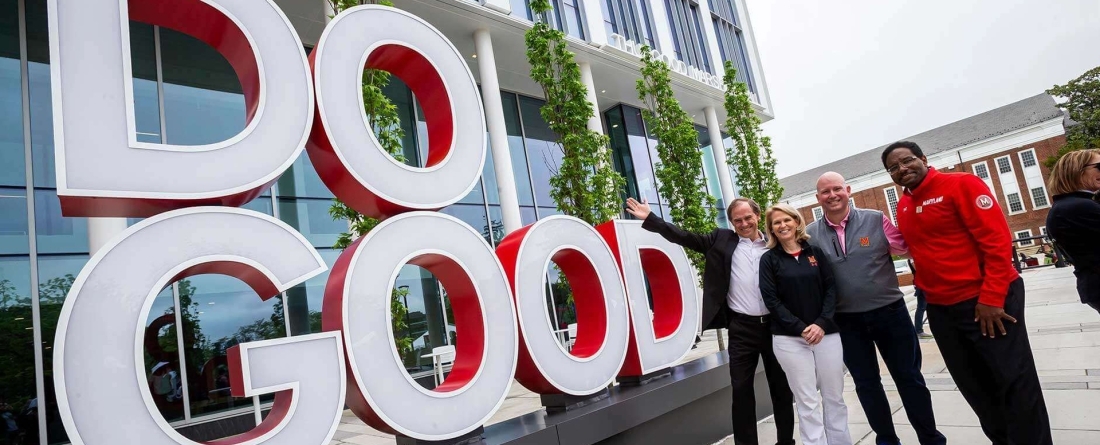 New Courses, Faculty, Research, Opportunities Aim to Amplify Impact
By Sala Levin '10
The University of Maryland will dramatically expand its endeavors as the nation's first Do Good campus, enhancing opportunities for students, nonprofit leaders and social innovators to make a difference in their communities and around the world. 
This growth includes the creation of new Do Good courses, funding for additional faculty and staff positions, and support for students with ideas and ventures to create a social impact. It will also enable new research in philanthropy and nonprofit management and training for others to succeed in those fields. New spaces in and outside of Thurgood Marshall Hall, home of UMD's School of Public Policy, will celebrate Terp-led impact. 
The expanded Do Good program was announced during Maryland Day, the university's annual open house, with the official unveiling of a new campus icon, the Do Good sculpture.
"Countless people have been touched by the Terp students, faculty and staff who want to change our world for the better," said university President Darryll J. Pines. "By continuing to grow our Do Good campus, we are making sure that we inspire Terps to keep turning their ideas into action and make an impact in communities both near and far to College Park." 
The Do Good Institute, the hub of "Do Good" activities at UMD, engages students every year in courses, internships, mentoring and its marquee Do Good Challenge; last week, it awarded $20,000 to student projects and startups advocating for or developing solutions to pressing social issues. 
"Our students step onto campus wanting to make an impact from day one," said Robert C. Orr, dean of the School of Public Policy, which houses the Do Good Institute. "The programs and hands-on learning experiences of this next expanded era of the Do Good campus will provide opportunities for all students to develop the skills and expertise they need to go out and change the world."
Student-founded Do Good initiatives have tackled a wide range of societal problems. The Food Recovery Network, which combats waste by collecting and donating unserved food from dining halls, sports venues and group meetings, won the inaugural Do Good Challenge in 2012 and has now spread to 190 college campuses nationwide, diverting some 12 million pounds of food from dumpsters. Another Challenge winner, the James Hollister Wellness Foundation, collects and distributes unexpired medication no longer needed by the prescribed party. Last fall, the organization supplied more than $8 million worth of recycled medication to people in Ukraine. 
"The work nonprofits and philanthropies do in solving humanity's grand challenges has never been more important," said Robert T. Grimm Jr., the Levenson Family Chair in Philanthropy and Nonprofit Leadership, and founding director of the Do Good Institute. "The Do Good Institute is proud to power the next wave of impact that our students, nonprofit leaders and social innovators are having on the world, and excited to see the waves of doing good ripple out from Maryland."
The new investment also showcases some of Do Good's greatest achievements from over the years on interactive screens in the lobby of Thurgood Marshall Hall. These stories of impact by faculty, staff, students and alums aim to inspire not just the campus community but prospective students and other visitors.
In addition, the Do Good Plaza, the landscaped entrance to the building, features a new, 8-foot-tall aluminum sculpture of the words "Do Good," illuminated with more than 300 LED modules that can create thousands of colors. 
"Our greatest joy is to be able to invest in students that are going to change the world in the course of their lives," said Orr at the unveiling. "There is no higher calling than what we get to do."