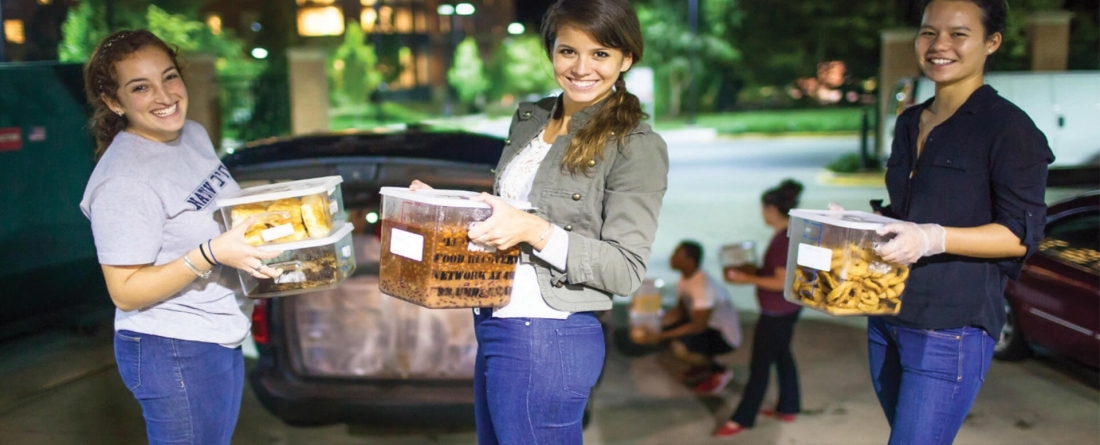 Thirty-eight student teams applied for funding through the Spring 2020 Do Good Mini-Grant program to implement their student-led, student-run social impact proposals, which aim to create a positive impact for social issues and causes that they care about. Applicants ranged from groups mentoring underserved youth through dance to teams creating more effective alarm clocks for the hearing impaired.
The Do Good Institute awarded grants to 24 teams, each team receiving up to $500 to advance their projects and ventures. On March 9, all awardees gathered together in the Do Good Accelerator to meet one another, discuss their ideas, and learn more about Do Good Institute resources. While the projects are diverse, each of them are led by passionate leaders, ready to begin.
We are thrilled to announce the Spring 2020 Mini-Grant awardees:
AcClimate
AcClimate works with students at the University of Maryland to advocate for science-based, equitable solutions to the climate crisis through fair climate policy, empowering students to speak up for climate-crisis legislation. The group's continued efforts seek to galvanize students to actively participate in the democratic process through targeted lobbying events in Annapolis and on-campus events that communicate youth support for fair climate policy.
Challah for Hunger
Challah for Hunger bakes bread and creates community around a passion for helping people facing hunger and food insecurity. As a group Challah for Hunger raises awareness for such issues through education and bread braiding. They host more than 300 volunteers yearly at their weekly bread braiding sessions. After baking and selling the bread, proceeds from this chapter's challah sales are donated to Swipe Out Hunger and DC Central Kitchen.
Charles R. Drew Pre-Medical/Health Society
The Charles R. Drew Pre-Medical/Health Society (CRD) is a student organization that provides pre-health undergraduate students at the University of Maryland, College Park with resources that allow them to confidently and competitively apply to medical, dental, physician assistant, nursing, or optometry school. CRD targets minority pre-health students to increase their representation in graduate programs, and ultimately in healthcare. The organization achieves its goals by exposing members to graduate programs and medical conferences, enriching members with community service activities, and hosting workshops, panels, and networking opportunities.
Do Better UMD
Do Better UMD is a student-led organization dedicated to promoting personal growth, community service, and peer mentors that challenges pre-existing standards of charity and service. Do Better UMD offers opportunities to aid its members in realizing their own capacities as role models and mentors and works tirelessly to develop new models for civic engagement and community building.
Edullo
Edullo is an online platform for students dedicated to leveling the educational playing field. Its student-to-student guidance initiative, Edullo Guides, helps fill the information gap between students and guidance counselors and other higher-education resources. Their online program also offers Edullo Scholar, a peer-to-peer marketplace of freelance student tutors that are available to help with essays, SAT/ACT testing, AP testing, college applications and more. So far, they have had over 35,000 unique visitors engaged on their platform.
Engineers Without Borders UMD Chapter
Engineers Without Borders UMD Chapter builds a better world through engineering projects that empower communities in developing countries to meet their basic human needs. The volunteers at the University of Maryland local chapter work with communities to find appropriate solutions for their infrastructure needs. By partnering with local and international communities, the organization develops cutting-edge engineering solutions to real world problems, such as water sanitation or access.
Get Ovary It
Get Ovary It is working to increase accessibility of free period products on University of Maryland, College Park's campus in a broader effort to decrease gender income inequality and menstruation stigma. Get Ovary It hopes to achieve this through bringing coin-less menstrual product dispensers to bathrooms in all buildings across campus. So far the group has secured $21,000 for their phase one initiative of bringing these dispensers to the University, and is striving to secure the additional funding needed to implement their first phase, bringing one dispenser to each of the 173 academic and administrative buildings on campus with the intent for expansion in the future.
Green Roots Hydroponic Club
Green Roots Hydroponics Club is a student-run hydroponics farm operated in the Research Greenhouse on campus, with a goal of researching and promoting hydroponics, a method of growing plants without soil, allowing produce to be grown directly in major cities. Through this club, students gain hands on experience designing, constructing, and operating hydroponic systems. The club also engages in research of new hydroponic methods and engagement with their community and the public to educate and expose others to the exciting field of hydroponics and sustainability.
Maryland Impact
Maryland Impact is an organization founded on the belief that anyone can take action and make change. Maryland Impact's passionate group of approximately 30 college students empowers local youth to become leaders in their communities. Maryland Impact members provide coaching to local youth by empowering them to create their own social impact projects. This semester, Maryland Impact is working closely with a team of 10 students from New Hope Academy to implement multiple social action projects in Gambia, West Africa, including implementing a breakfast program for malnourished school children.
Preventing Sexual Assault
Preventing Sexual Assault (PSA) is a student-run organization formed on the premise that all survivors of sexual assault deserve support from their community. Their goal is to end the epidemic of sexual assault on UMD's campus and to provide meaningful approaches to prevention education in order to make a change. PSA holds weekly educational meetings and numerous educational and advocacy-related events throughout the semester.
Rise & Grind
Rise & Grind is innovating the most effective and comfortable methods for waking up members of the d/Deaf and hard-of-hearing communities. Through first-hand market research, Rise & Grind has found that the d/Deaf and hard-of-hearing communities are only effectively woken up by their current method 25 percent of the time. This can be a significant source of anxiety as failure to wake up causes individuals to be late for work, school, and appointments. Rise & Grind's mission is to design a product that is guaranteed to work, giving customers peace of mind and a more accessible product.
Sigma Psi Zeta Sorority
Sigma Psi Zeta is a multicultural, Asian-interest Greek Organization, whose national philanthropy combats domestic violence. To raise awareness, the Tau Chapter holds an annual philanthropic event to educate the UMD community about domestic violence and sexual assault in a comfortable, yet interactive manner that leaves an impact on those involved. All proceeds from the annual event are donated to Futures Without Violence in D.C.
Son Cosita Seria
Son Cosita Seria is a collective music group that plays folkloric Son Jarocho music, originally from Veracruz, Mexico. The music combines West African, Spanish, and Indigenous influences and is traditionally played in community celebrations. Son Cosita Seria offers free workshops, using the power of music to support local community events, sharing the spirit of the fandango with our community. This year, Son Cosita Seria intends to expand their workshops to include folks in Langley Park who often aren't able to afford music lessons.
Student Health Advisory Committee: Sexual Health Subcommittee
The Student Health Advisory Committee (SHAC) is a student-run organization representing the UMD campus community to the University Health Center (UHC) Administration. SHAC strives to improve the quality of student health services and incorporate student feedback as it plays an advisory role to the UHC. This year, the sexual health sub-committee will promote sustainable menstrual health on campus and pilot a program where biodegradable menstrual products, as well as other sustainable alternatives, are made free and available as samples for students at UMD.
Student Teachers Enriching Proficiency Through Service (STEPS)
STEPS challenges the current structure of tutoring companies and offers affordable personalized tutoring and college advising by fostering long-term peer-to-peer relationships. STEPS is driven by a volunteer tutoring force, so 100 percent of the profits are recycled back into the educational system by providing educational equipment to underserved children. So far, STEPS has tutored 14 students in the Howard County region, and has raised $4,500.
Supporting Hospitals Abroad with Resources and Equipment (SHARE) 
The SHARE Health Program at the University of Maryland is a student-run organization founded in 2012 and has 34 undergraduate student members and one faculty sponsor. The program's central mission is to help supply hospitals abroad with unused medical supplies from hospitals here in the United States. SHARE does this by going to U.S. hospitals and collecting unused or surplus medical supplies that are in safe and usable condition but no longer needed here, and donating them to countries overseas where they can be of great use.
Team IPOV
Team IPOV (stands for Investigating Parental Opposition to Vaccination) is a subset of the Gemstone Honors program at UMD. Team IPOV is in the process of conducting research to understand biases surrounding vaccines, specifically the differences between an annual vaccine (influenza) and a one-time infancy vaccine (varicella). The team is currently gathering data by administering a survey to a random group of parents. Future research goals include analyzing survey results to identify patterns, developing and implementing an intervention based on survey results to influence vaccination rates, and analyzing the intervention results to discover if it causes growth in vaccination rates.
The Semanhyiya Project
The Semanhyiya Project is working to broaden access to education for girls in Senase, Ghana by means of alleviating period poverty. By helping create a business model that empowers the women in the village to create their own reusable pads, local women are able to earn an income while capitalizing on their own sewing skills, and creating their own menstrual products, solving the need in their village.
Two X Ventures
Two X Ventures addresses systemic economic concerns of female refugees in Tel Aviv, Israel by providing the mentorship necessary to increase diversity and inclusivity in Tel Aviv's burgeoning technology space. Two X Ventures designed a curriculum to equip female refugees from African nations residing in Tel Aviv with an essential education in computer familiarity, intermediate knowledge of web development, and an entrepreneurial mindset. Two X Ventures is partnered with the African Refugee Development Center and the Lauder Employment Center to facilitate the first boot camp and has raised more than$3,000 in funding.
UMD AMSA
The University of Maryland chapter of the American Medical Student Association (UMD AMSA) is a service-oriented pre-professional organization on campus. UMD AMSA strives to educate, mentor, and inspire a community of future physicians through local service, health advocacy, and professional development. As an organization, AMSA orients their 200+ members with community partners on and off-campus that combat food insecurity and homelessness. They are eager to expand their service-learning operation to other community partners in order to educate their members on the social issues and injustices that pervade society.
United2Heal
United2Heal (U2H) is a 501(c)(3) nonprofit organization that collects excess medical supplies from local hospitals and clinics and ships them to countries in need. Their initiative positively impacts the immediate community by recycling these supplies rather than letting them go to waste while also empowering communities who need it most. As a single chapter, U2H at UMD has donated $15,000 worth of medical supplies to Syrian refugee camps. Currently, the chapter is partnered with the University Health Center and is constantly working to build connections with other local healthcare facilities.
University of Maryland College Park Kidney Disease Screening Awareness Program (UMCP KDSAP)
The University of Maryland chapter of the Kidney Disease Screening Awareness Program conducts community outreach screenings to prevent the development of kidney disease, exposes students to scientific and medical professions within the field of nephrology, and raises awareness of the effects of kidney disease. This semester, UMCP KDSAP E-Board is working with the School of Public Health (and surrounding community partners) to host free kidney disease health screenings and health education events.
Womxn of Color Affinity Group
The Womxn of Color Affinity Group fosters meaningful connections and relationships, and creates a tangible space where conversation, leisure, reassurance, support, and fun takes place on a consistent basis. The group serves as an institutional home for undergraduate and graduate, staff, faculty, and other womxn of color professionals of all disciplines at UMD. Although this group centers on womxn of color, participation is open to anyone to whom this identity is meaningful. In the fall of 2019, the group put on its first meetup with an attendance of nearly 50 people, and plans to continue providing a space for womxn of color to be in community with each other.
Yogi Terps
Yogi Terps is an organization focused on bringing awareness to the campus community of the benefits that yoga and meditation have for college students. Yoga and meditation establish an important mind-body connection that has been shown to control stress levels and sharpen focus. Yogi Terps is passionate about bringing these benefits, among countless others, to college students, allowing students at UMD to have a healthy and successful college experience.