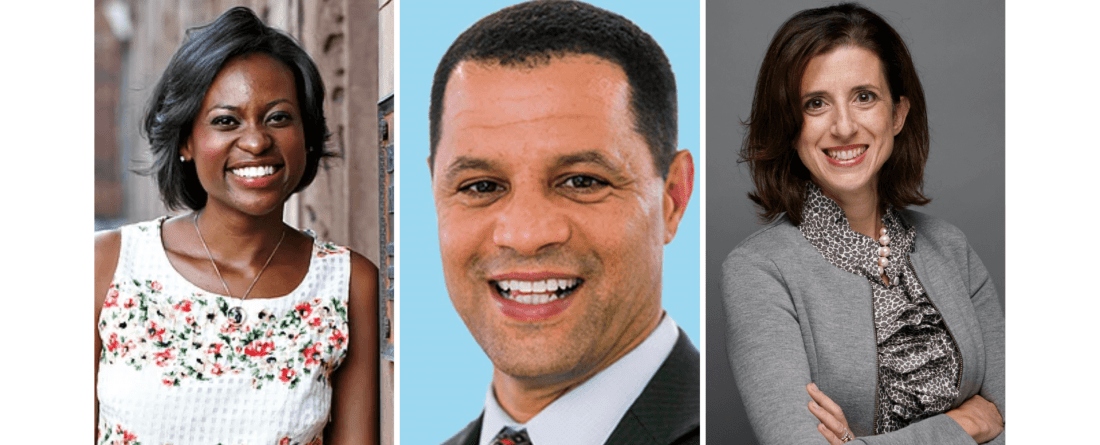 To keep up with student demand for the five-course School of Public Policy Minor in Nonprofit Leadership and Social Innovation and the Graduate Certificate in Nonprofit Management and Leadership, we are pleased to share the addition of three changemaking leaders to teach additional sections of core courses at the School. 
Ebonie Cooper Jean, Jeffrey Franco, and Barbara O'Reilly joined the School and Institute to bring extraordinary talent and unique perspectives to students studying nonprofit management and leadership and social impact. From fundraising expertise to strategic management wisdom, our new lecturers bring decades of experience and wisdom. Learn more about their careers below. 
Ebonie Cooper Jean, Principal of Friends of Ebonie, LLC, and Executive Director and Founder of the Young, Black & Giving Back Institute
Ebonie Cooper Jean believes black giving is magic! A trusted consultant and social entrepreneur, Ebonie is the Principal of Friends of Ebonie, LLC, and Executive Director + Founder of the Young, Black & Giving Back Institute (YBGB). For the past decade, Ebonie has used her research, thought-leadership, and expertise to inform national and local projects and speaking engagements related to nonprofit DEI, African American donor engagement, church ministry, partnership development, and fundraising strategies. In 2013 Ebonie released the groundbreaking research as an NYU scholar entitled: African American Millennials: Discovering the Next Generation of Black Philanthropy for the Effective Communication of Non-Profit Organizations. Findings from his report inform her career pedagogy: Engage, Enrich, & Empower. 
Strategic partnerships have included the Lilly Endowment, Wells Fargo Advisors, IU Lilly Family School of Philanthropy, Central Carolina Community Foundation, The Cleveland Foundation, Board Source, Teach for America, United Way of the National Capital Area and unum. 
Ebonie is also immersed in her passion for education and teaching. Having taught and lectured at the Georgetown University School of Continuing Studies, Trinity University, and Johns Hopkins' Social Innovation Lab, Ebonie currently serves as an adjunct faculty member in the School of Public Policy at the University of Maryland. Ebonie also fulfills her passion for teaching through preaching and her call to ministry. She is currently on the ordination track within the African Methodist Episcopal Church. 
Ebonie was recognized by ESSENCE Magazine and JET Magazine, in November 2016 and September 2013, respectively, as one of the nation's top leaders for her innovation around African - American millennial philanthropy. Ebonie's leadership and achievements have also been featured on WABC Eyewitness News NY, CNN's HLN network, The Washington Post, and Huffington Post Impact. She is a National Museum of African American History & Culture Ambassador, and a member of Delta Sigma Theta Sorority, Inc., Black Benefactors Giving Circle (DC) and Reid Temple AME Church. Ebonie is a proud graduate of North Carolina A&T State University (BS), New York University (MS) and Wesley Theological Seminary (MDiv.)
Jeffrey Franco, CEO and Founder, Camino Consulting Group, former Executive Director, City Year DC and Miami 
Jeffrey Franco has over 25 years of experience in leading and managing a large-scale nonprofit, and providing strategic consulting, business development and change management for both corporations and nonprofit organizations. As CEO of Camino Consulting Group, Jeffrey has worked with local and national nonprofit CEOs to provide strategic plan support, board development, executive coaching and fundraising guidance. Outside of Camino Consulting Group, Jeffrey serves as Adjunct Professor at American University and University of Maryland where he designed and currently teaches graduate and undergraduate courses in nonprofit management.  
Jeffrey served as Interim Executive Director and Vice President of City Year Miami after serving over 12 years as Executive Director of City Year Washington, DC. Under Jeffrey's leadership, City Year Washington, DC tripled the size of its staff, tripled the number of schools served, and quadrupled the number of students served.  Since his arrival at City Year, Franco more than tripled the organization's fundraising capacity from $2.3 million to $8.6 million. During this time, Jeffrey worked directly with the CEO of the United Way of the National Capital Area to establish its first direct six figure multiyear grant to support City Year's work in Washington D.C.'s most underserved schools.
Directly prior to joining City Year, Franco served as the Director of Global Business Development and Project Manager at Voxiva, Senior Consultant at Deloitte Consulting, Associate Director of Marketing and Sales at Corporate Executive Board, and Consultant at the International Finance Corporation of the World Bank Group.
Outside of his professional work, Franco was named 2013 American University Kogod School of Business Alumni of the Year, is an alumnus of the Aspen Institute Socrates Program, and is a 2016  graduate of the Co-Active Teaching Institute Leadership Program and 2010 graduate of Leadership Greater Washington. He graduated with a B.A. from Fairfield University, and has a Masters degree in International Affairs and M.B.A. from American University. Franco is fluent in Spanish and Portuguese, enjoys traveling, has completed 5 marathons and an Ironman triathlon, walked the 500-mile Camino de Santiago in Spain in 2013 and completed the 150 Mile Annapurna Circuit in Nepal in 2017.
Barbara O'Reilly, Founder and Principal, Windmill Hill Consulting, former President, Association of Fundraising Professionals (AFP) Washington DC Metro Chapter 
Whether it was leading record-setting reunions, securing tens of millions of dollars from global corporations following some of the most devastating natural disasters around the world, or overseeing a team that grew donor engagement of major individual donors committed to historic preservation, Barbara O'Reilly, CFRE understands that fundraising is much more than just raising money.  It's about enabling donors to realize their philanthropic dreams for issues that are most important to them and to be part of the change they want to see in the world. Barbara brings to her clients twenty-five years of major gifts, annual fund, and campaign fundraising experience at major non-profit organizations including Harvard University, the National Trust for Historic Preservation, Oxford University in England, and the American Red Cross. 
Her consulting firm, Windmill Hill Consulting, helps non-profit organizations of all sizes cut through the noise and develop a profitable fundraising strategy that focuses on the resources, skills and tactics they need to build more effective donor relationships and catapult their revenue. 
Barbara became a Certified Fundraising Executive (CFRE) in 2015 and an AFP Master Trainer in 2018. She serves as immediate past president of the Association of Fundraising Professionals (AFP) Washington DC Metro Chapter and as a former member of the Advisory Panel for Rogare, The Fundraising Think Tank in the U.K.  She is a frequent guest presenter at national conferences in the U.S. and on various webinars hosted by Network for Good, DonorSearch, Bloomerang, Firespring, OneCause, Boardable, UST, and Qgiv.  Barbara received her BA in English from Barnard College/Columbia University and her ALM in Celtic Studies from Harvard University.