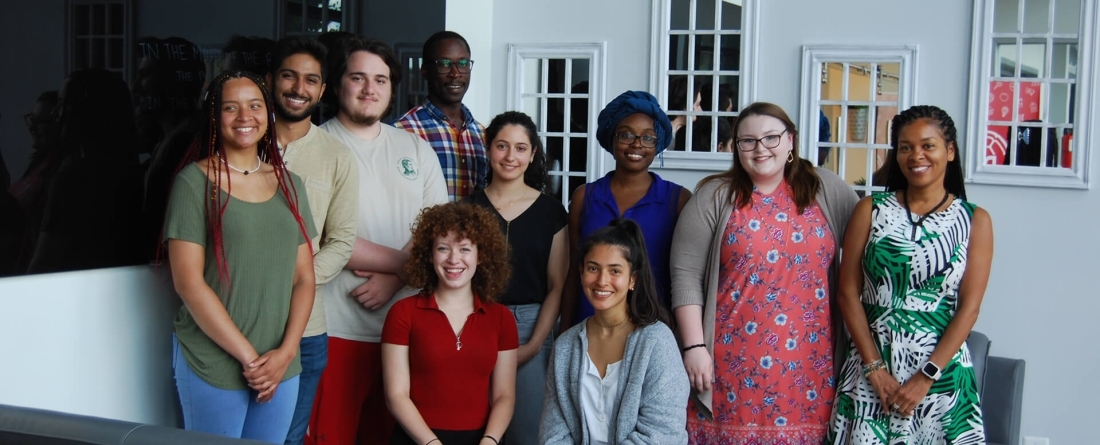 The Do Good Institute is pleased to announce that 10 undergraduate students from across campus have been selected to join the first cohort of the Do Good Accelerator Summer Program. The first-ever Summer Program provides students the space, resources, and opportunities to explore, test, or scale up their idea, project, or venture. Each week, students will spend 2 days participating in 1:1 coaching sessions with field experts, engaging in workshops that provide insights to valuable tools and resources, and immersing themselves in group activities with their peers who are also tackling a variety of social issues.
The program will run from June 3 - July 26 at the Do Good Accelerator, a collaborative space on campus that supports and helps to scale up student innovations addressing our world's most pressing challenges. Students were selected after an application process that included a written proposal and in-person interviews. All students will receive a stipend, up to $3,000, to support their work over the course of the program. And, at the end of the program, students will compete for an additional $500 award during a 'Perfect Pitch Party'. 
This year's Summer Program participants include:
Faith Wilkins El, Baltimore Leading Baltimore
Baltimore Leading Baltimore (BLB) is a nonprofit organization that is dedicated to serving Baltimore City public school students who are interested in pursuing Science Technology Engineering and Math (STEM) in their post-secondary education.
Samantha Griffin, Baller Scholars
Baller Scholars creates after-school program at local middle schools in the College Park area that provide students in low-income communities with a combination of academic help and physical activity to increase their overall health, well-being, academic success, and self-perception. Baller Scholars envisions a place where every child has a positive relationship with physical activity and takes advantage of its benefits to improve their health and life. 
Joe Russo, The Bus Boys
The Bus Boys are working on a solution to retrofit diesel busses at the end of their service lives into electric vehicles that can continue to serve their communities. The organization wants to create an effective way to reduce carbon emissions and reduce waste.
Alyssa Fox, The Cares Closet
The Cares Closet is a program that provides free hygiene products to students in need, discreetly in schools. The group plans to provide products ranging from toothpaste and toothbrushes, to feminine products and deodorant. 
Naja Fadul, Girls for Girls
Girls for Girls advocates for the justice, protection, and fair treatment of the vulnerable Yezidi population. Girls for Girls NGO was first founded by three American girls and sisters in 2015. It is a state and federally registered nonprofit organization that strives to educate, empower, and provide opportunities to disadvantaged girls all around the world.
Jasmine Garcia, Living Artists Network
Living Artists Network seeks to create a sustainable arts ecosystem by giving creatives entrepreneurial training, resources, and practical opportunities that will allow them to earn a living in the arts. The Living Artists Network organization will provide artists with opportunities such as marketplaces, ongoing educational workshops, and local business partnerships to sell their art and improve their business skills.
Sarah Lader, Minds Matter
Minds Matter is creating a wellness center that provides comfort, stability, gym, therapists, and home cooked meals for up to 3 days to UMD students who are experiencing stress and/or trauma and are unable to return home. This wellness center will have a range of calming activities such as art therapy, working with therapy dogs, nutrition education, yoga, and knitting to help decrease the intensity of mental illness flare ups and give students the opportunity to explore healthy ways to address these situations as they come up in the future.
Shivani Shah, Peer to Peer
Peer to Peer is a student organization at the University of Maryland that partners with the International Rescue Committee to provide after school programming for refugee youth in the Prince George's County area. The program has around 30 Peer to Peer mentors of UMD students who work with 63 refugee students at three locations. Peer to Peer helps plan and host weekend trips and activities including visits to UMD, where mentors give students a tour of campus while discussing the basics of the college admissions process. 
Rick Marving, Saturday Literacy Enrichment Program (SLEP)
SLEP's pilot program seeks to improve the literacy outcomes of elementary school children (30 children) through the comprehensive exposure to the fundamentals of reading, while providing the children with early exposure to college through the University of Maryland, College Park. Some highlights of the SLEP include: Introduction to the Alphabetic Principle and the sound-symbol correspondences for the 45 English speech sounds; Instruction in the six types of syllables and how they determine letter sound; Syllabification rules and diacritical markings for accurate decoding; and cursive handwriting forms and stroke mantras for developing motor memory
Danyal Malik, Walk With Me
Walk With Me provides cost-effective and temporary lower limb prosthetics to amputees in the developing world. Currently, in developing countries, there are prosthetics that are made for long-term results but are too expensive, and there are prosthetics which are very cheap, but ineffective and a short-term solution. The organization's prosthetics are made to be a perfect in between – prosthetics which can be mass produced while also maintaining very effective products for amputees to use until they can be provided a more high-end, long-term prosthetic.
The Accelerator offers a number of training, development, and networking opportunities to enable promising Terp nonprofits, projects, and socially-minded businesses the chance to grow their reach and impact. This creative community space provides students with leadership coaching, mentoring opportunities with local businesses, foundations, nonprofits and NGOs, financial support, and training to further students ideas. Support for this program is generously provided by the Rothschild Family Foundation.