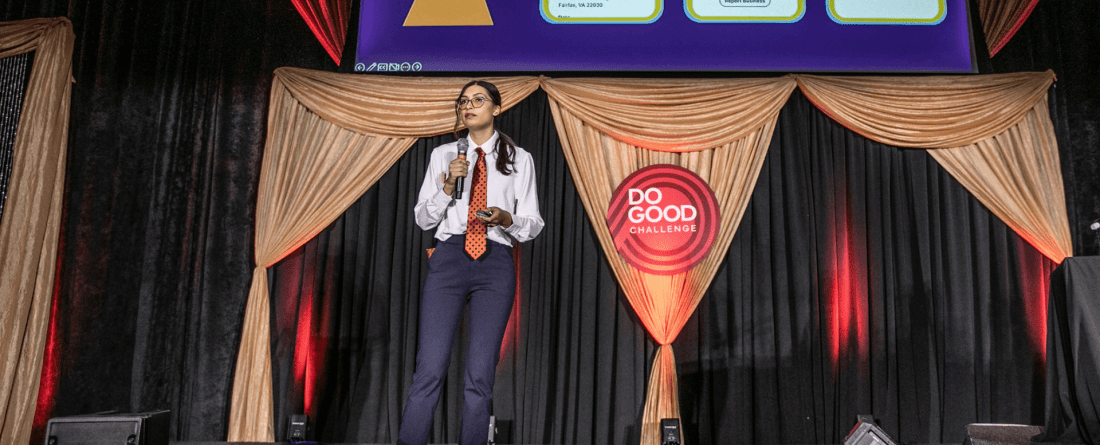 By Maryland Global Staff c/o Maryland Today
A University of Maryland student-led startup won the $2,000 prize for "Most Potential" in the 2023 Universitas (U21) RISE Showcase & Awards. The project is one of four social-enterprise projects recognized among the 22 submitted through the U21 network of 27 research universities around the world.
WISE Cities focuses on combating social isolation among older adults and driving innovation that supports an aging population. The startup's accessible web platform allows individuals to explore opportunities in their local communities.
For example, a user may find a chess class at the local senior center, a local transportation service to get them there and a county-provided transportation voucher to pay for it. The multilingual platform works across devices and will soon allow for AI-facilitated voice interaction.
WISE Cities, co-founded and led by Marie Brodsky '23, Kat Close '23, Victoria Chai '23 and Sonia Warrior, will use the award and additional pledges of support it has received from people around the world to expand its efforts in the fall.
"This international recognition reinforces to us the scale of the problem we are working to tackle," said Brodsky, CEO of WISE Cities. "It is truly fulfilling to be working toward a solution that we know can make a real difference, and not just (in the U.S.)"
U21's RISE (Real Impact on Society & Environment) highlights student achievement in sustainability and social innovation and is designed to accelerate the scale and impact of student-led projects by connecting them with a network of experts in academia and industry.
This is the fourth consecutive year a UMD-nominated project has won a prize in the final round of the U21 RISE Showcase & Awards: