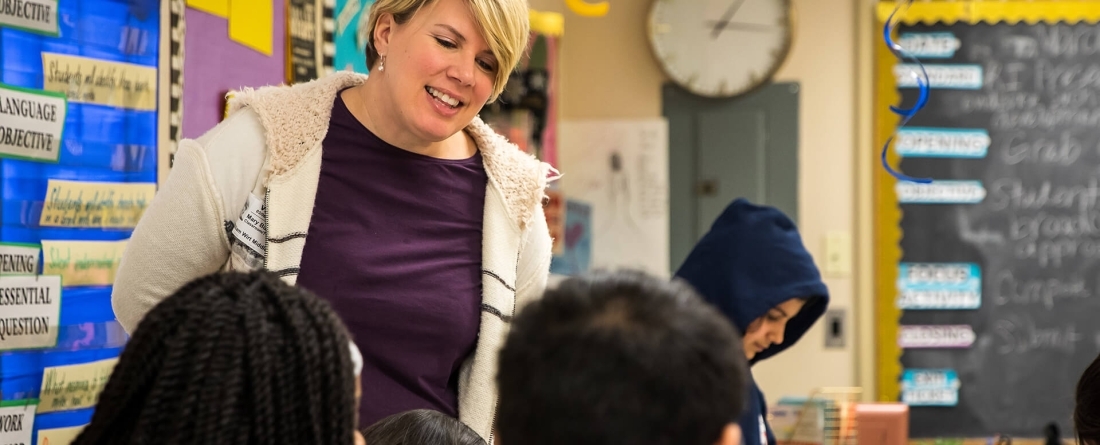 Alison Burns is an Adjunct Lecturer and Ph.D. student in the Merrill College of Journalism at the University of Maryland. As a Do Good Faculty Fellow, Alison has created a community-engaged research and service class for undergraduate journalism students. Through her course, students are able to interact with diverse communities and work to build trust between journalists and the public. Students are given the opportunity to work with a local middle school, teach young students new skills, and learn about social issues important to members of the surrounding College Park and Latinx communities.
Q: Why were you interested in the Faculty Fellows Program?
A: I'm really excited about the potential for service learning as a strategy for journalism students to gain a deeper understanding of the communities they are covering. Too often journalists interact with communities in a transactional way and are accused of "dropping in" to cover bad news, but working within diverse communities in a service capacity is a way to increase mutual trust and understanding. The Do Good Institute's Faculty Fellows program offered a wonderful opportunity for me to develop a new service-learning course for the Philip Merrill College of Journalism.
Q: What is your course and how is it structured?
A: The course "Community-Engaged Research and Service" is a combination of classroom discussions, topical readings, guest speakers, community meetings, and work with students at a local middle school. We also do a lot of readings about how journalists can do a better job making contacts in communities and building relationships.
Q: What are some of the things you're teaching the middle school students?
A: The middle school students have had some really fun and educational experiences. We've taught them how to conduct interviews, proper camera framing techniques, and how to present themselves on camera. We're listening to the students, teaching them new skills, and hopefully making them feel like valued and important community members. We also hosted a fantastic field trip at UMD for about 40 of the middle school students.
Q: Why did you choose to center your course on Latinx schools and communities?
A: We have extraordinary diversity in Prince George's County, including many families from Central and South America in the communities near our campus. This has also been a really critical year for immigration-related issues. These were huge issues in the 2016 presidential campaign. Voters ahead of the 2018 midterms said immigration was one of their biggest concerns, and there's a lot of misinformation out in the public. Giving our students an opportunity to talk to people in the Latinx community and get a real view of what's happening is really important. Students are able to process what they're hearing in the news, and understand that people right here in our community have been affected.
Q: What do you want your students from UMD to gain from this class?
A: They're learning more about the communities they could be covering in the future. I hope to give students a better understanding of what's happening in local communities before they're out covering them. There have been systemic inequities in coverage of Latinx communities and the more our students develop critical consciousness about those problems, including how to avoid stereotyping, the better reporters they're going to be and the more authentic and impactful their stories will be.
Q: What has been one of your personal takeaways from this course?
A: This project and course have made it clear to me that service-learning is a really important educational strategy for getting students to understand communities around them and the issues they face. A huge focus of what we're trying to do is building bridges between cultures, between the press and the public, and between the UMD campus and local communities. It's been amazing to see that this has been happening – and working.
Q: What was your favorite part of the Do Good Faculty Fellows Program?
A: The most fantastic part of the Faculty Fellows program is the support I received from the Do Good Institute and the other Fellows. Everyone has been supportive and helpful, willing to pitch in with advice and this class would not have gotten off the ground without the help of the Do Good Faculty Fellows program.