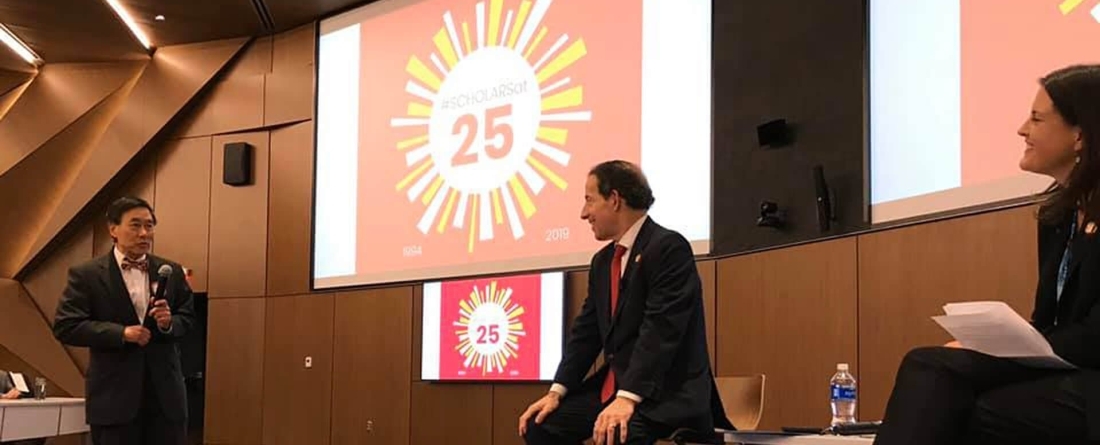 On February 24, the Public Leadership Scholars program hosted U.S. Representative Jamie Raskin, who represents Maryland's 8th Congressional District, on campus for a conversation on his leadership and the country's current state of democracy. In conversation with Public Leadership Scholars director Susannah Washburn, Rep. Jamie Raskin discussed his journey from teacher of law to maker of laws; his role — as a member of the House Judiciary Committee and a scholar of constitutional law — in the impeachment of President Donald Trump; and his thoughts on the current state of American democracy.
A full house of engaged students in the Antonov Auditorium at the Clarice Smith Performing Arts Center listened in as President Wallace Loh introduced Rep. Raskin and posed the question "What is civic engagement?" to kick off the conversation. A question which lingered throughout the event.
The conversation began with Rep. Raskin's path from student to legislator and later shifted from the classroom to Congress. As a previous law professor, his expertise is in constitutional law. In congress, he prioritizes defending constitutional values.
According to Rep. Raskin, leadership and public office are not the same thing. He views real leadership as a triangle. The top of the triangle is moral premise, or having a goal. The two bottom points are leaders and followers. "Leadership is connected to how you think about the world," Rep. Raskin said. "It's about how to empower others to make change."
After a moderated discussion, students had the opportunity to ask Rep. Raskin their questions. A constituent of his from Mount Airy, Maryland, asked a question regarding gerrymandering and how to secure his district. His response led to his portrayal of passion and his priority of his constituents. "If you call my office, we'll go to bat for you," he said.
The last question raised a response of laughter. Regarding climate change, "Does humanity have any hope?" a student asked.
"We absolutely have hope. Humanity doesn't get itself into problems that it can't get itself out of," Rep. Raskin responded. "I'm looking at the hope," he added.
This event was sponsored by College Park Scholars in partnership with the College of Arts and Humanities, First Year Book, and The Clarice Smith Performing Arts Center.
This article was written by Do Good Ambassador Hope Kahn.