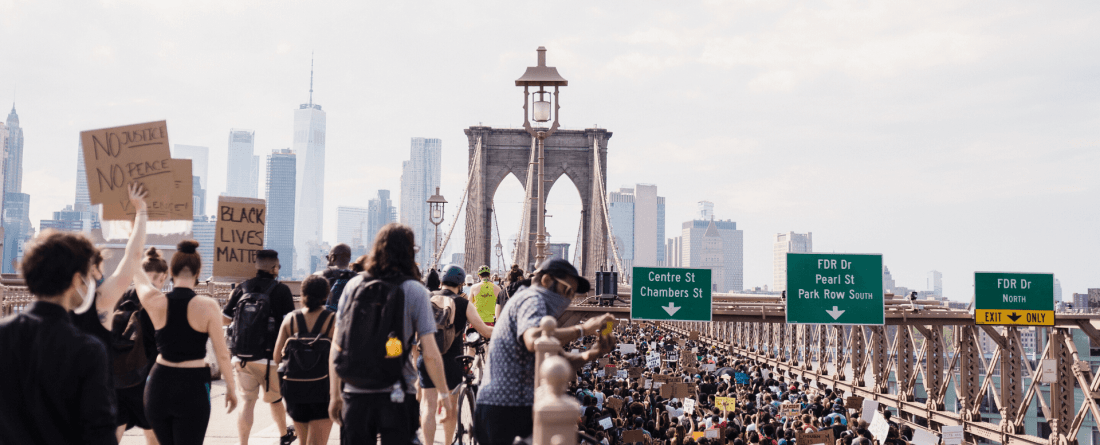 To Our Do Good Community, 
The last few weeks have been a devastating reminder of the hard work we still have to do to ensure justice prevails, for all. While our country continues to struggle with a pandemic, we are also grappling with the ramifications of our centuries-long history of racial injustice, white supremacy, and systemic racism. This time, the movement was sparked by the murders of Ahmaud Arbery and George Floyd, and intensified by the murders of Breonna Taylor, Tony McDade, and Rayshard Brooks. We, as the Do Good Institute team, see Black lives. We hear Black lives. We stand with Black lives. And, we unequivocally believe that Black Lives Matter. 
As educators and advocates, we have always encouraged understanding, action, and doing good for our communities, but we're embracing and encouraging this now more than ever. As we often suggest to our students, our team has taken a step back over these last few weeks to listen and learn. We are committed to learning as much as we can about how to be anti-racist and how to best support Black communities and other communities of color. You can find some of the resources we have been using to learn on our social channels.
Change will not come if we wait for some other person or some other time. We are the ones we've been waiting for. We are the change that we seek."
This quote from former President Obama is emboldened on the wall in our Do Good Accelerator, which serves as daily inspiration for our team and students that we can create meaningful change no matter your background, interests, or race. Now, more than ever, it's an important reminder that change cannot wait. And, we have the power to create that change. 
Below are a few concrete learnings, actions, and commitments that we're starting with to support Black communities right now: 
Educating Ourselves: We're reading more, actively listening, watching films and are committed to having difficult and open discussions about race and injustices in this country. Our full team is joining the Black Students in Public Policy and the Diversity, Inclusion, and Belonging Taskforce for a School of Public Policy Antiracist Discussion Series using Ibram X. Kendi's How to Be An Antiracist as a tool to guide the discussion. 
Supporting Black Communities: As part of Young, Black & Giving Back Institute's Give 8/28 campaign, which closes out Black Philanthropy Month, we'll be giving a grant to support black-led and black-benefiting grassroots organizations. The event takes place on August 28 - the anniversary of Martin Luther King, Jr.'s "I Have a Dream" speech - but giving is live now to help participating organizations stay funded during this crucial moment. 
Revising What We Teach: We're dissecting and reevaluating our program offerings like the Do Good Challenge, Accelerator Fellows, and workshops. We're working to ensure we include diverse voices and perspectives, that we consider the historical, political, and social contexts of the social issues students are working on, and that we're "decolonizing" any curriculum we offer.
This is just the start. We know there's so much work and progress to be made, we know we cannot remain silent. We take our responsibility as educators seriously, and we're committed to using our voices, expertise, and funds to develop emerging leaders who are prepared to create meaningful change for a truly equitable world. Over the coming weeks and months, we'll regularly share updates on our actions and commitments to becoming actively anti-racist and more supportive of Black communities. 
We're calling on our Do Good community - full of passionate leaders, innovative thinkers, talented changemakers, and staunch advocates - to join us and the countless others breaking the silence and fighting to rid our nation of white supremacy. Do you have ideas or feedback? Please reach out to us - our doors are always open. We urge you to find ways to help now and in the future, whether you take ideas from our commitment, or find new ideas from experts like Equal Justice Initiative, Black Visions Collective, or Black Lives Matter.
We stand in solidarity,
The Do Good Institute Team