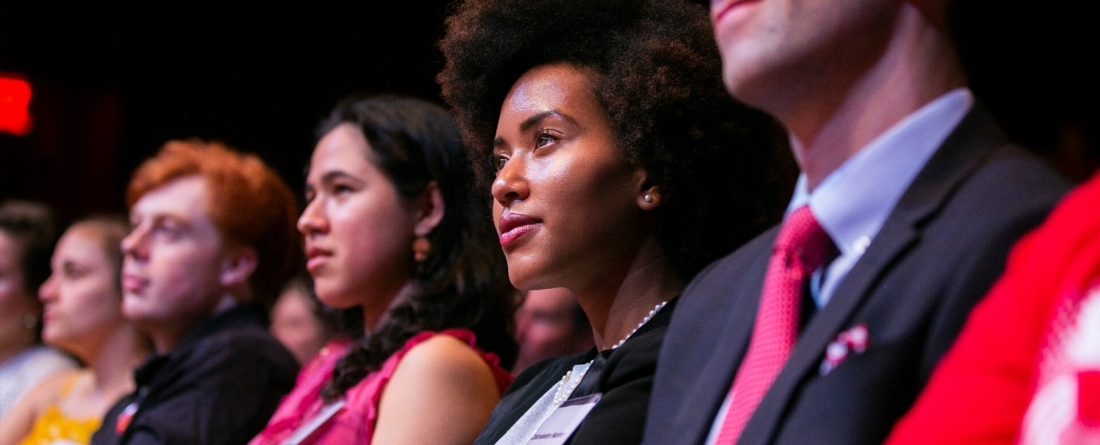 Our Do Good students and alums, whether they have graduated from the School of Public Policy, are participating in Do Good programs or something in between, continue to achieve great things. We caught up with some current students and recent graduates to hear about the great nonprofit and social innovation jobs and internships they've landed, as well as awards they've won. And, we have updates about how Terps are continuing to create change for issues they care about with their social ventures and nonprofits. Find out what our alumni are up to below:
Lamiya Ahmed is part of our first class of Nonprofit Management and Leadership Graduate Certificate students. She is now a Program Specialist at the American College of Obstetricians and Gynecologists (ACOG), a nonprofit professional association leading standards of care among OB/GYN practices.
Kirsten Craft (MPP '16, 2015 Do Good Challenge winner, and 2017 Do Good Challenge judge) was promoted to Senior Innovation Manager at Share Our Strength.
Kerry Darragh (BA/MPP '16) recently joined the Horizon Foundation as Communications Officer.
Laura Griffin (current TIAA Nonprofit Leadership Fellow) won a national essay contest and received an Emerging Leaders Scholarship through the National Housing Conference. The prize included free membership for Emerging Leaders in Housing and funding to travel to Chicago for the Foundations for the Future of Housing Conference, a collaboration between the John D. and Catherine T. MacArthur Foundation and Urban Institute.
Zebbie Hunter (TIAA Nonprofit Leadership Fellow alumna) secured a Grants Management Analyst position with Citibank New York's Corporate Social Responsibility department.
Andrew Knutson (current TIAA Nonprofit Leadership Fellow) interned with the A. James and Alice B. Clark Foundation this past summer and was offered a full-time job in grants management. Andrew is working part-time and will transition to full time after graduating this December. Andrew is part of the operations team, led by Director of Operations and alumna Ashley Williams (MBA/MPP '15).
Evan Lutz ('14) and Ben Simon ('14) continue to serve as thought leaders in the food waste and insecurity space. Most recently, Evan wrote an Op-Ed in The Baltimore Sun and provided tips on how reduce food waste, and Ben was featured in a New York Times article about college-founded food-focused companies.
Chris Markomanolakis (TIAA Nonprofit Leadership Fellow alumnus) started his "dream job" with Population Services International, a nonprofit global health organization. As the Associate Program Manager for Anglophone Africa, Chris supports field offices and staff to implement family planning and reproductive health projects. He manages the country portfolios for Lesotho, Malawi, and Rwanda by providing financial and operational support including budget management, impact assessments and proposal development.
This fall, we welcomed four top-notch graduate students into the Philanthropy Fellows program, a partnership between the Do Good Institute and the Washington Regional Association of Grantmakers (WRAG). Since the Philanthropy Fellows program launched, more than 75 fellows have worked at over 30 top-tier organizations. This year:

Chelsea Brown will support the Association of Black Foundation Executives (ABFE) with keystone research initiatives. Chelsea Brown is a nonprofit management and leadership graduate student at SPP. She has worked with national nonprofits such as the SEED schools and this year, she was highlighted as a "Black Woman to Watch in Philanthropy" in BlackHer's study on Black philanthropy titled "The Black Woman's Guide to Philanthropy." More recently, she was selected for the Forbes 30 Under 30 Scholars Program.
Jianna Howard will work with Kaiser Permanente to support their Youth in Action program, which empowers high school students to catalyze change in their communities. Jianna is a Master of Public Health candidate focused on health equity and an AmeriCorps alumna. Jianna is passionate about understanding health disparities and using history and policy to inform about and overcome disparities.
Amy Tran will work with the Montgomery County Collaboration Council for Children, Youth and Families on a number of signature research initiatives that will support youth development practitioners to be more effective. An MPP student and alumna of AmeriCorps, Amy is passionate about equal access to education, trauma informed care, and health policy.
Mikayla Walker will work with Grantmakers in Health on flagship research initiatives and advocacy efforts. Mikayla is a Master of Public Health candidate focused on health equity and global health.

Summer 2019 Accelerator Fellow Rick Tagne ('17) was featured in Maryland Today for his work supporting students through the Saturday Literacy Enrichment Program. Rick accomplished a number of successful outcomes this summer including raising $3,000 for his cause.
Terps Against Hunger (2015 Do Good Challenge Winner) continues to make an impact on hunger and our campus community. Most recently, on September 25, the group hosted 150 students to pack over 20,000 meals for local families in need. The event brought together students from diverse religious, spiritual and secular groups, including the Muslim Students' Association and Maryland Hillel. Terps Against Hunger has packaged nearly 3 million meals since 2013.