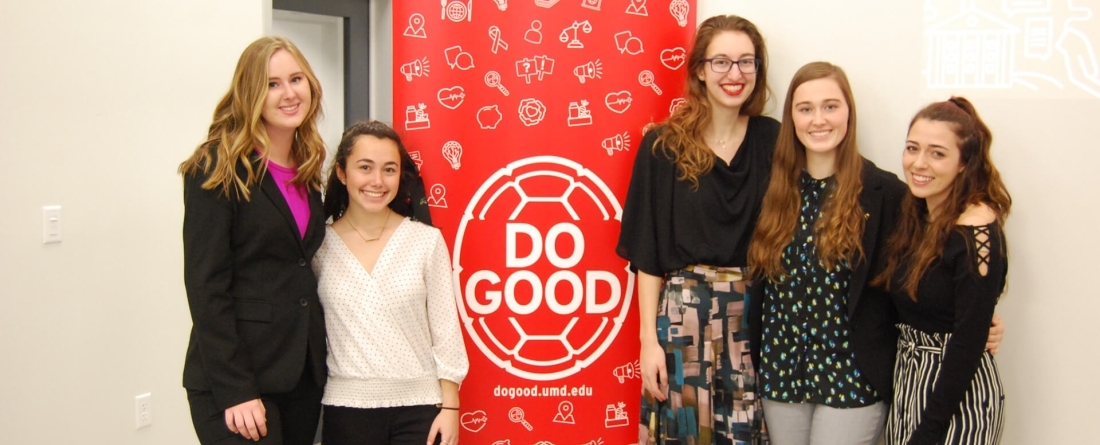 On December 5, 2019, undergraduate students from three sections of "Do Good Now" courses competed in the Do Good Now Course Competition for the chance to win up to $1,000 toward their projects and coaching at the Do Good Institute's Do Good Accelerator.
Earlier this semester, students in each Do Good Now course were tasked with creating semester-long projects that create an impact for causes and issues they care about. Teams tackled issues ranging from reducing student debt, access to menstrual products on campus, recycling electronics, reducing single use plastics and so much more.
Modeled after the annual, campus-wide Do Good Challenge, three finalist teams at the Do Good Now Course Competition presented pitches to and answered questions from an audience of UMD faculty, classmates and a panel of judges that included Kevin Boyer, associate director of public policy and research at Service Year Alliance; Chelsea Brown, a philanthropy professional with more than 5 years of experience with organizations including The SEED School of Maryland, Educational Testing Service, The Young, Black and Giving Back Institute, and more; and Veeraj Shah, a Neurobiology & Physiology and Public Health Science student in the class of 2021 and founder of Chat Health, a chatbot text service that provides UMD students information on vaccine preventable diseases and other health issues.
The finalists were:
Defeat the Debt: Like many other Americans, UMD students can potentially take on a lot of loans to pursue higher education. At the same time, many scholarships given at UMD only receive a few applications and many students don't know about the available opportunities. Defeat the Debt hopes to change that by connecting undergraduate students with existing merit-based scholarships on campus to decrease the amount of loans students may need to incur if they received a scholarship.
E-Cycle: Technology changes fast and what is left behind are lots of old products, cords, and other e-waste that can end up in landfills. E-Cycle hopes to increase the amount that UMD students properly recycle old tech products by promoting awareness of the issue and providing more access to E-Waste bins that collect items to be properly recycled.
Get Ovary It: At least half of UMD students are menstruating individuals and yet it is difficult to find free or affordable menstrual products on campus when they are needed. Get Ovary It is committed to providing menstrual products for free to students and employees, and so have partnered with company Aunt Flow and with campus partners to bring coinless dispensers to high-traffic bathrooms on campus.
After all three teams presented, the judges left to deliberate. During this time, three semi-finalist teams were given the chance to give two-minute lightening pitches for a chance to receive coaching and support from the Do Good Accelerator. The semi-finalist teams include:
MentaliTea, a group focused on developing an easy-to-use app to act as a hub for all possible mental health resources that a student would need on UMD's campus;
Reduce Single Use an awareness campaign, including fun stickers, that reminds and incentivize students to reduce their consumption of single use plastics; and
Supporting Pregnancy Aid Center a group that helped market volunteer opportunities with the Pregnancy Aid Center, which provides much needed care to pregnant women in need.
After the semi-finalists delivered their lightning pitched, the audience had the chance to text-to-vote for their favorite semi-finalist team. The vote was very close, and in the end Reduce Single Use won the audience choice award to receive coaching and a small financial award to continue to develop their project.
After the text-to-vote, the judges announced the winner and gave all of the finalists feedback on their projects and ideas about how to continue making an impact after the semester ends. The judges were impressed with all of the teams, but ultimately Get Ovary It was announced as the winner of $1,000 and continued support and coaching at the Do Good Institute's Do Good Accelerator.
Do Good Now courses are offered to students through the School of Public Policy, the College of Behavioral and Social Sciences, Honors College and the College of Arts and Humanities. This semester's courses were taught by Toby Egan, Tricia Homer, and Joannie Tremblay-Boire.