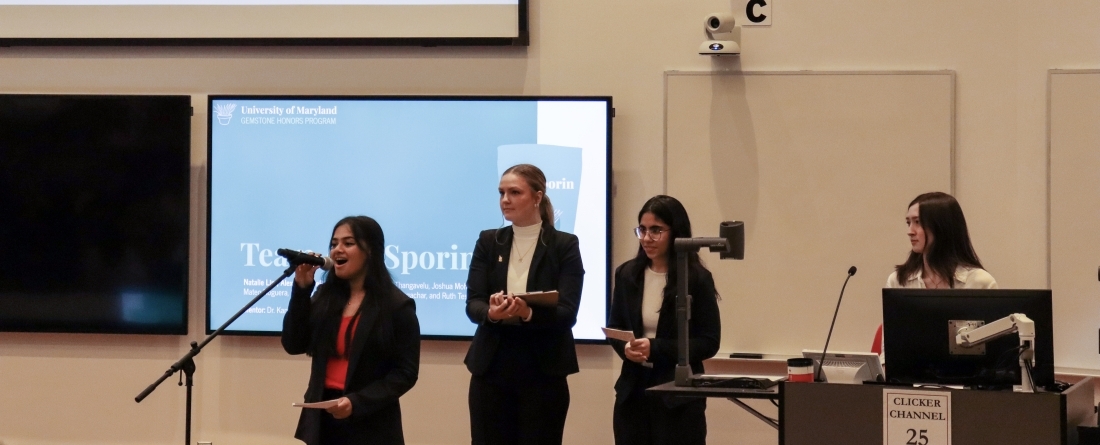 This November, the Do Good Institute partnered with the Gemstone Honors Program to host the 5th annual Gemstone Do Good Showcase. The Gemstone Honors Program at the University of Maryland is a unique, multidisciplinary four-year research program for selected undergraduate honors students of all majors. Teams of students design, direct and conduct significant research under the guidance of faculty mentors and Gemstone staff. Students tackle complex problems, from monitoring beehive health to tracking microplastics in the ocean, often examining the interdependence of science and technology in our society. 
What I love about partnering with the Gemstone Honors Program is it's an opportunity to highlight and showcase how research is an important, sometimes overlooked, strategy for social impact. Not only can research lead to innovative technologies, but it can also uncover data and trends that help to better design and inform policy and interventions that tackle social issues. It's a way to not just advance what we create but how we think.

Katlin Gray Program Manager for the Do Good Institute
Twelve impressive Gemstone student teams presented their research and participated in Q&A sessions with a remarkable panel of faculty judges and peers. The panel included Dr. Allison Lansverk (Gemstone associate director), Dr. Vickie Hill, (Gemstone assistant director), Katlin Gray (program manager, Do Good Institute), Haley Mullen (Gemstone Class of 2020) and Daniel Smolyak (Gemstone Class of 2020).
After a competitive showcase, judges deliberated and selected three student teams:  HiveMind, Marine and Solar, as the 2022 award recipients, with each team receiving $500 to support their research endeavors. In addition, Team Transport received $300 as the Audience Choice Award recipient, a Gemstone awarded honor. 
Learn more about the talented teams and their winning research: 
Hivemind is studying the use of electronic circuits that mimic neuro-biological structures and event based vision, cameras that function like the eye and the brain, to monitor beehive health. They are exploring the use of an innovative vision sensor to monitor bees to better monitor bee health given declines in bee populations as a threat to our agriculture.
Marine is developing a standardized methodology for microplastic detection by identifying and mapping point sources in the Anacostia watershed local to the UMD campus. 
Solar is exploring how to test and develop a sustainable process to recycle and/or reuse photovoltaic cells to reduce solar pollution, which is the release of toxic byproducts into the environment as a result of the reuse of solar panels.
The Do Good Institute is grateful to all Gemstone students for their hard work, dedication and passion this semester. Learn more about the Gemstone program at gemstone.umd.edu