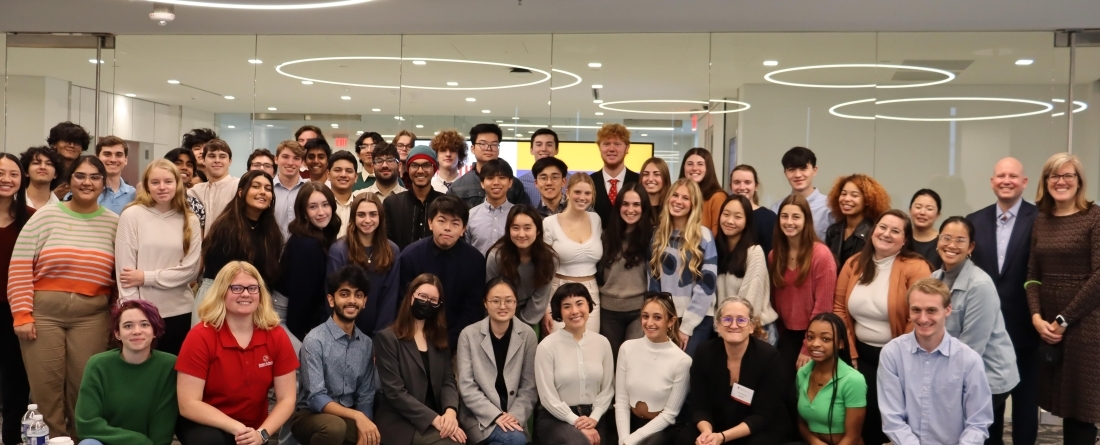 Written by Emma Rubino '23, communications intern
Each year a select group of first year students at University of Maryland are invited to participate in Carillon Communities, a living/learning program where they work together to address pressing challenges in both their local and global communities through the use of creative problem solving. The iGIVE community - one of eight communities within Carillon - is a two-semester program that gives students the opportunity to delve deeper into doing good. During their first semester, students apply their course work in the fields of philanthropy, innovation and social change to award a $7,500 grant to a nonprofit organization of their choosing. 
On December 6, 45 iGIVE students came together for a grant ceremony to reflect on their experience and present the grant to their chosen nonprofit organization, Baltimore Abortion Fund.
Ater this year's grant ceremony, Do Good Institute intern Emma Rubino sat down with iGIVE students Denis Kalinin '26 and Uthkarsh Tolapu '26 to discuss their first semester experience and how this opportunity and community have enhanced their time at UMD so far.  
Emma: What inspired you to become a part of the iGIVE program? 
Uthkarsh:  "iGIVE was my first choice [out of the Carillon communities] because I wanted to do something good for the community, which I don't think I would have done until later in college without iGIVE." 
Denis: "I was interested in iGIVE because it seemed like I would be able to make an impact and I don't think I would have gotten involved in nonprofits otherwise."
Emma: You just completed PLCY214 (Leading and Investing in Social Change: Redefining and Experimenting with Philanthropy) this semester, which gives first-year students like you the opportunity to develop and run a grantmaking process while learning about the art of philanthropy. 
What was your experience like learning about philanthropy? Did your perspectives about what it means to be a philanthropist change? 
Denis: "When I started iGIVE, I thought philanthropy was focused on money, but there is a lot more to it. We learned about misguided philanthropy and how to decide whether money is being put to the best use with the amount of research and effort.
Uthkarsh:  "My perspective definitely changed. As I presented at the ceremony, I created my own new definition of philanthropy: giving a part of yourself to someone in need." 
Emma: How did you and your classmates go about researching and learning about the issues in your community?
Uthkarsh: "Our professor provided us with issues and policy memos and together we had to decide on an issue to focus on and find as many nonprofits as possible." 
Patricia Bory, director of the iGIVE program and professor for the course, noted that students were tasked with considering some of today's grand challenges. Students deliberated on gun violence, climate change and reproductive justice to name a few. 
Emma: Which issue stuck out to you and your cohort the most? Why?
Denis: "We chose to focus on reproductive justice because Roe v. Wade [was overturned this year]. This is the first time reproductive rights has been the issue iGIVE students have chosen to address, which allowed us to gain our own perspective. This is one of the most pressing issues for our generation and I definitely got a better understanding of the issue. 
After students determined their focus issue, they worked through the process of developing and running a grant making process. They crafted mission and vision statements, and then sent requests for proposals to more than 80 nonprofit organizations. The students received applications from a range of nonprofit organizations and then began the process of reviewing based on their selection criteria and the mission and vision they set forth earlier in the semester. 
Emma: I'm sure it was a difficult decision sorting through the applications you received. How did you decide who to award the grant to?
Denis: "It was a really close vote, 23-21. We narrowed the options down based on the applications after we decided to focus on local organizations. The Baltimore Abortion Fund were very flexible, personable and showed a lot of interest and passion. Most importantly, they were going to be able to help the most people."
The Baltimore Abortion Fund plans to use the grant to aid people with access to abortion care following newly restrictive policy changes. This includes funding travel expenses, legal fees as well as the abortion service itself. 
Lynn McCann, co-director of the Baltimore Abortion Fund, attended the ceremony to accept the grant and talk with students about her journey in the nonprofit world.
I think one of the really beautiful things about nonprofit work is that you can integrate it into the fabric of your everyday life. The first step for me was waking up to the reality of the world we live in and all of the systems of inequality and oppression that exist. I think being a part of this program and having those really difficult conversations [about the most pressing social issues of our time] has put you on the journey to see the opportunities for you in both your professional or personal time to give back to your community.

Lynn McCann co-director of the Baltimore Abortion Fund
Emma: Now that you have finished your first semester with iGIVE, how do you feel the program has impacted you and your time at UMD? 
Denis: "I had never considered philanthropy before and iGIVE opened my eyes to policy. I definitely want to take more policy classes now that I have a stronger basis."
Following their grantmaking experience, this spring, iGIVE students have the opportunity to continue their journey in  philanthropy – this time creating their own social impact projects. In PLCY215, students will work in teams to address a social issue of their choice. They will partner with local organizations to implement their projects under their professor's guidance. The students even have the opportunity to compete in the annual Do Good Challenge, a campus-wide pitch competition where the top teams share their impact for a chance to win a share of $20,000.
Congratulations to all of the students for their hard work this semester and to the recipients of this year's grantee, the Baltimore Abortion Fund. Learn more about the Baltimore Abortion Fund at baltimoreabortionfund.org. Visit carillon.umd.edu/communities/igive to learn more about the iGIVE program. 
Publications Carousel
Patricia Bory, director of the iGIVE program, commences the grant ceremony.
Students present iGive grant recipient, Lynn McCann, co-director of the Baltimore Abortion Fund, with questions about her journey in philanthropy.
Students conclude their semester long work at the iGive Grant ceremony,