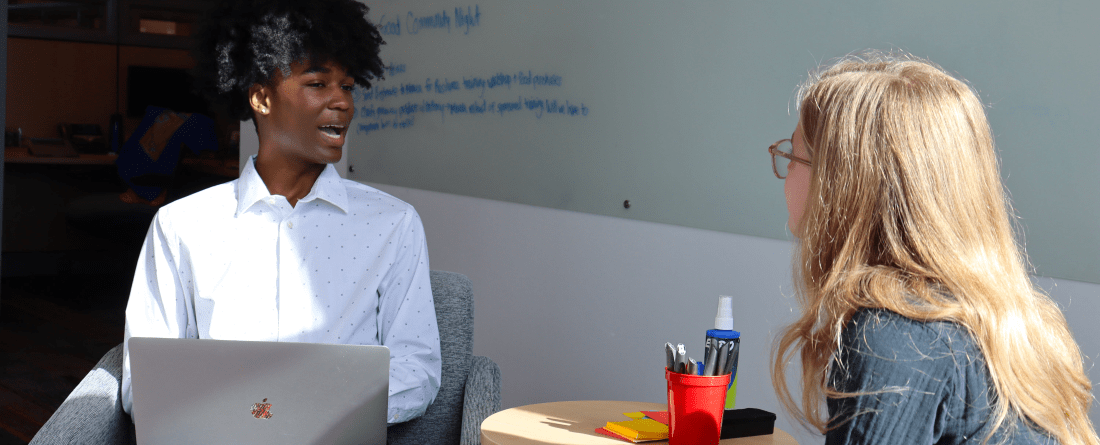 15 creative and passionate students are spending the summer with the Institute as Accelerator Fellows to explore, test and scale up their ideas, projects and ventures while working with peers who are also tackling today's grand challenges. Throughout the 8-week program Fellows connect and learn from each other, participate in 1:1 coaching sessions with field experts, engage in robust workshops and immerse themselves in various group activities with industry leaders. Fellows were selected after a competitive application process - with this being the largest cohort since the program's inception - and will receive a stipend to support their work over the course of the program with some Fellows working in person and others remotely.
Summer is here and while many are planning exciting trips and restful days before another busy school semester, we have 15 Summer Fellows that are eager to make a positive impact in their communities by providing global health clinics, tackling bullying at an early age, teaching young children how to cook nutritious meals and much more! I'm super excited to work with all of our new and returning Fellows and look forward to sharing more about their accomplishments

Kisha McNeill Do Good Accelerator Manager
Read more about each project below.
Smrithi Chakravarthy, The Code Node
Smrithi is a junior studying computer science and biological sciences in the College of Computer, Mathematical, and Natural Sciences. Smrithi is the co-founder of The Code Node, an organization that aims to give students real-world computer science experience through mentorship, projects, partnerships and educational workshops. The program aims to provide students with skills that would serve them when working in a tech space, as well as helping them make connections and be prepared for a career in computer science. The Code Node will also connect students to nonprofits and other social good focused organizations in need of technological support. This summer, Smrithi's goal is to work toward obtaining nonprofit status for The Code Node and develop educational resources and connections with other organizations.
Kat Close '23, WISE Cities
Kat is a recent graduate with degrees in environmental science and policy and graphic design and the co-founder and chief product officer of WISE Cities. WISE Cities is a female-run startup focused on designing accessible technology to address the issue of social isolation among the elderly. The company's first app allows seniors to form local groups and gives community centers and local businesses the opportunity to connect with this typically hard-to-reach audience. Through the Smart City Challenge, WISE Cities was selected for a pilot opportunity with the City of Fairfax that provides them direct access to a community interested in their service for the benefit of their senior population and local businesses. Additionally, they have been able to connect with almost 200 community centers, businesses, governments and networks to refine their product. They have received close to $20,000 in grants, credits and resources through the Dorm Room Fund, AWS Activate, Google Cloud and more. The product has been featured on MSN and Patch and has gained support from National Village to Village Network as well as individuals connected through AARP. As a returning fellow from last semester, this summer Kat's goal is to finish development and final testing of the platform;  begin demoing the platform with interested customers; finalize the price tiers through customer interviews; and to update company presence to match its current direction.
Chris Esmele '20, Loasis Magazine
Chris is a master's student in the College of Information Studies (iSchool). Chris is the founder and editor-in-chief of Loasis Magazine, an editorial magazine that focuses on the music, fashion, art and creative spaces in the DMV region. Loasis Magazine aims to provide publishing opportunities for aspiring journalists, hold open mics for vocal artists and foster a cultural movement around the arts that the DC-metro area is lacking for college students and area youth. Chris aims to scale the publication globally, distributing it throughout the world to showcase artists who have been overlooked. Chris wants to focus on providing for underserved communities, fostering cultural exposure, and distributing grants and scholarships in the future. This summer, Chris wants to learn the necessary communications tools needed to reach out to different communities in the region, start providing creative exposure, generate the initial funding needed to kickstart the magazine and establish a strong network in the city.
Jenny Jeong, Sociable AI
Jenny is a junior pursuing a degree in criminology and criminal justice. She is the co-founder and chief operating officer of Sociable AI, a groundbreaking startup dedicated to revolutionizing the way brands use social media messaging for engagement. Combining her passion for technology, effective communication and innovation, Jenny plays an integral role in developing and executing strategic public relations initiatives for Sociable AI. She oversees the company's media relations, network-building and storytelling to increase visibility and credibility within the B2B market. At the core of her vision, Jenny is committed to helping brands enhance their social media presence by leveraging the power of conversational AI, designed to mirror each brand's unique personality. By doing so, Sociable AI's solution enables businesses to forge stronger connections with their audience, sustain a loyal following, and gain valuable insights into customer interests via sentiment analysis. This summer, Jenny's goal is to gain insights into the latest trends in the industry and to refine the AI model. 
Karolina Kalset, Fortitude
Karolina is the founder of Fortitude and a senior pursuing dual degrees in philosophy, politics and economics and American studies, with a minor in public leadership. Her organization hopes to bring greater awareness to the prevalence of mental health issues among the male population. Fortitude recognizes the need for men to shift their perspective in terms of what mental health looks like and aims to reduce the reluctance to engage in related conversations. Fortitude provides perseverance-based content, educational resources and a community of empowerment to destigmatize and reduce mental health issues in men. This summer, Karolina's goal is to launch Fortitude's website and corresponding social media accounts, become a recognized organization with the Student Org Resource Center (SORC), and build a group of volunteers that share the desire to passionately combat men's mental health stigma.
Ashmita Kaur, The OBE Collective
Ashmita is a second-year Master of Quantitative Finance student at the Robert H. Smith Business School. Ashmita is the founder of the OBE Collective, a community-led learning platform created and crowdsourced by a growing team of students that provides access to standardized resources, like exam study material and subject notes, with the aim of transcending the boundaries of unequal access. Ashmita's goal for the summer is to expand the network of students from 50 to at least 200, work on market positioning and branding, build a small team of two to three and build a website for study materials for students.
Ina Kovacheva '09, Arch Dash
Ina is currently taking graduate courses in computer science and is the chief executive officer of Arch Dash. Arch Dash provides users with a comparative analysis of buildings and their sustainability. A car tells the driver its miles per gallon, an iPhone collects data on screen time, and a BGE bill tells a homeowner how efficient they are compared to their neighbors. However, there is very little about the design of buildings and how they compare to each other. Buildings have a huge impact on the environment and the people who use them, accounting for more than 40 percent of greenhouse gas emissions and 76 percent of electricity use in the U.S alone. More shocking is that 30 percent of that–or $200 billion–is lost annually. Arch Dash aims to ensure that this data is easily accessible and helps inform the right decisions to create a more sustainable future and a healthier built environment. As a returning fellow from the spring semester, this summer Ina will be working to establish a viable pricing model, conduct interviews with developers, secure a pilot, and have users test out the platform. 
Sam Krakower, Food Squad
Sam is a freshman in the College of Education. Sam is the founder and president of Food Squad, an organization focused on teaching children in communities how to cook nutritious meals. Not every child has the means to learn how to cook so Food Squad aims to provide these resources, working alongside organizations from shelters and children's camps to group housing communities. The Food Squad wants to instill joy in children so that they find that the ability to cook can bring fond memories and a sense of community. This summer, Sam's goal is to teach children about the value of nutrition and that cooking can be fun when done safely.
Luke T.  Kues, True Community Inc.
Luke is a master's student in the School of Public Health with a concentration in behavioral and community health. Luke is the executive director of True Community Inc., a 501c3 nonprofit organization that provides wellness education including first aid and CPR certifications. True Community Inc. is in partnership with Cape Coast University, secondary schools, churches, government entities and other organizations, providing more than 6,000 first aid and CPR certifications across 18 major U.S. cities. The organization works to save lives, increase health literacy, provide meaningful work and empower people to give care in emergencies. This summer, Luke's goal is to better understand the needs of the communities he serves, grow as a leader and he plans to establish a first aid and CPR training post in Ghana so that community members may have access to this education.
Allison Li, For Better Sex Education
Allison is a junior in the College of Behavioral and Social Sciences and the creator of For Better Sex Education, a social education-based community space focused on gender-inclusive sex education. Allison aims to increase the number of resources for gender-inclusive sex education and combat the huge stigma around STI/AIDs. She aims to connect with social media influencers and scholars to have open discussions about safe sex. Allison is also looking to work with local organizations to provide hygiene products and HIV/AIDS testing with organizations like the LGBTQ DC Center. This summer Allison's goal is to engage with local DMV community-based organizations and launch an official social media linktree page with STI/AIDS testing locations across the nation.
Ileana Lozano, Heart2Starr
Ileana is a senior in the College of Arts and Humanities. Ileana is the chief executive officer of Heart2Starr, a community archive that started in 2013. Heart2Starr serves young people by sharing the importance of mental hygiene by asking visitors to create and be connected to art, history, and a world of diversity. This summer, Ileana would like to set up Heart2Starr's online education program and work with other organizations to widen its impact. 
 
Devin Moore, Race To Speak Up 
Devin is a sophomore psychology student in the College of Behavioral and Social Sciences and the founder of Race To Speak Up, an anti-bullying organization. Race To Speak Up educates youth about bullying prevention and empowers them to be upstanders. Devin is a first-time author of "Devin Speaks Up!", a children's anti-bullying book that talks about speaking up to someone you trust, about being bullied, kindness matters, and encourages kids to be upstanders for each other. Devin believes the conversation about anti-bullying needs to begin at a young age, and is working on the best ways to set up speaking engagements and furthering their anti-bullying and entrepreneurship work. As a returning fellow from the spring semester, Devin's summer goal is to create a fully developed curriculum based on "Devin Speaks Up!" to use at anti-bullying presentations and workshops at schools. 
Brian Quainoo, Lckedin
Brian is a senior chemistry major in the College of Computer, Mathematical, and Natural Sciences. He is the co-founder of LckedIn, a streetwear brand that promotes people coming together and being a part of a unified community. Lckedin caters to those that are "locked in '' and those who aspire to be "locked in," meaning a passion to excel and attain the goals that are set forth by an individual. Brian's goal for the summer is to release a line of one-of-a-kind cut and sew pieces in the near future. Lckedin's first launch is set for September. In addition, Brian would like to increase the social media following of Lckedin. 
Delara Rajabi Abhari '23, Global Health Brigades
Delara is a graduate student in the School of Public Health and the president of Global Health Brigades at University of Maryland, a nonprofit organization of student volunteers and medical professionals working alongside local communities and staff to implement sustainable health systems. The group works in remote, rural and under-resourced communities in Honduras, Panama, Nicaragua, Greece and Ghana. This summer, Global Health Brigades plans to go to a refugee camp in Athens, Greece to provide medical services to refugees in the region. Through the UMD team's brigade, Delara plans to work with a local group of healthcare workers who will continue to volunteer year round so that the impacts of the brigade are not limited to their two-week trip. As a returning fellow from the spring semester, Delara's goals this summer are to expand Global Health Brigades' network of sponsors and generate more awareness regarding its fundraising events.
Kenneth Yeaher, Frontground
Kenneth is a senior information science major in the College of Information Studies. Kenneth is the founder of Frontground, which is centered around serving medical facilities located in developing nations and emerging markets, with a focus around facilities throughout Africa. These facilities often face challenges including limited resources, outdated equipment, and limited access to the right technology, leading to substandard patient care and inaccurate medical records. Frontground addresses these challenges by developing personalized health information systems with the potential to significantly impact the health and well-being of patients and communities in these countries. As a returning fellow from the fall 2022 semester, Kenneth's goal this summer is to gain the skills, knowledge and resources needed to advance the development and implementation of Frontground's personalized health information systems. Frontground is set to begin working in Monrovia, Liberia this summer and has initiated an effort for hosting a "Technology in Healthcare'' Conference for the surrounding healthcare community. By the end of the eight weeks of the program Frontground aims to successfully organize their health conference, onboard remaining members of their team, and partner with local universities and key stakeholders in Liberia to accomplish their main goal of digitizing healthcare in Liberia.