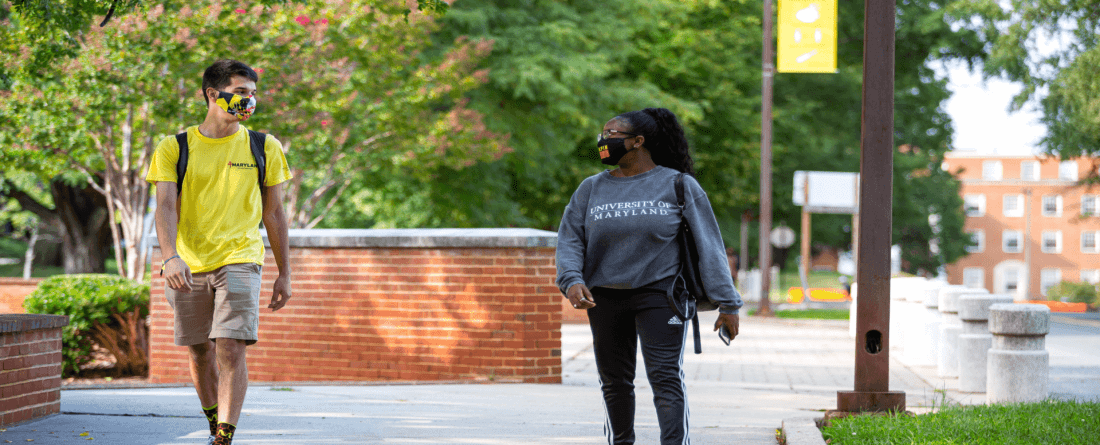 Eight ambitious and imaginative students have been selected as our newest Do Good Accelerator Fellows this fall! The Accelerator Fellows program provides students with resources and opportunities to explore, test, and scale up their idea, project, or venture while working with peers who are also tackling important social issues. Throughout the semester, students will meet with their peers, participate in 1:1 coaching sessions with field experts, engage in robust workshops, and immerse themselves in various group activities with industry leaders. 
Fellows were selected after a competitive application process and will receive a stipend of $1,000 to support their work over the course of the program. From offering healthcare to unhoused populations in Baltimore to combating domestic violence in Haiti, read more about the impressive fall cohort below: 
Minahil Cheema, Teleshadowing 
Minahil is a senior physiology & neurobiology major and founding director of Teleshadowing. Teleshadowing is a free shadowing program open to all pre-health students from the undergraduate, post-baccalaureate, and high school levels. As clinical shadowing opportunities have become limited due to the ongoing pandemic, Teleshadowing aims to extend shadowing opportunities to students across the globe. Teleshadowing experiences are designed to inspire the next generation of future healthcare professionals by providing equal access to educational opportunities, allowing students to advance their career aspirations and achieve their goals so that they can better serve their communities. We are thrilled to welcome Minahil back for her second semester with the Do Good Accelerator. 
Sara Hatfield, Public Health Beyond Borders (PHBB) 
Sara is a senior community health major and co-vice president of Public Health Beyond Borders. PHBB aims to raise awareness regarding the health disparities present across the globe and to work toward mitigating the problem of access to healthcare and health education for all individuals. PHBB works in India, Peru, Sierra Leone, and locally, in Langley Park, Maryland and has developed a unique approach to global health that emphasizes sustainability. Since its inception in 2014 as an organization of 10 students, PHBB has involved more than 1,000 UMD students on 13 international global health interventions, reaching 3,000+ individuals globally. As an organization, PHBB has raised more than $50,000 to directly support student travel and its global health interventions. Sara is joining us for her second cohort of the Fellows program, and we can't wait to continue our with her. 
Carly Holmes, DC2UNI 
Carly is a senior social studies education and history double major and founder of DC2UNI. DC2UNI aims to assist high school students in Washington, D.C. as they navigate the process of transitioning from high school to college. Currently, only 39 percent of D.C. students graduate high school and go to college; and only 14 percent graduate college. By helping students get to and through college, DC2UNI hopes to see an increase in the amount of D.C. high schoolers attending and thriving in higher education. The skills that students gain through higher education will enable them to return to their communities in the city as leaders who can effectively deal with issues such as gentrification, poverty, and violence. We are excited to help Carly grow DC2UNI's impact during her second cohort of the Fellows program. 
Elie Moise Abecassis, Combating Overdoses in Rural Areas (CORA) 
CORA is Maryland's first nonprofit dedicated to curbing the effects of the opioid epidemic in rural communities. Their mission is to reduce opioid knowledge and resource disparities between rural and urban communities through prevention, overdose response, and technology.  CORA serves throughout Maryland and parts of New York, West Virginia, Virginia, and Delaware and is engaged in opioid use education, research, and technological development. We are happy to welcome Elie to the Fellows program this semester.
 Mathew Parsons, North Star Creations 
Mathew is a MBA student and founder of North Star Creations. North Star Creations aims to address the gaps in childhood emotional intelligence building. Their goal is to develop products that could combat the mental health crisis happening in the United States. North Star Creations creates products and characters that foster an inclusive environment for young children. By using books, dolls, puzzles, posters, and flashcards, kids can develop skills and grow their emotional intelligence to be ready for school. Focusing on mental health awareness makes it possible to create healthier learning environments. We are looking forward to helping Mathew scale up North Star Creations.
Maanasa Gurram, Mobile Clinic 
Maanasa is a junior neurobiology and physiology major and project lead for Mobile Clinic. Mobile Clinic aims to address health disparities in Baltimore by providing basic health needs assessments to unhoused populations. Mobile Clinic offers the same quality of care that traditional clinics provide without the overwhelming costs. Mobile Clinic provides people with basic healthcare needs as well as blankets, toiletries, dry food, and other essentials. They work to offer information that empowers people to navigate the healthcare system and find opportunities that are available to them. The Mobile Clinic model has been developed based on previous successful models in other cities with high populations of unhoused people, with adjustments in accordance with the specific needs present in Baltimore. We can't wait to see how Maanasa improves Mobile Clinic this semester.  
Daniel Fong, VaccineSafe 
Daniel is a junior neurobiology and physiology major. VaccineSafe aims to create a community-based initiative to increase COVID-19 vaccination confidence in Prince George's County. The VaccineSafe mission is to build trust in the shot and address broader health literacy concerns surrounding the COVID-19 vaccine. They connect Prince George's County residents with physicians to open dialogue about the vaccine and provide vaccine doses. This initiative is based on repeated findings in published literature that a strong provider recommendation and direct access to shots is an incredibly effective way to change people's minds. Since its inception, VaccineSafe has been moving forward at a steady pace and is working with the Prince George's County Health Department to recruit physicians and immediately provide vaccine shots to community stakeholders. We are excited to welcome Daniel to the Accelerator Fellows program.
Schleika Castan, Macaya Safe Haven 
Schleika is a senior government and politics major and project manager for Macaya Safe Haven. One in three women in Haiti is a victim of domestic violence perpetrated by their romantic partner. Research has shown that only a handful women report their abusers or seek help. Often, they are silenced by a patriarchal society that shames them instead of the perpetrators, a fear of retaliation as the justice system hardly keeps violators in check, and most importantly, by a struggling economy that forces women to rely on their partners, often at their own peril. Macaya Safe Haven's mission is to combat domestic violence in Haiti not only through educational programs aiming to bring awareness, but by empowering women. Macaya Safe Haven is built on the strong belief that by investing in women's entrepreneurial ideas, providing them with business and computer training and opportunities such as micro-credit, they can increase their participation on the socio-economic scene. We are thrilled to work with Schleika during her first semester with the Do Good Accelerator.