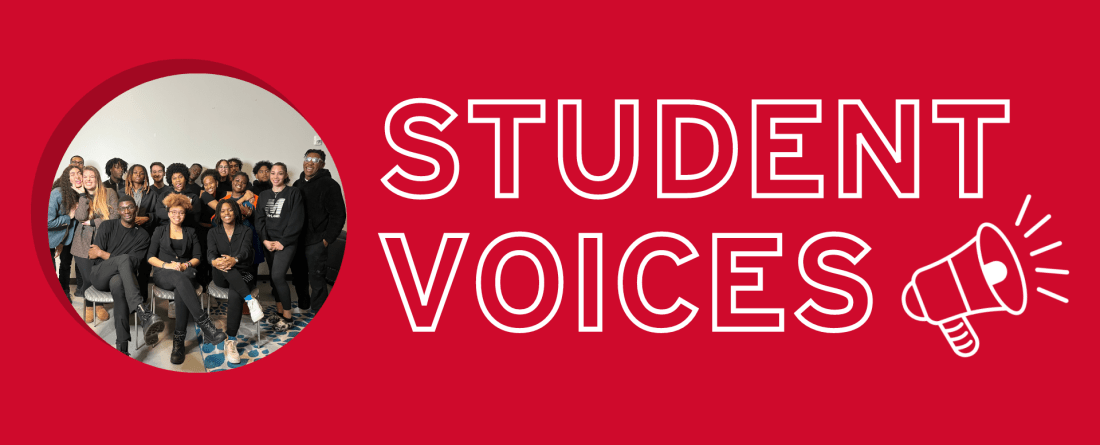 The following is an interview led by Do Good communications intern Emilie Miranda, in conversation with Takiyah Imani Roberts, Fall 2022 and Spring 2023 Accelerator Fellow. Takiyah is a second year student creating her own major based on entrepreneurship, minority studies and STEM with a heavy focus in art. She is dedicated to creating opportunities for underrepresented communities and is the founder of Dare to Dream, whose mission is to provide underrepresented youth with the resources, opportunities and education to chase their dreams unapologetically. 

Thanks so much for talking to me today. I'd like to start off getting to know you better - tell me a bit about yourself. Where are you from? What brought you to the University of Maryland?
I'm from Waldorf, Maryland. Because I grew up in Maryland, I didn't want to go to UMD. My mom went to Maryland, my aunt went to Maryland, my cousin goes to Maryland, my uncle went to Maryland, my Godparents went to Maryland — it feels like everybody went to Maryland. When it got closer to decision time, it was between University of Illinois and UMD…But one day my mom asked me what University of Illinois could offer me that UMD could not. And I did not have an answer for her. I then made a decision to go to UMD, the fact that I had a scholarship at UMD also made this decision easier. 
Ultimately, I absolutely fell in love with this school. Now, I wear something UMD everyday, whether it's a wristband or socks that say, "Go Maryland." I really, really fell in love with the school and the community that can be built here. 
What inspired you to create your own major based on entrepreneurship, minority studies, STEM, and art? How do these fields intersect in your vision?
I came in as a material science engineering student and I realized that I absolutely did not like it. I had been doing STEM my entire life through all types of engineering programs, and I just knew I was going to be an engineer. I have also been an entrepreneur since I was little, but I didn't realize until I got to college that this (entrepreneurship) is what I really love to do. Sammy Popat introduced me to a few people in the Individual Studies program and it seemed really interesting, especially since I knew I was going to switch out of engineering. 
I worked with Lori Praniewicz from Individual Studies to come up with concentrations that I wanted to  focus on like minority studies and entrepreneurship in STEM, but STEAM with the art. Seeing engineering, tech and art come together in society can be really robust, but it's often so separate. I'm really big on bringing things together and being able to unite communities. I did an art event at the Startup Shell called Young, Gifted and Black. Ten Black vendors attended and we had six or seven artists perform. That demonstrated the importance of showing how even in engineering and tech places, there's still a place for art and a place for community. This event showed the power of what can happen when art and STEM are combined.
You're the founder of many organizations. Is there a common theme or mission that is woven throughout the organizations you started? 
Yes and no. I've come up with 19 business ideas before my 19th birthday and they all generated a small amount of money at one point. They didn't always have a theme, but the ones that stuck had a common theme—uplifting and building community. When I got to college, I started the Black Woman Complex, which is about helping Black women to be themselves unapologetically and building a community based on what it means to be a Black woman in America. From there it was Dare to Dream, dedicated to empowering underrepresented communities with the confidence, education, mentorship and resources to chase their dreams unapologetically through entrepreneurship. And, I rebranded the clothing brand I started in high school, Undefined, to be called Undefined Dreamerz. All of them come back to building community and helping people reach their dreams. Currently, I am solely focused on Dare to Dream as this is what I want to do full time after college.
Every program that we create is catered to the schools and students that we work with. We believe that there is no one-size-fits-all in education and our programs reflect that.

Takiyah Imani Roberts Fall 2022 and Spring 2023 Accelerator Fellow
Can you tell us more about Dare to Dream and what motivated you to start it? Where do you see it going in the future?
Dare to Dream started off as a singular event. I saw a problem with access to funding for Black student entrepreneurs at predominantly white institutions. There was no money specifically allocated to them versus Black students attending Historically Black Colleges and Universities. I saw so many programs and funding opportunities that I could not apply to because I did not go to an HBCU – trust me I tried, I would fill out the application but once the question "What HBCU do you attend?" came up, I would exit the application. After realizing this gap, I came up with an  event concept that was only for Black students in predominantly white institutions to raise awareness about resources and how to use them towards starting a business. After further thinking, I felt like I was perpetuating the separatism that already exists in the minority community so I came up with the idea to make Dare to Dream a nonprofit that unified rather than divided like current programs and funding do.
The nonprofit industry was very foreign to me at first so I was trying to build capacity, meet more mentors and learn more about what it means to have a nonprofit, consuming as much information as I could. We started with a team of three and now we're at 22. We have been able to develop an eight-week entrepreneurial curriculum, complete five school visits, plan and begin to execute an event series that builds the youth dreamer ecosystem in the DMV. We have also been able to conduct research and partner with Emerald Garner – the daughter of Eric Garner who was killed in 2014 due to police brutality – to create the Dare to Dream summer experience, which will be taking place this summer along the east coast.  
In the future, I anticipate Dare to Dream to be an international organization. We actually have a trip planned for Ecuador in August to work with local students and deliver ESTEAM (Entrepreneurship, Science, Technology, Engineering, Art and Math) education that is rooted in agriculture, medicine and engineering, since that is what the students are most interested in. Every program that we create is catered to the schools and students that we work with. We believe that there is no one-size-fits-all in education and our programs reflect that. I see us building up these ecosystems and teaching ESTEAM education, through identity building. I also plan for us to develop "dream houses," which are locations with equipment in them and you can rotate the equipment in these different houses. The themes and equipment of each house would rotate, one house may start off as the production house with cameras, studio equipment, lighting and more. While another house may have rapid prototyping equipment, which could include 3D printers, laser engravers and more. Dream houses will give youth the opportunity to learn new skills, develop their passions and start new businesses.
We're also thinking about partnering with other organizations and uniting the Black and Latino community to bring different groups of people together to celebrate their unique identities. 
Last fall, you participated in our Accelerator Fellows program - can you tell me about your experience? How has your experience as an Accelerator Fellow impacted the growth of Dare to Dream?
I think for me it was Kisha [Do Good Accelerator Manager]. It was amazing having a space to be able to work after hours and have a space for me and my team to meet. It definitely was a good program — it forced you to work on your ideas, but for me, it was Kisha that really held me accountable. I remember I was mad. I was not submitting the weekly report (a requirement of the accelerator) for the Accelerator, and she held me accountable.  It was humbling to have somebody like her in my corner, who is forcing you to rise higher and do better.
Also, the fact that Kisha looked like me was very helpful. There's not a lot of faculty members that I feel like I can come to on campus or just staff members, as a whole, that look like me. It was amazing to have a Black woman run this program and at such a high level. I just felt like the company accelerated at exceptional levels. But that's what happens when you have an amazing team working with you. I feel like we moved quickly and got over so many different hurdles that I didn't think we could get through. I think that really helped push the company forward. I've never really seen a nonprofit move this fast. It was a very quick process [8-weeks], but it was very beneficial.
What impact has Dare to Dream had on the underrepresented communities you serve, and what success stories stand out to you?
We had our first school visit a couple of Wednesdays ago, which was the first program we've ever done. The way the parents and the students responded to us after, it was just like, "Wow, what we're doing here is working and people love it." And seeing the way the team was fired up about it really made my heart happy. One of the parents started reaching out to other principals. She was just so excited to talk to us and said, "You have to come back to the school." Seeing the way other people respond to the program, who are not Black, Latinx or any marginalized community, just seeing how they respond like, "How can I be a part of this? What can I do to help?" And just the excitement that people have about the work that we're doing is just so empowering.
*Since the interview, Dare to Dream has conducted an additional four school visits and is working on a Launch UMD campaign to support their efforts. 
How can other individuals and organizations support Dare to Dream's mission, and what kind of impact can they make? 
We're really focused on crowdfunding to ramp up our programs and support overhead costs. Any donations are helpful. You can help us by volunteering or becoming a mentor in our growing mentorship program. We're also looking to develop our internship program, where small businesses or big businesses that want to provide opportunities to high school students to make sure they have work experience on their resume. Anybody is welcome who wants to be a part of the cause and be an ally to whatever extent, whether that is just following our social media page, reposting, liking our posts, recommending us to schools, joining our team really anything. Exposure is the most helpful for us.

For more information on Dare to Dream, please visit their website, or reach out to Takiyah Imani Roberts at kiytheceo@gmail.com. To learn more about the Accelerator Fellows program, go to go.umd.edu/acceleratorfellows.