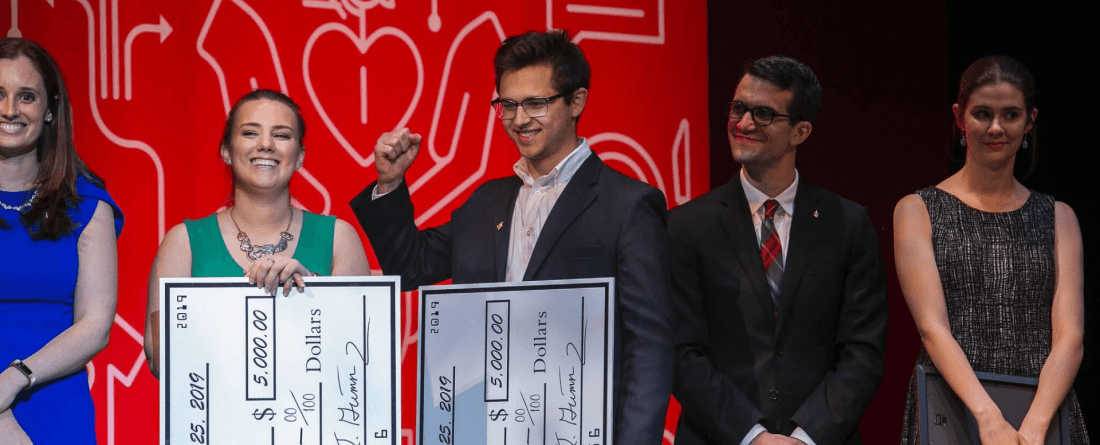 The following column was written by Charles Grody '20, Do Good Challenge alum. Charles is a mechanical engineer and environmental entrepreneur with a mission to make the most water-efficient, automatic toilet. Charles founded his startup, Hydraze, to pursue this goal and is the named inventor on a granted patent (US10941552B2) and two pending patents. He graduated with a Bachelor of Science in Mechanical Engineering and was a member of QUEST, Entrepreneurship and Innovation Program, and Startup Shell. In this story, Charles reflects on his Do Good journey as both a student and alumni. For questions about this piece, we encourage you to reach out to the author directly at charles@hydrazeinc.com.
I learned that the key to winning the Challenge was not just having a successful venture but being able to tell an emotional story that engages the audience. Since my product was toilets, I knew the most powerful emotion I could invoke would be humor. Since this was not the standard approach for Do Good pitches, I decided I did not just want to win the Do Good Challenge; I wanted to create the funniest and most memorable pitch in Do Good history.

Charles Grody '20 Do Good Challenge winner and Accelerator Fellow
As a student at the University of Maryland, my biggest claim to fame was my toilet invention. When I was a sophomore at UMD, I stumbled upon a problem that drove me crazy. Every time I went to the bathroom in a school building on campus, I noticed the automatic toilet flushed way more than it needed to because its distance sensor was unreliable. Any movement in the stall, such as hanging up a coat or reaching for toilet paper, could expose me to the unwelcome splash of a rogue "phantom flush." When I realized that this issue probably happened to more people on campus besides myself, and that there could be a significant amount of water waste tied to phantom flushes, I was inspired to solve this water waste problem.
Water waste is a critical issue with significant global impacts. According to the United Nations, around 2 billion people worldwide lack access to safe drinking water, and water scarcity affects more than 40 percent of the global population. The impacts of water waste are far-reaching and include increased energy consumption, higher water bills, and environmental damage from overuse of water resources. While phantom flushing is only a small part of this issue, I felt that by inventing a solution I could play a role in creating a more sustainable future for all. As such, I came up with a simple solution that, instead of using a distance sensor to trigger the flush, used the stall latch as the flush indicator with the toilet being configured to flush only when the latch was unlocked. This would guarantee exactly one flush per use, saving water and improving the user experience.
As I began to develop this idea, I went to the Do Good Institute for support. Even though I was in a very early stage of developing the idea, the Do Good Institute was able to provide me with a $500 Mini-Grant. Not only was this funding helpful for beginning my prototyping efforts, but it also gave Hydraze credibility when forming new partnerships. It gave me the confidence to reach out to facility managers on campus for conducting customer interviews. It also helped me when I applied for more non-dilutive funding from the Office of Sustainability where I ultimately received more than $6,000 from grant proposals. Within a year of receiving the $500 Mini-Grant, all of this momentum allowed me to successfully prototype and deploy Hydraze devices in the Clarice Performing Arts Center, where I had met the facility manager through one of my customer interviews.  Over the course of that year, I had laid the groundwork for Hydraze to be successful, and I was ready to take it to the next level by competing in the 2019 Do Good Challenge.
Through my Do Good mentors, I learned that the key to winning the Challenge was not just having a successful venture but being able to tell an emotional story that engages the audience. Since my product was toilets, I knew the most powerful emotion I could invoke would be humor. Since this was not the standard approach for Do Good pitches, I decided I did not just want to win the Do Good Challenge; I wanted to create the funniest and most memorable pitch in its history. 
The day of the competition, I knew I needed to hook the audience from the beginning.  The moment my name was announced to pitch, my favorite hype song "Thunderstruck" by AC/DC started blasting through the speakers, energizing me as I trotted onto the stage carrying a 5-gallon water jug. I placed the jug in front of the judges, shook each of their hands, and then walked back onto the stage waving and hyping up my fans.
As I raised the mic to my face and the music softened, the dramatic tension in the room was palpable. All it took was for me to say just one word, "Hi," for the entire audience to burst into laughter. From there, I was off to the races with my story. My first slides featured pictures of me photoshopped onto toilets as I shared the story of how I became inspired to create Hydraze after experiencing the frustration of phantom flushing as a student.
I spoke about the impact of water waste and how the jug I brought equated to the amount of phantom flushes generated by just three people in a day. I shared my disappointment at the realization that, by my estimates at the time, the 100 million gallons of water wasted on campus every year from phantom flushing was the equivalent of 91 students' tuitions "literally flushed down the toilet" every semester and how that made me feel "pissed...no pun intended." I delivered a compelling story with well-timed jokes, but I knew I needed something more to push my presentation over the edge. 
So, in the days prior to the presentation, I coordinated with 20 friends to clap as loud as they could when I delivered a particular line midway through the presentation. The water savings data that the deployed Hydraze devices collected showed that they could reduce toilet water consumption by 45 percent, which translated to 100 million gallons of water and $2M in savings per year.  When I presented this evidence of Hydraze's savings, I proudly claimed that "we could save those 91 students' tuition," and sure enough my friends started a round of applause and almost instantly after the crowd erupted into a huge ovation. At that moment, I knew that even if I did not win the competition, my pitch would be cemented in Do Good history. I concluded the pitch by explaining how the environmental impact of the water savings could reduce global impacts of water stress, drought, wildfire, and the spread of disease as well as how Hydraze technology could help UMD reach its goal of reducing water consumption by 100 million gallons by 2020. I did ultimately end up winning the $5,000 grand prize, and from that moment, Hydraze took off!
 Winning the Do Good Challenge inspired me to compete in – and ultimately win – another major UMD pitch competition, Pitch Dingman, the following year. Competing in Pitch Dingman provided my team funding to file a second patent application. It also fueled Hydraze's first commercial pilot at the Busboys and Poets in Hyattsville where a month-long pilot showed evidence of a 25 percent reduction in toilet water consumption for the restaurant. Following the completion of the pilot and my graduation, I decided to take some time to develop my engineering skills in a professional setting and worked as a mechanical engineer at ExxonMobil in 2020 and 2021 before returning to Hydraze full-time in 2022. 
Upon my return, I reconnected with my old Do Good network and forged new connections that defined my full-time journey. At the first in-person Do Good Challenge since the COVID-19 pandemic began, I met a Do Good donor who connected me to a venue that is one of the largest beta test locations Hydraze could have hoped to work with in the greater DC area. I spent the following summer pushing myself to my intellectual limits by self-studying electrical and software engineering. I manufactured Hydraze products for the first time which allowed me to successfully deliver a beta test to the venue, demonstrate proof of concept, and file an additional patent application for my business.  
The Do Good Institute has been an integral part of my life since I started college. It has inspired me to find ways to make the world a better place, provided me with financial resources to lift my idea off the ground, and taught me the value of networking and storytelling. After a year of working on Hydraze full-time, I could not be more grateful that the Do Good Institute has been with me every step of the way.  
—
Hydraze is currently continuing to conduct beta tests, form new partnerships, and grow the patent portfolio as it expands to more customers. To learn more about Hydraze and stay up to date with Charles and his progress, visit www.Hydrazeinc.com.