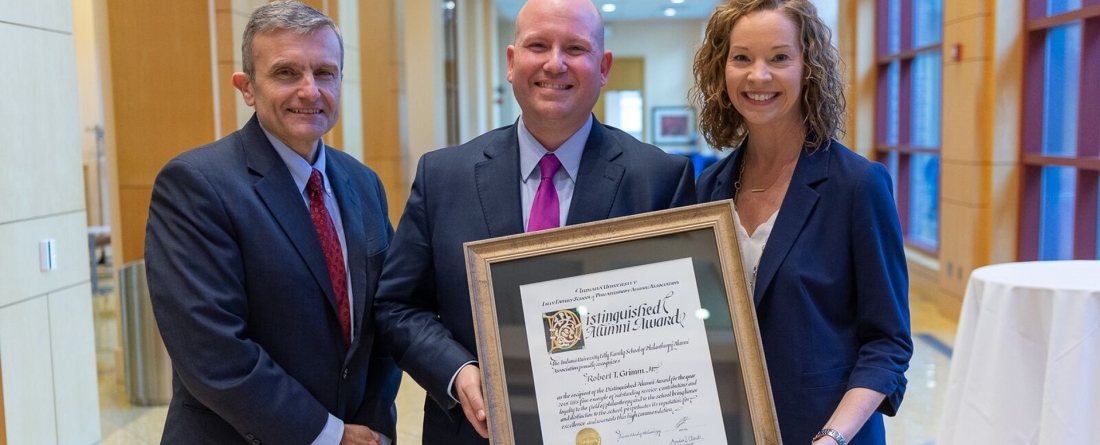 Robert T. Grimm, Jr., is the Indiana University Lilly Family School of Philanthropy's 2019 Distinguished Alumni Award honoree.
"Bob's lifetime commitment to creating a thriving and robust nonprofit sector through ambitious campus initiatives, his national service in multiple administrations as a champion for civil society and his dedication to enhancing the sector through meaningful research were clear indicators that Bob deserved this recognition," the school's Alumni Association Board of Directors said in making the selection. "Bob's career achievements and philanthropic spirit reflect what the alumni board viewed as an ideal representation of the dynamic talent that graduates from the Lilly Family School of Philanthropy."
The Levenson Family Chair in Philanthropy and Nonprofit Leadership at the University of Maryland School of Public Policy, Grimm is the director of the Do Good Institute, which engages students of all majors and colleges in hands-on educational experiences that empower them to make a social impact today. Recent Do Good alumni include multiple Forbes Top 30 Social Entrepreneurs Under 30, a 2018 Pritzker Emerging Environmental Genius finalist, a 2017 EY Social Entrepreneur of the Year in Argentina, and a TV show Shark Tank winner. Grimm earned a Master of Philanthropic Studies degree from Indiana University in 1998 and subsequently earned a Ph.D. from the university. He previously taught and conducted research at what is now the Lilly Family School of Philanthropy.
"Throughout his research, teaching and service, Bob has dedicated himself to building understanding and awareness of the scope and importance of civic engagement in our nation and our society," said Amir Pasic, Ph.D. the Eugene R. Tempel Dean of the Lilly Family School of Philanthropy. "His leadership is helping new generations experience the value of serving others and joining together to build and sustain our civil society. We are proud of his accomplishments."
Grimm received senior appointments in the administrations of both President George W. Bush and President Barack Obama, and he co-led the creation of the Social Innovation Fund. He served as senior counselor to the CEO (2006-2010) and the director of research and policy development (2004-2010) at the Corporation for National and Community Service (CNCS), which directs AmeriCorps and invested nearly a billion dollars in grants to innovative nonprofits.
Grimm expanded CNCS's annual research funds from $2 million to $10.5 million and directed more than $30 million in program evaluations and research studies. He led the creation of the U.S. government's first, regular data collection on social capital with the Bureau of Labor Statistics and Census Bureau. Bowling Alone author Robert Putnam characterized his research efforts as a "landmark in civic renewal."
"Indiana University's Lilly Family School of Philanthropy is a very special place and I owe much of my life to its pioneering leaders and faculty who built the School with the innovative vision that education and research in philanthropy would transform our world," said Grimm.
The School of Public Policy won the 2017 Voinovich Public Innovation Prize from the Network of Schools of Public Policy, Affairs and Administration with a presentation by Grimm. He is the recipient of Monmouth College's 2010 Young Alumnus Award. He has served on the board of directors or advisors for the Food Recovery Network (Founding Board Chair), the Washington Area Women's Foundation, the Center on Philanthropy at Indiana University, the Harry and Jeanette Weinberg Foundation and the National Conference on Citizenship. He is an author of tens of research studies, a widely-cited article on "The New Volunteer Workforce" in the Stanford Social Innovation Review; articles in journals such as Nonprofit & Voluntary Sector Quarterly and the Journal of Policy Analysis & Management; and a book about American philanthropists.