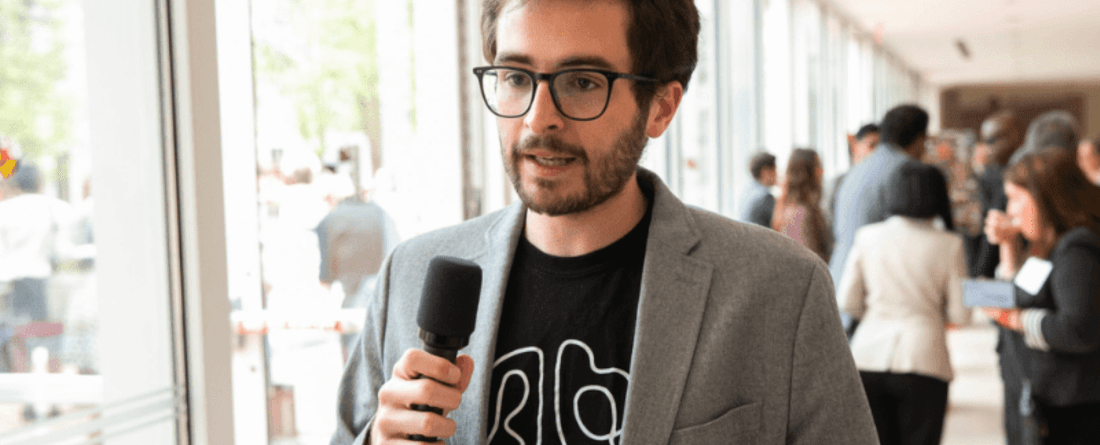 The depth of the mental health crisis for students, from elementary school all the way through college, terrifies Anthony Sartori. He lived it himself.
"I got all the way to the University of Maryland and had no mental health education, no awareness of it," he said. "Yeah, you heard about it, but it's not real until it hits you. 'Oh man, I have mental health challenges. Why didn't I know about this?'"
Sartori works to reduce the knowledge gap through Evolving Minds, a nonprofit he founded to teach a culture of care with students, nonprofits and retail. With mental health resources not readily accessible to diverse and low-income populations, Evolving Minds empowers people with joy, hope, and mindfulness skills through resilience curriculum.
Evolving Minds launched in March 2020 – right as the COVID-19 pandemic hit. At the time, Sartori worked 20 hours at a week at an organic food market in Baltimore, sweeping floors, cleaning bathrooms, stocking shelves, and ringing up customers as grocery stores became a rare business that stayed open.
Sartori learned firsthand that grocery stores lacked an internal support system to help its workers with collective trauma. He said he quit after more than two years because of the mental health challenges he witnessed so many colleagues endured, inspiring him to start a mindful groceries initiative through Evolving Minds.
"All of the traumas in the world – from ongoing racism to homophobia to mass shootings – ends up in the grocery store," Sartori said. "Workers within retail also have mental health challenges, but it's unaddressed. I call it a destructive cycle. There's this culture that every minute something needs to be done. Retention is not prioritized. You cycle through people every week throughout the retail sector, and it has a negative impact on customers and the employees."
Sartori believes Evolving Minds can help nonprofit, retail and social impact organizations address a major cultural shift in work. "Why are people not working as much? My take is there's a significant toll that's been put on them," he said.
Retail is just the latest area Evolving Minds focuses on to improve mental health. The nonprofit has also worked with Baltimore City Public Schools and the University of Maryland. As a psychology major and College Park Scholars Alum, Sartori founded a university group called Scholars Promoting and Revitalizing Care (SPARC) in 2015. SPARC addresses gaps in mental health resources at Maryland by raising awareness about existing resources on campus and advocating for increased accessibility, funding and staffing for mental health facilities.
SPARC placed second in the 2018 Do Good Challenge and won the Audience Choice Award. The group contributed part of its prize winnings to fund training for the Department of Resident Life's north campus case manager, and then extended training to 50 resident assistants on campus.
Maryland students continue to benefit from Sartori's work. Evolving Minds recently trained 150 university students, with curriculum intended to help them feel connected with one another. Sartori said data from the trainings show participants gain empathy – for one another and themselves as individuals.
"The program is highly scalable, so it gives me hope to see students being impacted in a positive way," Sartori said. "Essentially, it's the skills that I needed that I was lacking in my own mental health journey, so it's all come full circle."
This article was written by the Alumni Association Blog and reposted with permission. 
Publication of this article does not imply an endorsement by the Alumni Association. The Alumni Blog connects you with the latest at UMD. Check out articles on advancing your personal and professional goals, elevating your UMD pride, and celebrating Terp traditions, legacies and accomplishments. For even more content, follow the Alumni Association on Facebook, LinkedIn, Instagram and Twitter.