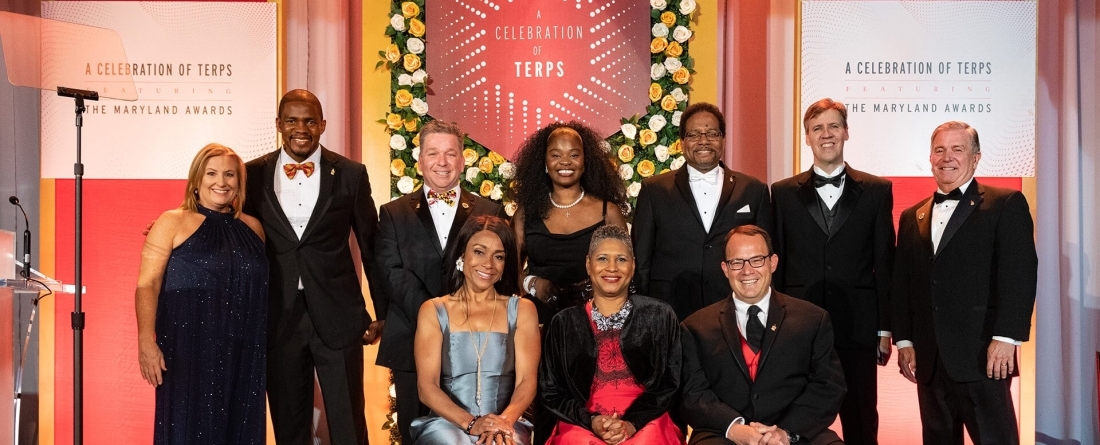 Via Maryland Today / By Maryland Today Staff / May 2, 2022
The University of Maryland Alumni Association saluted the accomplishments and contributions of eight outstanding alums at the annual Celebration of Terps: Featuring the Maryland Awards event on Friday night.
Author Jeff Kinney '93 and former Olympic gymnast Dominique Dawes '02 were inducted into the Hall of Fame— he joked that since he was part of the Gymkana student troupe at UMD, it was just like two gymnasts were inducted. Nonprofit founders Cedric Nwafor '18 and Lumnwi Audrey Awasom '18 received the Outstanding Young Alumnus Award and Do Good Award, respectively. Dr. Sherita Hill Golden '90 from Johns Hopkins Medicine was given the President's Award, while longtime boosters and supporters Kirk Bell '88 and Jeremy D. Rachlin '02 received the Spirit of Maryland Awar and the Tyser-Gottwals Award, respectively. The Elaine Johnson Coates Award went to noted writer, lawyer and activist Reginald Dwayne Betts '09.
The event featured the honorees' heartfelt speeches reminiscing about their time at Maryland and highlighting their work after graduating. Also in attendance was Elaine Johnson Coates '59, namesake and first recipient of the award given to an alum who has made significant contributions to foster diversity and inclusion.
Hall of Fame Inductee: Dominique Dawes '02
Dawes earned 15 national championship titles along with World Championship silver and bronze medals, and is one of only three female American gymnasts to compete in three Olympics. She was the first African-American woman to win an individual medal in gymnastics, and the first Black person to win an Olympic gold medal in gymnastics as a member of the "Magnificent Seven" during the 1996 Games in Atlanta.
Dawes served as president of the Women's Sports Federation from 2004–06, and in 2010, and President Barack Obama appointed her co-chair of the President's Council on Fitness, Sports and Nutrition.
A married mother of four, she founded the Dominique Dawes Gymnastics & Ninja Academy in Montgomery County to continue her commitment to developing a healthy and compassionate culture in gymnastics.
Hall of Fame Inductee: Jeff Kinney '93
As creator of the "Diary of a Wimpy Kid" juggernaut—books, films and, most recently, a TV series—the bestselling writer and cartoonist has entertained tens of millions of children and adults around the world.
Kinney, who first penned the comic strip "Igdoof" in The Diamondback, created the successful kids' website Poptropica before having his debut book published in 2007. Since then, he's published 16 more in the series, and an animated Disney+ film based on the first "Wimpy Kid" installment premiered in December.
Kinney has won two Children's Choice Book Awards and six Nickelodeon Kids' Choice Awards for Favorite Book and was named one of Time magazine's most influential people in the world.
He lives with his wife and two sons in Massachusetts, where they own the bookstore An Unlikely Story.
Outstanding Young Alumnus Award: Cedric Nwafor '18
Nwafor is a social entrepreneur and civic activist who found his calling as a student while visiting and studying farm life in Idaho and Maryland as well as in Rwanda, Liberia and Uganda. He became an "agricultural evangelist," influencing African youth in civic affairs in both cities and rural communities.
This work led him to co-found ROOTS Africa in 2017 as a student-led organization that combats hunger, poverty and exclusion in Africa by connecting academic institutions and experts in the U.S. to farmers in Africa to increase their productivity. Since then, the organization has helped train more than 400 farmers and fund 700-plus families in six villages in Liberia.

Nwafor, meanwhile, returned to UMD to earn a certificate in nonprofit management and leadership in 2021 to augment his efforts. He is the proud father of a 2-year-old daughter.
Do Good Award: Lumnwi Audrey Awasom '18
Awasom is founder and chief executive officer of Noble Uprising, a nonprofit providing food and sanitary items, basic literacy education and technical training to help women experiencing poverty gain employment and transform their lives.
She launched it as a UMD student with the support of the Do Good Institute and Dingman Center for Entrepreneurship; since then, the organization has delivered more than 9,000 care-package items and served 87 women, and through a partnership with the Prince George's County Family Justice Center, will expand its reach.
She has previously been featured on DC Inno's 2020 list of 25 under 25 leaders and received a congressional citation of excellence from the office of U.S. Sen. Chris Van Hollen.
President's Award: Dr. Sherita Hill Golden '90
As the Hugh P. McCormick Family Professor of Endocrinology and Metabolism and vice president and chief diversity officer for Johns Hopkins Medicine, Dr. Sherita Hill Golden is transforming access to health care.

A physician and scientist, she is the author of more than 200 articles focused on diabetes, endocrinology and health disparities, and has used her executive leadership roles to develop systems, community and policy interventions.
As vice president and chief diversity officer, she is working to improve recruitment and the retention of underserved populations in the medical and academic fields, advancing initiatives to address structural racism and effect positive cultural change.
Spirit of Maryland Award: Kirk Bell '88
For the last 11 years, Bell has served on the Alumni Association Board of Governors, including two years as president. He oversaw growth in membership and an increase in Alumni Association scholarships. Bell is also an advocate of community engagement within the Alumni Association, championing the tradition of a summer excursion to Ocean City, Maryland.
Bell, the director of enterprise data at Fannie Mae, and his wife have three children, all Maryland alums.
Tyser-Gottwals Award: Jeremy D. Rachlin, Esq. '02
Rachlin is a lifetime member of the Alumni Association, where he attends countless events on and off campus. He also serves the university on the alumni boards of the Honors College, the College of Behavioral and Social Sciences and the Gemstone Program; for the latter, he co-founded the Alumni Mentor Pairing Program, where he regularly mentors undergraduates.
Rachlin is a shareholder of the Bethesda, Maryland, law firm Bulman, Dunie, Burke & Feld, where he leads the estate and trust practice. He has served as treasurer of the Montgomery County Bar Association and presently serves on the board of the Montgomery County Bar Foundation. He and his wife, Emily '03 are the proud parents of Alyssa.
Elaine Johnson Coates Award: Reginald Dwayne Betts '09
Betts is a nationally acclaimed poet, lawyer, scholar and advocate for criminal justice reform who has devoted his career to exploring the effects of violence and incarceration on American society.
His books include "A Question of Freedom: A Memoir of Learning, Survival, and Coming of Age in Prison" and the poetry collections "Bastards of the Reagan Era," "Shahid Reads His Own Palm" and, most recently, the American Book Award-winning "Felon." He has been awarded Guggenheim and National Endowment for the Arts fellowships and won a 2019 National Magazine Award for his New York Times essay, "Getting Out."
In conjunction with the Andrew Mellon Foundation and Yale Law School, Betts launched the Freedom Reads project last year to bring books to U.S. prisons and juvenile detention centers.
In 2021, Betts was awarded a MacArthur Foundation fellowship, commonly referred to as the "genius grant" to continue his work building libraries in prisons,organizing authors' visits and establishing book clubs for incarcerated youths.