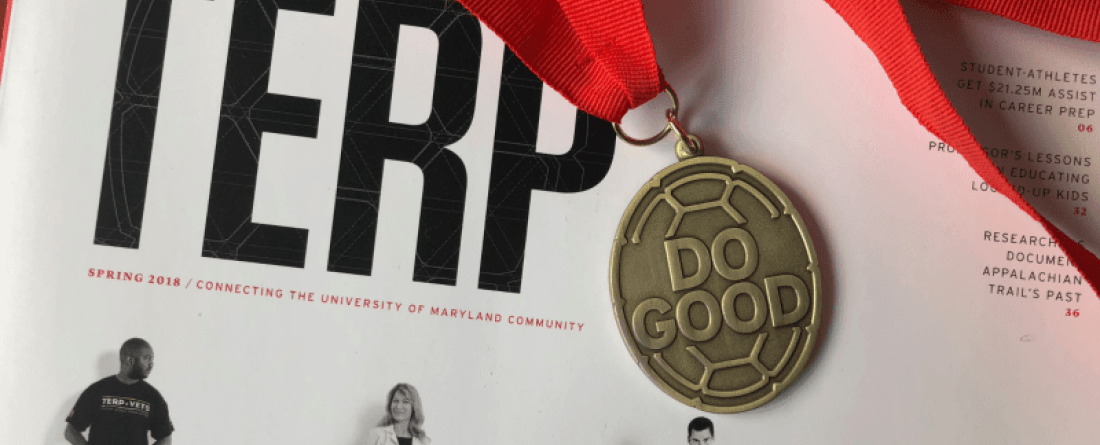 The Class of 2023 is full of bold thinkers, chance takers and difference makers who are passionate about doing good on campus, in their communities and throughout their careers. The Do Good Institute is happy to award 60 of these driven Terps who make up the Class of 2023 with a Do Good Medallion. 
Each awardee is being recognized for their dedicated commitment to social impact and innovation and their efforts to bolster the University of Maryland's impact as the nation's first Do Good Campus. These Do Good grads are working to tackle social and environmental issues including education accessibility, mental health, climate change and so much more. The 2023 Do Good Medallion honorees – both undergraduate and graduate students – were selected from thousands of students across campus who competed as a semi-finalist or finalist in the annual, campus-wide Do Good Challenge; participated in our selective Do Good Accelerator Fellows program; served as a Do Good Ambassador; worked with local mission-driven organizations as an Impact Intern; completed the Graduate Certificate in Nonprofit Management and Leadership; and/or was employed as a Do Good student worker. 
These graduates represent 11 colleges and schools at University of Maryland including A. James Clark School of Engineering, College of Agriculture and Natural Resources, College of Arts and Humanities, College of Behavioral and Social Sciences, College of Computer, Mathematical and Natural Sciences, College of Education, Philip Merrill College of Journalism, Robert H. Smith School of Business, Office of Undergraduate Studies, School of Public Health and School of Public Policy, as well as living/learning programs within College Park Scholars, Honors College, CIVICUS, and Carillon Communities at UMD.
The Do Good Institute offers its congratulations to the following graduates: 
Delara Rajabi Abhari: School of Public Health | Spring 2023 Accelerator Fellow for Global Health Brigades
Sanketh Andhavarapu: Individual Studies, Office of Undergraduate Studies; Honors College (University Honors) | 2022 Do Good Challenge Winner and Summer 2021 Accelerator Fellow with Vitalize; 2021 Do Good Challenge Finalist with STEPS
Melisa Bell: Graduate Certificate in Nonprofit Management and Leadership, School of Public Policy
Eesha Bokil: College of Computer, Mathematical and Natural Sciences; Honors College (University Honors) | 2022 Do Good Challenge Finalist with Combating Overdoses in Rural Areas
Sarah Bosken: Graduate Certificate in Nonprofit Management and Leadership, School of Public Policy
Musangu Bukasa: Robert H. Smith School of Business | Spring 2021 Accelerator Fellow for The Greenwood Project
Schleika Castan: College of Behavioral and Social Sciences | Fall 2021 Accelerator Fellow for Macaya Safe Haven
Elizabeth Catchmark: School of Public Health | Summer 2021 Impact Intern with Maryland League of Conservation Voters
Amara Chanell Doig: Ph.D. in Behavioral & Community Health, School of Public Health | 2019 Do Good Challenge Project Finalist with Padres Preparados, Jóvenes Saludables
Krisztina Christmon: Ph.D. in Entomology, College of Agriculture and Natural Resources | 2023 Do Good Challenge Venture Finalist with Repurpose Farm Plastic LLC
Katherine-Aria (Kat) Close: College of Agriculture and Natural Resources; College of Arts and Humanities; Honors College (Design Cultures and Creativity) | Spring 2023 Accelerator Fellow; 2023 Do Good Challenge Venture Finalist with WISE Cities, LLC
Racheli Cohen: College of Behavioral and Social Sciences | Summer 2021 Impact Intern with Congressional Hunger Center
Sara Dawood: College of Computer, Mathematical and Natural Sciences; College Park Scholars (Life Sciences) | 2022 Do Good Challenge Semi-Finalist with Peer to Peer
Ela Dhankhar: School of Public Policy; College Park Scholars (Global Public Health) | Summer 2022  Impact Intern with van der Becq Holdings 
Joshua Doying: MBA, Robert H. Smith School of Business | Summer 2022 Impact Intern with Heart of America
Kelsey Drotning: Ph.D. in Sociology, College of Behavioral and Social Sciences | Summer 2021 Impact Intern with Heart of America
Emily Eason: Masters of Public Policy, School of Public Policy | 2022 and 2023 Do Good Challenge Semi-Finalist for Latina Pathways
Lynn-Marie Edwards: Masters of Public Policy, School of Public Policy | Do Good Ambassador
Enwongo Ekah: Masters of Public Policy, School of Public Policy | Summer 2022 Impact Intern with Young, Black and Giving Back Institute
Nikki Emamian: College of Computer, Mathematical and Natural Sciences; School of Public Health; Honors College (Entrepreneurship and Innovation) | 2022 Do Good Challenge Semi-Finalist with Peer to Peer
Keith Fanjoy: Graduate Certificate in Nonprofit Management and Leadership, School of Public Policy
Daniel Fong: College of Behavioral and Social Sciences; Individual Studies, Office of Undergraduate Studies | Fall 2021 Accelerator Fellow for VaccineSafe and 2023 Do Good Challenge Semi-Finalist with Terrapin Think Tank
Zoe Gallagher: School of Public Policy; Carillon (Arts and Activism) | Summer 2022 Impact Intern with The Phillips Collection
Caitlin Gompf: Graduate Certificate in Nonprofit Management and Leadership, School of Public Policy
Maanasa Gurram: College of Behavioral and Social Sciences | Fall 2021 and Spring 2022 Accelerator Fellow for Mobile Clinic
Karen Hao: Robert H. Smith School of Business | Fall 2020 Accelerator Fellow for Lean on Me (LOM)
Andrew Hong: College of Behavioral and Social Sciences | Fall 2020 Accelerator Fellow for Student Teachers Enriching Proficiency through Science (STEPS)
Nina Joshi: Robert H. Smith School of Business; Honors College (Entrepreneurship and Innovation) | 2022 Do Good Challenge Semi-Finalist with Peer to Peer
Hope Kahn: Philip Merrill College of Journalism | 2022 Do Good Challenge Project Track Finalist with Get Ovary It; Do Good Ambassador
Maya Lee: College of Arts and Humanities | Spring 2022 Mini-Grant recipient with See Us Hear Us Podcast 
Lindsay Lotter: School of Public Health | Summer 2022 Impact Intern with Taking Effective Action, Inc. (TEA) 
Cassie Malane: Graduate Certificate in Nonprofit Management and Leadership, School of Public Policy 
Kassandra Mante: School of Public Health | Summer 2022 Impact Intern with Noble Uprising
Megan Masterson: Graduate Certificate in Nonprofit Management and Leadership; Masters of Public Policy, School of Public Policy 
Romey Mehari: Graduate Certificate in Nonprofit Management and Leadership, School of Public Policy 
Kanika Mehra: College of Behavioral and Social Sciences | Do Good Ambassador
Gabby Michel: College of Behavioral and Social Sciences | Summer 2022 Impact Intern with Howard County Autism Society
Maura Miranda: College of Arts and Humanities | Summer 2022 Impact Intern with The Giving Square
Samira Mudd: College of Behavioral and Social Sciences; College of Computer Mathematical and Natural Sciences | Summer 2022 Impact Intern with Ulman Foundation
Paniz Nafisi: College of Behavioral and Social Sciences | Summer 2022 Accelerator Fellow for Helping Hands Mobile Clinic
Jessica Nguyen: School of Public Policy | Fall 2020 Impact Intern with Court Appointed Special Advocate (CASA) Prince George's County 
Carlos Orbe, Jr.: Master's of Public Management, School of Public Policy | Do Good Ambassador
Rishi Parikh: A. James Clark School of Engineering | Do Good Ambassador; Spring 2021 Accelerator Fellow with Innovation Stations
Saad Pirzada: College of Computer Mathematical and Natural Sciences | Fall 2022 and Spring 2023 Accelerator Fellow and 2023 Do Good Challenge Semi-Finalist with inhale.Ai
Mahum Qadeer: Individual Studies, Office of Undergraduate Studies | Fall 2022 Accelerator Fellow with The Lahore Project
Catherine Robinson: Graduate Certificate in Nonprofit Management and Leadership, School of Public Policy
Emma Rubino: College of Arts and Humanities | Communications Intern for the Do Good Institute
Marissa Sariol-Clough: Ph.D. in education policy and leadership, College of Education | Summer 2021 Impact Intern with Community Advocates for Family and Youth (CAFY)
Lulit Shewangizaw: School of Public Policy; Robert H. Smith School of Business; College Park Scholars (Media, Self and Society) | Do Good Ambassador
Tesia Shi: College of Computer Mathematical and Natural Sciences; Honors College (Gemstone) | 2022 Do Good Challenge Showcase Audience Choice Winner and Summer 2021 Accelerator Fellow with Lean On Me College Park;  Do Good Ambassador
Peyton Siegel: School of Public Policy; CIVICUS Living and Learning Community | Program Associate for the Do Good Institute; Do Good Ambassador
Eveleen Singh: College of Computer Mathematical and Natural Sciences; College Park Scholars (Life Sciences) | Do Good Ambassador
Kathleen Spanos: Graduate Certificate in Nonprofit Management and Leadership, School of Public Policy
Hillary Steen: Graduate Certificate in Nonprofit Management and Leadership, School of Public Policy
Gracie Tanner: Philip Merrill College of Journalism; Honors College (University Honors) | Do Good Ambassador; Summer 2022 Impact Intern with Democracy Initiative
Kevin Tu: College of Computer Mathematical and Natural Sciences; College of Behavioral and Social Sciences; Honors College (University Honors) | 2023 Do Good Challenge Venture Track Winner for Sustainabli; 2022 Do Good Challenge Project Track Winner and Fall 2020 Accelerator Fellow for Combating Overdoses in Rural Areas
Zoe Weisberg: Robert H. Smith School of Business | 2022 Do Good Challenge Project Track Finalist for Get Ovary It; Do Good Ambassador; Summer 2021 Impact Intern with WETATI
Isha Yardi: School of Public Health | 2023 Accelerator Fellow and 2023 Do Good Challenge Semi-Finalist with Terrapin Think Tank; Do Good Ambassador
Maggie Zhu: College of Computer, Mathematical and Natural Sciences | Summer 2021 Accelerator Fellow for The Language Project
Xinyi Zhang: Ph.D. in counseling, College of Behavioral and Social Sciences | Summer 2022 and Fall 2022 Accelerator Fellow for The Multicultural Game