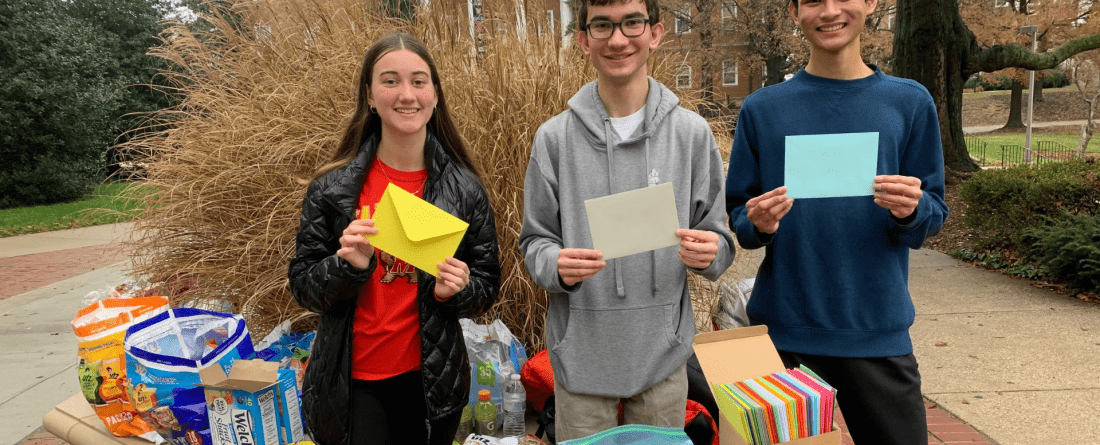 Q&A with Catherine Curtis '22, program coordinator
Catherine Curtis is a program coordinator at the Do Good Institute, managing numerous educational and professional programs including Impact Interns and Mini-Grants to inspire students to take an active role in the nonprofit world and create an impact in their community. Catherine is a University of Maryland alum, earning both a bachelor's and master's degree in public policy and is currently pursuing a Graduate Certificate in Nonprofit Management and Leadership. 
1. Can you tell me a little about this year's Mini-Grants program? How is this year different from last year? 
This year we made some changes to the Mini-Grants program. We wanted to have more meaningful relationships with the teams and students that we're supporting and we wanted to use our resources to help teams make the most impact possible. So, we made two exciting program changes: teams can now apply for up to $750 and will participate in at least two coaching sessions with a Do Good Institute staff member. 
We received a record number of 84 applications and were amazed by the strong commitment Terps have to making a positive impact on and off campus. This year, we are able to support 56 teams,  with more than 2,300 students involved across the groups – making this the largest cohort of Mini-Grant teams ever.  
These students come from all across campus. Our team leaders represent 11 different schools and colleges: College of Behavioral and Social Sciences, School of Public Policy, School of Public Health, College of Arts and Humanities, College of Information Sciences, Robert H. Smith School of Business, A. James Clark College of Engineering, College of Agriculture and Natural Resources, Philip Merrill  College of Journalism, College of Education, and College of Computer, Mathematical and Natural Sciences. They also come from several living-learning programs, including College Park Scholars, Honors College, Carillon Communities, FIRE, and CIVICUS.
2. What are some of the grand challenges that Mini-Grantees are tackling? 
One of the best things about the Mini-Grants program is that we simply provide resources for passionate students to take action. Students are aware of the challenges that our society faces and want to rise to face them. The issues that hit closest to home are different for each person and this year's cohort reflects that.  
Teams in our cohort are tackling several Grand Challenges: 
Global Health - Students are working on several different global projects including hosting a Global Health Symposium (Partners in Health Engage), supporting humanitarian aid work in Bangladesh (HAEFA), raising money for oral health care products for children in Honduras through a 5K (Miles for Smiles). 
Social Justice - Students are fighting for caste discrimination protections (South Asian Student Association), organizing a fundraiser for the war in Tigray (People4Tigray), and hosting a DREAM Gala for immigrant students (PLUMAS).
Education - There are a large number of teams working on educational initiatives including after school music lessons (Piano & Forte), after school STEM workshops (FLAME and BPP Outreach Team), and an after school basketball program (DUNK) - all completely free and all focused on Prince George's County students. 
Threats to Democracy - Some of our teams are focused on threats to democracy including the Ukrainian Student Association who are pushing for continued attention and action in support of Ukraine and the UMD College Democrats who are launching a campaign to register young voters.
3. Are there a few grantees innovating a solution that you found particularly interesting? 
Some of the teams in this year's cohort have developed very creative solutions to some really pressing problems. Many teams are taking action though service, education and fundraising projects, but some teams are stepping in their roles as innovators and are taking a new approach to social issues. 
Sea My Culture is an innovative board game designed to foster multicultural understanding and anti-racist learning among children, parents, educators and psychologists. Team Fungi is a student research team using fungal extracts to treat bacterial biofilm growth on medically implanted devices such as pacemakers and catheters - a revolutionary sustainable, safe, and accessible method to treating these biofilm infections. Finally, Walk with an Arborist and Your Baby is an on-campus program to support the mindfulness of new parents and caregivers through free tours of the greenery on campus.
4. Are there any returning grantees from previous years? 
We are working with several returning Mini-Grantees this year. But, only 13 of the 56 teams in this year's cohort are teams that participated in Mini-Grants during Fall 2022. Here are some highlights from our returning teams: 
Terp Thon, a student-run organization at the University of Maryland that supports patients and families fighting pediatric illness in our local community, raises vital funds and awareness through a 12-hour Dance Marathon each March. As leaders of the Miracle Network Dance Marathon movement, Terp Thon unites UMD's campus and local community to inspire hope and healing in the children and families at Children's National, the local Children's Miracle Network Hospital. 
Latina Pathways is a University of Maryland student-led organization that seeks to educate, advocate and fundraise to provide Latina immigrants pathways to higher education and community development in the United States. They are back to gain support for their Pen Gals program, which connects Latina students in the local community to current university students, in order to mentor them through the college application process.
Active Minds works to increase mental health awareness on campus, raise funds for critical mental health education and resources, promote positive mental health, educate their peers about the signs and symptoms of mental health disorders, and encourage students to reach out for help when needed.The Be Kind to Your Mind, Stress Less Week program is aimed to create a healthy and supportive campus environment for young adults.
5. What are you looking forward to with this cohort of Mini-Grant awardees?  
I really enjoy working with students that have already interacted with the Do Good Institute through other programs. This year, I had the opportunity to work with several teams that have participated in at least one other Do Good program.  
True Community is a former Accelerator Fellow. Led by Luke T. Kues as the executive director, True Community Inc. is a nonprofit organization that provides wellness education including first aid and CPR certifications. In partnership with Cape Coast University, secondary schools, churches, government entities and other organizations, they have provided more than 6,000 first aid and CPR certifications across 18 major U.S. cities.  
The Tyler Greene & Taylor Grant Foundation (TG²) is led by Graduate Certificate student Leonie Grant, who wants to positively impact the lives of children within our community. Their mission is to assist in reducing the financial limitations for students wishing to pursue higher education and help reduce unintentional drownings by educating youth on water safety and drowning prevention.  
Game Changers New York is a past Do Good Challenge participant and is a nonprofit organization led by Sara Blau that empowers disadvantaged youth around the world by providing them the opportunity to become athletes. Game Changers donates collected sports equipment to children locally and globally. Since their founding in 2016, Game Changers New York has donated more than 15,000 pieces of sports equipment and funding to more than 35 different organizations in nine countries.
Meet this year's Mini-Grantees