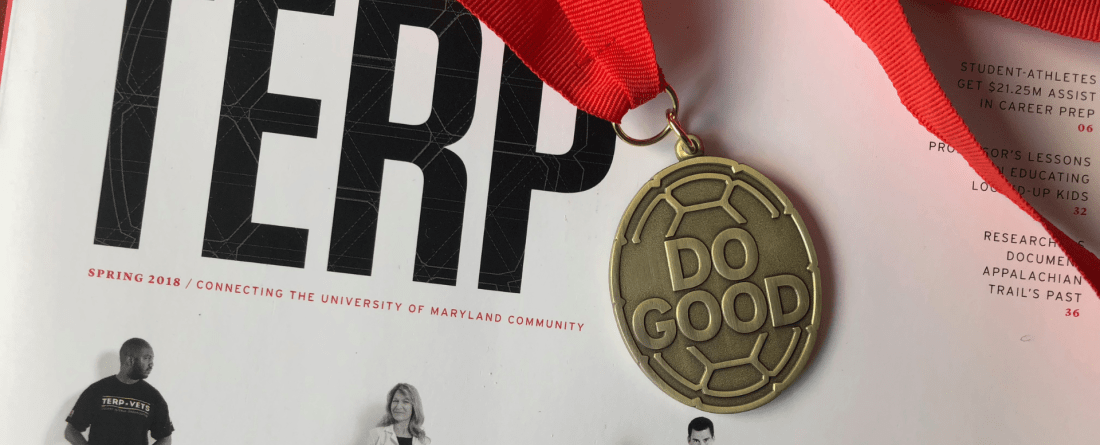 As we prepare to honor the spring 2022 graduates, we look back on all that they have accomplished in their time at the University of Maryland. The Class of 2022 is full of bold thinkers, philanthropists, changemakers, entrepreneurs, advocators, researchers and nonprofit leaders who are passionate about doing good on campus, in their communities and throughout their careers. 
The Do Good Institute is happy to award 49 of these driven students who make up the Class of 2022 with a Do Good Medallion. Each awardee is being recognized for their extraordinary commitment to social impact and innovation and their efforts to bolster the University of Maryland's impact as the nation's first Do Good Campus. These Do Good grads are working to tackle social and environmental issues including education accessibility, mental health, climate change and so much more. 
The 2022 Do Good Medallion honorees – both undergraduate and graduate students – were selected from thousands of students across campus who competed as a semi-finalist or finalist in the annual, campus-wide Do Good Challenge; participated in our selective Do Good Accelerator Fellows program; served as a Do Good Ambassador; worked with local mission-driven organizations as an Impact Intern; completed the Graduate Certificate in Nonprofit Management and Leadership; and/or was employed as a Do Good student worker. These graduates represent 10 colleges and schools at University of Maryland including A. James Clark School of Engineering, College of Agriculture and Natural Resources, College of Arts and Humanities, College of Behavioral and Social Sciences, College of Computer, Mathematical and Natural Sciences, College of Information Studies, Philip Merrill College of Journalism, Robert H. Smith School of Business, School of Public Health and School of Public Policy, as well as living/learning programs within College Park Scholars, Honors College, Language House, and CIVICUS at UMD.
The Do Good Institute offers its congratulations to the following graduates: 
Debbie Adam: College of Arts and Humanities, College of Computer Mathematical and Natural Sciences; Language House; Honors College (Integrated Life Sciences) | Fall 2020 and Summer 2021 Accelerator Fellow with The Kidney Disease Screening and Awareness Program at The University of Maryland
Jesse Anderson: College of Information Studies | 2021 Do Good Challenge Venture Track Winner with Chat Health
Christina Armeni: School of Public Policy; Philip Merrill College of Journalism | Do Good Ambassador; Summer 2021 Impact Intern with TCP Academy
Beatriz Barros: Graduate Certificate in Nonprofit Management and Leadership, School of Public Policy
Courtney Campbell: Graduate Certificate in Nonprofit Management and Leadership, School of Public Policy
Greg Casement: Graduate Certificate in Nonprofit Management and Leadership, School of Public Policy
Minahil Cheema: School of Public Policy; College of Computer, Mathematical and Natural Sciences; Honors College | 2022 Do Good Challenge Venture Finalist with TeleShadowing, Do Good Ambassador; Summer and Fall 2021 Accelerator Fellow with TeleShadowing
Natalie Condzal: A. James Clark School of Engineering | 2019 Do Good Challenge Project Track Winner with FLAME
Lily-Max Cooke: College of Behavioral and Social Sciences | Summer 2021 Impact Intern with TCP Academy
Catherine Curtis: School of Public Policy | Program Coordinator for the Do Good Institute; Summer 2021 Impact Intern with District Alliance for Safe Housing
Kyle del Villar: College of Arts and Humanities | Do Good Ambassador; Summer 2021 Impact Intern with Joe's Movement Emporium
Emily Eason: College of Behavioral and Social Sciences; Honors College (Honors Humanities) | 2022 Do Good Challenge Semi-Finalist with Latina Pathways
Nicolas Egan: College of Computer Mathematical and Natural Sciences; Global Communities | 2022 Do Good Challenge Finalist with Kesem at UMD
Umailla Fatima: College of Computer Mathematical and Natural Sciences; School of Public Policy; ​​Honors College (Integrated Life Sciences) | 2022 Do Good Challenge Project Track Winner with Combating Overdoses in Rural Areas
Arayle Freels: Graduate Certificate in Nonprofit Management and Leadership, School of Public Policy
Mansi Gosalia: School of Public Health | Summer 2021 Impact Intern with Vietnam Veterans of America
Lauren Hamilton: Philip Merrill College of Journalism | Do Good Ambassador
Talia Hartman: College of Computer Mathematical and Natural Sciences | 2022 Do Good Challenge Project Track Winner with Combating Overdoses in Rural Areas
Matthew Herskovitz: College of Arts and Humanities; College of Behavioral and Social Sciences | Summer 2021 Impact Intern with Bee Informed Partnership
Carly Holmes: College of Arts and Humanities | Spring 2021 Accelerator Fellow with DC2UNI
Sara Jamison: Graduate Certificate in Nonprofit Management and Leadership, School of Public Policy
Leslie Jefferson: Graduate Certificate in Nonprofit Management and Leadership, School of Public Policy
Tatiana Johnson: School of Public Policy | Summer 2021 Impact Intern with D.C. Policy Center
Pali Keppetipola: College of Computer Mathematical and Natural Sciences; Honors College (Integrated Life Sciences) | 2022 Do Good Challenge Semi-Finalist with The Kidney Disease Screening and Awareness Program at the University of Maryland 
Zakariya Kmir: College of Behavioral and Social Sciences | 2019 Do Good Challenge Semi-Finalist with BIOKMIR; Spring 2022 Do Good Accelerator Fellow with BIOKMIR
Ikhtiar Mohammad: School of Public Policy | Summer 2021 Impact Intern with ROOTS Africa
Alice Murphy: College of Arts and Humanities | 2019 Do Good Challenge Semi-Finalist with ROOTS Africa
Sarah Natchipolsky: College of Arts and Humanities | Communications Intern for the Do Good Institute 
Kayla Norton: School of Public Policy | Fall 2020 Impact Intern with Nonprofit Village
Jennifer Noyes: College of Arts and Humanities; College of Behavioral and Social Sciences; Language House; Honors College (Honors Humanities) | Spring 2022 Accelerator Fellow with Kappa Lambda Xi Multicultural Sorority, Inc.
Mathew Parsons: Robert H. Smith School of Business | 2022 Do Good Challenge Finalist with North Star Creations; Fall 2021 and Spring 2022 Accelerator Fellow with North Star Creations
Samantha Porzel: School of Public Policy | Summer 2021 Impact Intern with Population Services International
Jacqueline Quinones: College of Agriculture and Natural Resources | 2022 Do Good Challenge Finalist with Kesem at UMD
Sanjit Sachdeva: College of Behavioral and Social Sciences; College of Computer Mathematical and Natural Sciences; College Park Scholars (Life Sciences) | 2022 Do Good Challenge Project Track Winner with Combating Overdoses in Rural Areas
Frank Sainfort: Graduate Certificate in Nonprofit Management and Leadership, School of Public Policy
Antonio Santoro: School of Public Policy | Do Good Ambassador; Summer 2021 Impact Intern with Game Genius
Molly Schreier: College of Arts and Humanities | 2022 Do Good Challenge Semi-Finalist with Peer to Peer
Samantha Sisisky: Graduate Certificate in Nonprofit Management and Leadership, School of Public Policy
Sophia Shepard: School of Public Policy; CIVICUS | Do Good Ambassador
Esha Sunthankar: College of Behavioral and Social Sciences | Summer 2021 Impact Intern with The Giving Square; 2022 Do Good Challenge Finalist with Kesem at UMD
Aishwarya Tare: College of Information Studies | Summer 2021 Impact Intern with The Civic Circle 
Frederique Wandji: School of Public Health | Spring 2022 Accelerator Fellow with The Hopeful Project
Kayla Weekes: College of Behavioral and Social Sciences | Summer 2021 Impact Intern with Game Genius
Ilan Weitzen: School of Public Policy | Summer 2021 Impact Intern with the A. James and Alice B. Clark Foundation
Kayla Whitlock: College of Behavioral and Social Sciences | 2022 Do Good Challenge Finalist with Kesem at UMD
Sara Wiatrak: Philip Merrill College of Journalism; College of Behavioral and Social Sciences | Summer 2021 Impact Intern with Friends of White Oak
David Yang: Graduate Certificate in Nonprofit Management and Leadership, School of Public Policy
Charissa Zhu: College of Behavioral and Social Sciences | Summer 2021 Impact Intern with Court Appointed Special Advocate (CASA)/Prince George's County
Fatima Zia: School of Public Policy | Summer 2021 Impact Intern with Joe's Movement Emporium