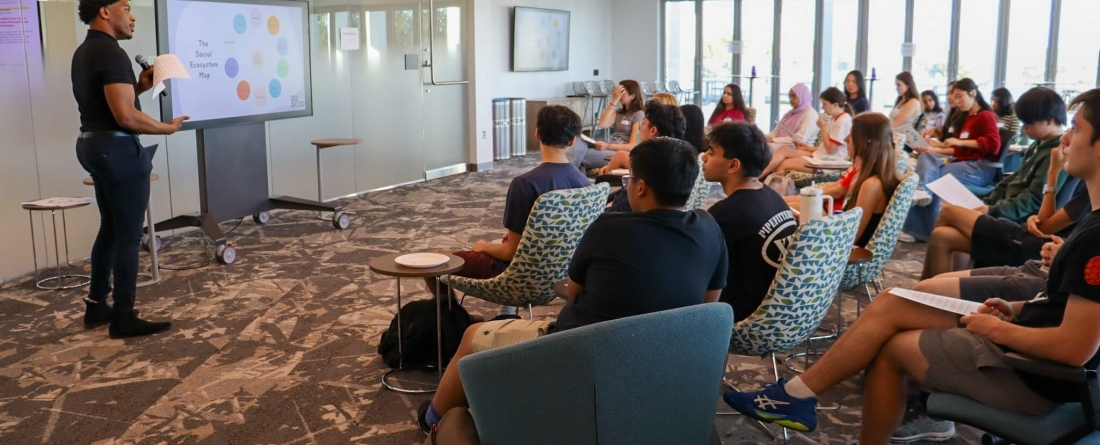 Changemaker Pathways launched this fall with its inaugural cohort of 45 students. This 5-week experiential program is primarily for first-year, second-year, or transfer students. Students explore ways that they can 'do good' in their personal, professional, or educational life through interactive and discussion-based workshops.
This fall semester in the Do Good Institute it is so exciting to have so many first-year, second-year, and transfer students interested in doing good in the Changemaker Pathways Program. We have such an amazing group of students, I can't wait to see where they will go on their journey at UMD and beyond!

Tyrese Fenty Program Coordinator
Over the first three weeks, Changemakers fostered a sense of community amongst their cohort and started to think about their identity as it relates to change-making, while also thinking about social impact topics they would be interested in exploring in their futures.
On Friday Oct. 21, Changemakers participated in Good Neighbor Day at Lake Artemesia. Students spent the morning clearing invasive species around the park's trails.
The program wrapped up on Tuesday Oct. 31. Changemakers engaged with an impressive panel of current students involved in social impact work across campus, ranging from past and present Mini-Grant recipients, Impact Interns, Do Good Accelerator Fellows and Do Good Challenge participants.
Publications Carousel
Changemakers meeting to brainstorm ideas.
Changemakers on Good Neighbor Day at Lake Artemesia.
Changemakers at the Do Good Panel/Showcase on Oct. 31.
Some highlights of the cohort include:
Year
32 first-year students
12 second-year students 
1 transfer student 
Colleges
8 Students from the School of Public Policy
7 Students from the College of Computer, Mathematical, and Natural Sciences
7 Students from A. James Clark School of Engineering 
6 Student from the School of Public Health
6 Students from Letters and Sciences
3 Students from the Robert H. Smith School of Business
3 Students from the College of Behavioral and Social Sciences
2 Students from the College of Information Studies
1 Student from the College of Agriculture and Natural Resources
1 Student from the College of Arts and Humanities
1 Student from the College of Education
Living-Learning Programs: 
6 Students from College Park Scholars 
6 Students from the Honors College 
4 Students from Carillon Communities 
3 Students from the FIRE First-Year Innovation & Research Experience Community 
2 Students from the Flexus: The Dr. Marilyn Berman Pollans' Women in Engineering Living & Learning Community
Introducing the Fall 2023 cohort of ChangeMakers: