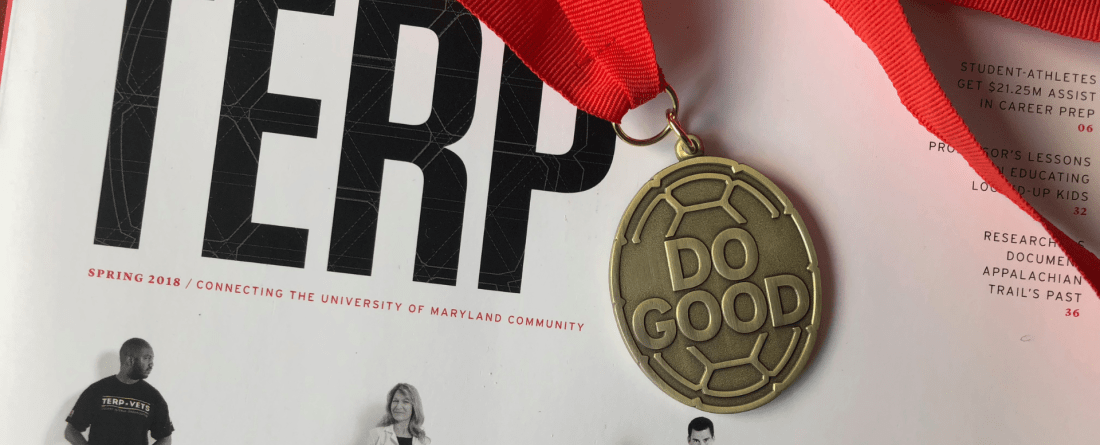 As a school year defined by the coronavirus pandemic comes to an end, the University of Maryland community is celebrating the achievements of the 2021 graduating class. These students persevered in the face of adversity to create positive change in the world and found innovative solutions to problems our communities face. The Class of 2021 is full of bold thinkers, philanthropists, changemakers, entrepreneurs, advocators, researchers and nonprofit leaders who are passionate about doing good on campus, in their communities, and throughout their careers. 
The Do Good Institute is excited to award 40 of these dedicated students who make up the Class of 2021 with a Do Good Medallion. Each awardee is being recognized for their extraordinary commitment to social impact and innovation and their efforts to bolster the University of Maryland's impact as the nation's first Do Good Campus. These Do Good grads are working to tackle social and environmental issues including health accessibility, hunger and poverty, climate change and more. 
The 2021 Do Good Medallion honorees – both undergraduate and graduate students – were selected from thousands of students across campus who competed as a semi-finalist or finalist in the annual, campus-wide Do Good Challenge; participated in our selective Do Good Accelerator Fellows program; served in the first cohort of Do Good Ambassadors; worked with local mission-driven organizations as an Impact Intern; and/or completed the Graduate Certificate in Nonprofit Management and Leadership. These graduates represent seven colleges and schools at University of Maryland including A. James Clark School of Engineering, College of Arts and Humanities, College of Behavioral and Social Sciences,, College of Computer, Mathematical and Natural Sciences, Robert H. Smith School of Business, School of Public Health, and School of Public Policy, as well as the UMB School of Social Work and living/learning programs within College Park Scholars, Honors College, and CIVICUS at UMD.
The Do Good Institute offers its congratulations to the following graduates: 
Ayesha Amsa: School of Public Policy | Fall 2020 Impact Intern with Congressional Hunger Center
Jon Apfelbaum: Graduate Certificate in Nonprofit Management and Leadership, School of Public Policy
Catherine Armbrust: Graduate Certificate in Nonprofit Management and Leadership, School of Public Policy
Adharsh Babu: College of Computer, Mathematical and Natural Sciences; Honors College (Entrepreneurship and Innovation) | 2019 Do Good Challenge semi-finalist with DriveBox 
Emily Berry: College of Behavioral and Social Sciences | Summer 2020 Impact Intern with Vikara Village 
Patrick Cole: Graduate Certificate in Nonprofit Management and Leadership, School of Public Policy
Manpreet Dayal: College of Behavioral Social Sciences; School of Public Policy | Summer 2020 Impact Intern with Bright Beginnings
Grace Deleon: School of Public Health | Fall 2020 Impact Intern with Network for Victim Recovery of DC
Shari Feldman: Graduate Certificate in Nonprofit Management and Leadership, School of Public Policy | TIAA Fellow
Nicki Fiocco: Graduate Certificate in Nonprofit Management and Leadership, School of Public Policy
Niloy Gupta: A. James Clark School of Engineering; Honors College (Entrepreneurship and Innovation) | 2019 Do Good Challenge semi-finalist with DriveBox 
Sara Hatfield: School of Public Health | 2021 Do Good Challenge finalist with Public Health Beyond Borders
Joey Heavner: School of Public Policy | Fall 2020 Impact Intern with Calvert Impact Capital 
Glenn Helme: Graduate Certificate in Nonprofit Management and Leadership, School of Public Policy
Cody Impton: School of Public Policy | Do Good Now teaching assistant | Fall 2020 Impact Intern with IMPACTdmv
Neil Johnson: College of Computer, Mathematical and Natural Sciences | Co-founder, Chat Health | 2019 Do Good Challenge semi-finalist
Sang Kim: Graduate Certificate in Nonprofit Management and Leadership, School of Public Policy
Preritha (Ritu) Konanur: School of Public Policy | Do Good Ambassador
Joyce Koo: Graduate Certificate in Nonprofit Management and Leadership, School of Public Policy
Chanel Little: Graduate Certificate in Nonprofit Management and Leadership, School of Public Policy
Shontia Lowe: Graduate Certificate in Nonprofit Management and Leadership, School of Public Policy
Lizzie Mafrici: College of Arts and Humanities; School of Public Policy; CIVICUS | Summer 2020 and Spring 2021 Accelerator Fellow
Jason Malkofsky-Berger: Robert H. Smith School of Business | Co-founder Recyclify | 2018 Do Good Challenge finalist
Manasvinee Mayil Vahanan: College of Computer, Mathematical and Natural Sciences | 2019 and 2021 Do Good Challenge finalist with Public Health Beyond Borders
Armani McMillan: Graduate Certificate in Nonprofit Management and Leadership, School of Public Policy
Jasmine Milner: Graduate Certificate in Nonprofit Management and Leadership, School of Public Policy
Cedric Nwafor: Graduate Certificate in Nonprofit Management and Leadership, School of Public Policy | Founder, ROOTS Africa | 2021 Do Good Challenge winner
Rebecca Patterson: Graduate Certificate in Nonprofit Management and Leadership, School of Public Policy
Kelly Peaks: School of Public Policy | Summer 2020 Impact Intern with Maryland League of Conservation Voters 
Antonio Santoro: Graduate Certificate in Nonprofit Management and Leadership, School of Public Policy
Jeremy Schmidt: School of Public Policy | Summer 2020 Impact Intern with ROOTS Africa | 2021 Do Good Challenge winner with ROOTS Africa
Veeraj Shah: School of Public Health; College of Computer, Mathematical and Natural Sciences | Co-founder, Chat Health | 2019 Do Good Challenge semi-finalist and 2021 Do Good Challenge winner
Elana Sichel: Robert H. Smith School of Business; College Park Scholars (Media Self & Society) | Co-founder, Corona Connects | 2021 Do Good Challenge finalist
Sophie Siebach-Glover: School of Public Policy; School of Social Work, University of Maryland, Baltimore | Summer 2020 Impact Intern with Perfect Strangers 
Olivia Smith: School of Public Policy | Summer 2020 Impact Intern with The Giving Square
Jonathan Taylor: Robert H. Smith School of Business; Honors College (Entrepreneurship and Innovation) | 2019 Do Good Challenge semi-finalist with DriveBox 
Alyssa Tomlinson: Graduate Certificate in Nonprofit Management and Leadership, School of Public Policy
Kurt Turnier: Graduate Certificate in Nonprofit Management and Leadership, School of Public Policy
Agustin Umanzor: Graduate Certificate in Nonprofit Management and Leadership, School of Public Policy
Shavon White: Graduate Certificate in Nonprofit Management and Leadership, School of Public Policy