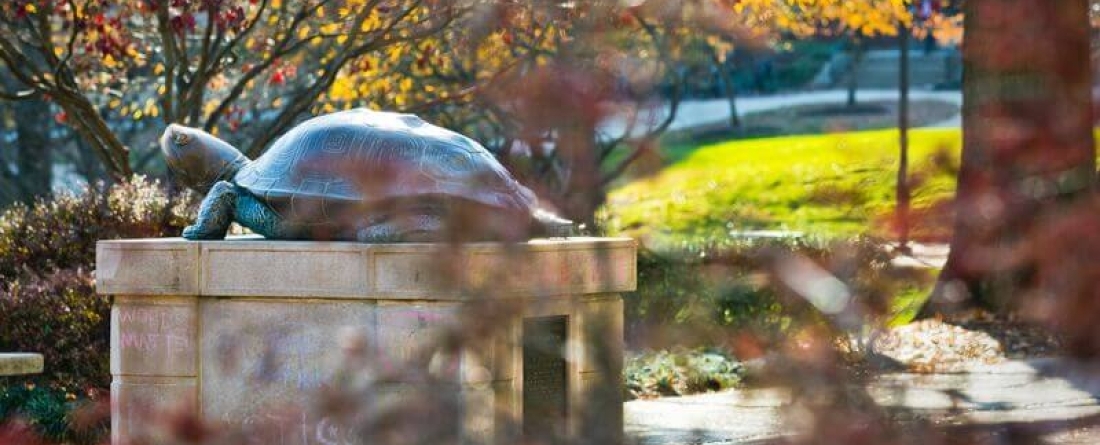 This spring, 15 promising student teams were awarded Do Good Mini-Grants to support their social impact projects. $6,500 was granted to teams working on projects that address a wide range of issues, from amplifying marginalized voices and stories to increasing medical accessibility for homeless populations. This academic year, projects related to COVID-19 and/or racial justice were given special consideration, along with new or emerging teams and community-centered initiatives.
The Mini-Grant teams selected this round are doing amazing work to fundraise, advocate or organize service events to help support many different communities and issue areas. They are addressing mental health, food insecurity, immigration reform, environmental clean-ups, and more, and we are excited to see the impact they will have with their work.

Cali Moore Program Coordinator
The Do Good Institute is thrilled to support the growth of these creative and relevant projects. Read more about the student teams below.
Helping Hands for Relief and Development at UMD
Helping Hands for Relief and Development (HHRD) at UMD holds educational events to raise awareness about the humanitarian causes, both locally and internationally. HHRD strives to build a strong community of passionate and dedicated volunteers who give back to the community. This Mini-Grant will go toward creating a food drive to help families in need across the nation. ($500)
Latina Pathways
Latina Pathways is a student-led organization that seeks to educate, advocate and fundraise to provide Latina immigrants pathways to documentation, citizenship, higher education, equal pay, professional leadership positions, meeting living needs and community development in the United States. This Mini-Grant will be used to purchase fundraising materials for this semester's philanthropy cause: raising money for a local high school teacher's ESOL classroom. Latina Pathways intends to provide one teacher and her students, many of whom are Latinx and/or undocumented, with textbooks, writing supplies, audio lessons and other tools they need to effectively learn English and integrate in the United States. ($500)
Lean On Me CP
Lean on Me (LOM) is a nonprofit that provides students with 24/7 peer emotional support via text. Since its inception at MIT, Lean on Me has spread to seven campuses, becoming a vital mental health resource and reaching a network of over 135,000 students. While the University of Maryland offers students multiple crisis calling lines and walk-in options, there is currently no accessible campus-based, warm line text option. Lean on aims to be a resource for students through the ongoing pandemic and to prevent the escalation of more severe mental health issues. This Mini-Grant will be used to fund an open-mic night, in collaboration with other student, mental health-focused organizations on campus, to increase mental health awareness. ($400)
Media Literacy Outreach Team
Media Literacy Outreach Team educates and engages youth in the greater College Park community in the modern media landscape. The team teaches critical thinking, fact checking and other vital skills. This Mini-Grant will go toward traveling to and from a local middle or elementary school and performing a hands-on activity with students to teach them about how to navigate the complicated media landscape in the digital age. ($300)
Migrating Shells
Migrating Shells aims to provide a space for students with an immigrant identity by fostering a community of support and well-being. By holding a space for immigration impacted students and allies, they explore and combat the negative and taboo perceptions of immigration and migration. Due to the anticipated uncertainty of immigration policies within the last five years, student leaders created the Dream Gala and Dream Fund to support undocumented students for emergency financial assistance. In partnership with PLUMAS, this Mini-Grant will go toward hosting the DREAM Gala to support the Dream Fund. ($250)
Political Latinxs United for Movement and Action in Society (PLUMAS)
Political Latinxs United for Movement and Action in Society (PLUMAS) engages the Latinx community and all those who support it at UMD. By providing a safe, proactive space where students can discuss substantive issues affecting the Latinx community both on and off campus, PLUMAS seeks to create civic engagement and awareness through education, advocacy and acts of community service. In partnership with Migrating Shells, this Mini-Grant will be used to host the first in-person DREAM gala in two years to celebrate the immigrant community. ($250)
Project Elevate-Health
Project Elevate-Health is creating a healthcare resource guide that provides information on free/low-cost medical clinics, free health services and tests, COVID-19 resources and information regarding free transportation for non-emergency medical services in the Prince George's County area. Many healthcare services and clinics in the Prince George's County area are designed to help individuals who are low-income or medically uninsured. However, there are limited resources available that can direct individuals to these services and help them navigate the confusing healthcare system. Project Elevate-Health strives to bridge this gap and increase medical accessibility for homeless populations through a free, comprehensive and easy to navigate healthcare guide provided to homeless shelters in Prince George's County. This Mini-Grant will help fund the creation and printing of the resource guides. ($300)
Scientific Terrapin
As an undergraduate research organization, Scientific Terrapin (SciTerp) is dedicated to spearheading the Maryland Undergraduate Research Journal (MURJ), TerpsPublish, an event and venue for student publishing community building, and SciTerp Medium, an online portal for open exchange of ideas and advice from across the campus community. Scientific Terrapin was founded to address the lack of undergraduate voices in research. SciTerps' MURJ will be an online platform that allows anyone to view the published research papers. This Mini-Grant will be used to launch SciTerp's website, increase their visibility on campus, develop on-campus and regional partnerships and register SciTerp as a nonprofit. ($500)
See Us Hear Us the Podcast
See Us, Hear Us is a podcast that aims to amplify marginalized voices and stories. Co-hosts Priya Kalla and Maya Lee interview students at the University of Maryland who face identity-based discrimination. The podcast functions as a medium for its guests to define their own narratives. It explores how intersecting identities affect individual experiences of discrimination and systemic oppression. The podcast documents, collects and preserves their stories. This Mini-Grant will go toward compensating episode guests for their emotional labor and for the various expenses of producing and hosting a podcast, such as sound recording equipment and a website domain. ($500)
Students Helping Honduras, UMD Chapter
The University of Maryland student chapter of Students Helping Honduras raises funds to build schools in Honduras. Over the years, several club members have traveled to Honduras during the winter break to aid in the direct construction of school. SHH is raising funds to fully finance the construction of a primary school in Honduras. and this Mini-Grant is a valuable addition to SHH's goals. ($500)
Sustainable Ocean Alliance (SOA)
The Sustainable Ocean Alliance at UMD is a student-led environmental advocacy club that works to raise awareness of marine threats and promote solutions for protecting our oceans. This Mini-Grant will go toward purchasing promotional outreach items such as stickers and keychains, as well as purchasing materials and supplies needed for their weekly stream clean-ups and other events. ($500)
Team UNITED
Team UNITED is a research group that is a part of the Gemstone Honors Program at UMD. They are working to increase the amount of literature on disordered eating in men and what role overlapping identities, such as race, sexual orientation, etc. have on this condition. This is accomplished through the creation of a comprehensive survey that aims to combine pre-existing research and newly formed questionnaires. This Mini-Grant will go toward compensating research participants for their responses and ensuring that the project can have the adequate resources necessary for data collection, recruitment and analysis. ($500)
Terp Thon
Terp Thon strives to inspire hope and healing by supporting patients and their families at Children's National Hospital in the fight against pediatric illness. By uniting all aspects of the larger University of Maryland community under one cause, Terp Thon fosters an affinity for philanthropy as a key part of UMD's campus culture. The Mini-Grant will be used to maximize their impact on the patients and families impacted by pediatric illness at Children's National Hospital. ($500)
The Hopeful Project
The Hopeful Project aims to alleviate the burden of food insecurity in Prince George's County through the use of accessible food pantries and care packages. The project has partnered with a women's shelter and assists in providing these women with vital resources. The Mini-Grant funds will be used to purchase the resources for the pantry and care packages that they will create. ($500)
UNICEF UMD
UNICEF, University of Maryland is a part of the UNICEF campus initiative. The initiative encourages college students to participate in education, advocacy and fundraising activities that support children in-need, locally and worldwide on behalf of UNICEF USA. The Mini-Grant will be used to purchase supplies to create a memorable experience for those attending the UNICEF Gala, a celebration bringing together a diverse set of students to educate one another on their various cultural traditions and embrace our differences. ($500)