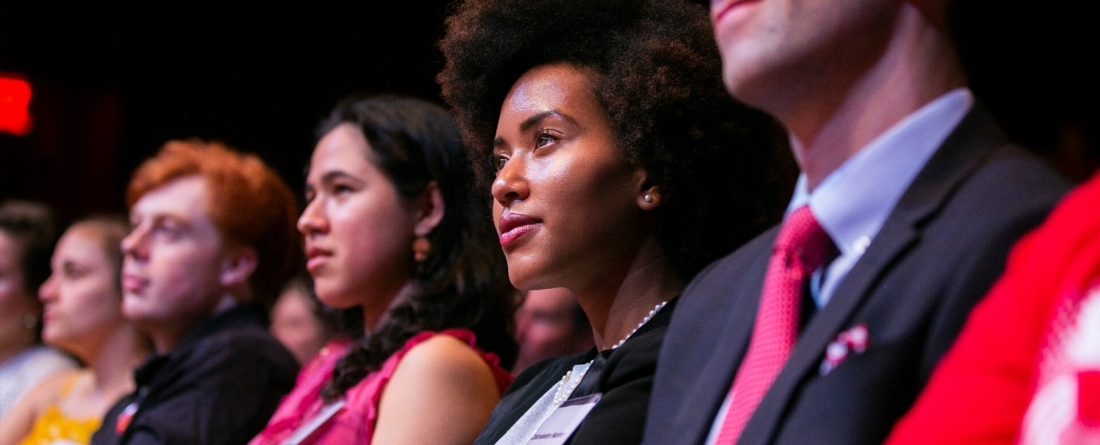 The Do Good Institute is thrilled to announce that 12 undergraduate students from a range of disciplines have been selected to take part in its 3-month Spring Fellows Program at the Do Good Accelerator. 
During their fellowship, students will be exposed to opportunities and coaching to help scale their projects from ideas to positive social impact. This select group of students will spend the semester exploring, testing, or growing their venture with weekly 1:1 coaching sessions, workshops that provide insights to valuable tools and resources, and the ability to network with top industry leaders and other peers engaged  in social entrepreneurship and innovation. The program includes membership to the Do Good Accelerator, a collaborative coworking space, where students will work to answer social, cultural, or environmental issues through innovative problem solving.
Introducing Our Spring 2020 Fellows
Sadia Alao, The Joy Journal: Sadia is creating The Joy Journal- a physical, interactive guide on how to journal with joy. The journal is meant to help individuals who suffer from anxiety and depression remember their self worth. Using meaningful prompts, pop up art, stellar graphics and more, people will learn to lead their lives with gratitude and affirmation. Sadia will spend her time as a Fellow creating and testing her product.
Vanessa Barker, Pawsible: Vanessa is the founder and leader of Pawsible, a student-led support program for UMD students who are raising future assistance dogs. Vanessa founded Pawsible to support Puppy Raisers (operating under the National Capital Region of the Guide Dog Foundation for the Blind) with access to a dog food pantry and financial support if they're facing financial difficulty.Vanessa is back for a second semester as a Fellow and is working on securing 501(c)3 status for her organization. 
Georgia Chahalis, Cruising for Lives: Georgia is working to eliminate food waste on cruise ships with her project Cruising for Lives. Cruising for Lives aims to promote and establish food redistribution methods on cruise ships, saving food from going to waste. By creating a system that cruise lines can donate leftover food to the communities in need where they dock, both sustainability and food insecurity can be tackled. Georgia looks forward to continuing research on this important topic and coming up with a business model to launch her idea into action. 
Charles Grody, Hydraze: Charles, co-founder of Hydraze, Inc., plans to spend his fellowship focused on expanding their brand. Hydraze is a sustainability-oriented venture with an aim to reduce average toilet water consumption by 45 percent,which is estimated to save four billion dollars and 200 billion gallons of water annually in the United States. Hydraze does this by using its disruptive stall latch-activated flushing mechanism, which supplies a far more accurate system than than existing automatic sensors. In an effort to minimize water waste, Hydraze also offers a water monitoring platform which enhances facility managers' ability to efficiently manage their buildings maintenance. 
Andrew Jasiura, LifeView: Andrew will be growing LIFE VIEW, a production company focused on educational media and investigative journalism that tells all sides of a story. Andrew is  currently working on a Virtual Reality narrative and 2D documentary on the influx of immigration stemming from Central America, as well as developing a larger photo series and collection of articles focusing on police brutality in Hong Kong.
Isha Kamara, Iced Out Cosmetics: Isha founded Iced Out Cosmetics, a company that caters to those most overlooked by the current cosmetic industry, mainly dark-skinned people of color and/or the LGBT community. Iced Out Cosmetics advocates for these communities by educating others on prevalent issues affecting these communities while selling cosmetics. Isha plans to spend her Fellowship fine-tuning her business model and making way for more representation in the cosmetics industry. 
Aaron Kurtz, DUNK: Aaron is working on DUNK, an after school volunteer basketball program in Prince George's County that runs throughout the school year. DUNK emphasizes the importance of good sportsmanship, strong leadership, and living a healthy lifestyle. During his Fellowship, Aaron will be working on creating and designing an end-of-year program for the students as well as ensuring the financial stability of DUNK over the next few years.
Eliana Neuwirth, Maryland Impact: Eliana is using her fellowship to dedicate time to expanding her work with Maryland Impact. Maryland Impact believes that anyone, regardless of race, age, or socioeconomic status, can make change. By conducting workshops and coaching sessions with local youth, Maryland Impact teaches young students how to produce their own social action projects. By coaching local youth to build their own projects, Maryland Impact creates the next generation of changemakers. Eliana looks forward to working with the Do Good Institute to grow her idea and support more future leaders.
Ryan Perpall, Break Box Recycling: Ryan, owner and creator of Break Box Recycling, joins the Fellows as he works to grow his business. Break Box recycling aims to prevent glass contamination by engaging the public in interactive experiences that simultaneously educate and entertain people of all ages, while recycling glass products in an efficient and sustainable way. Ryan is eager to get support as he grows his mission. 
Max Skoglund, Seconds Sustainable Smoothies: Max founded Seconds' Sustainable Smoothies and is eager to take his business model to the next level. The goal of his project is to create delicious and nutritious smoothies that are made in seconds made from "second-hand" produce left over at farmers markets, or not marketed for their unappealing cosmetic appearances. Seconds' Sustainable Smoothies is a student-run and worker-owned business that promotes sustainable choices and works to eliminate both food waste and the lack of access to nutritious food options. Max will spend the semester testing his product and learning how to grow his model sustainably. 
Lashun White, InfoCare: Lashun represents InfoCare, which provides digital, descriptive and engaging instructions on how to effectively and efficiently use at home medical devices. Aiming to assure quality healthcare, InfoCare both saves time and improves health. InfoCare is developing a fundamentally new strategy to tackle medical device misuse and improve health literacy by converting complex medical instruction into animated video illustration that can be understood by both teens and adults.
Isha Yardi, Innovation Stations: Isha is developing Innovation Stations, an outreach initiative focused on developing free-to-use makerspaces for local community centers. Using the city of Gaithersburg, Maryland as a starting point, Isha is looking to expand the littleSTEM programming available to Gaithersburg youth via free-to-use makerspaces. Isha will use her Fellowship to address the need for more STEM education through makerspace development.