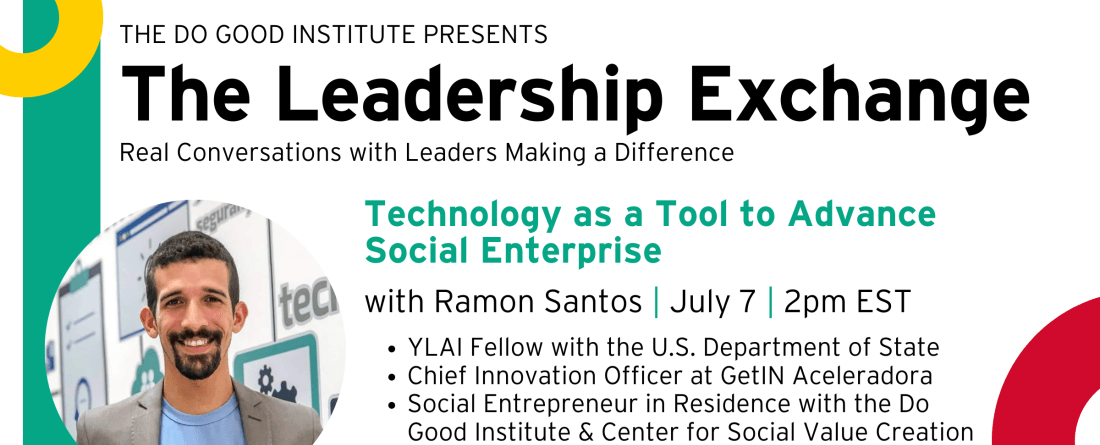 Join the Do Good Institute and the Center for Social Value Creation for a special installment of the Leadership Exchange, a speaker series featuring exciting and innovative nonprofit and social impact leaders. Up next in our series is Ramon Santos, a social entrepreneur from Brazil, being hosted by the Center for Social Value Creation (CSVC) and the Do Good Institute (DGI) as part of the Young Leaders of the Americas Initiative (YLAI) and as a Social Entrepreneur in Residence for both CSVC and DGI. Ramon will share about his leadership journey and key lessons learned along the way, as well as the social impact landscape in Brazil and how entrepreneurs in both Brazil and the U.S. can learn from one another's experiences. 
Ramon believes in the power of technology to advance social enterprise and build leaders for the future, today. His experience with startups, strategy, project management and software development have garnered him and his companies a number of accolades, including the FAPESB Innovative Ideas Award, the National Innovation Award from National Industry Confederation in 2018/2019 and 2021/2022, and this YLAI Fellowship - which empowers entrepreneurs to strengthen their capacity to launch and advance their entrepreneurial ideas and effectively contribute to social and economic development in their communities - to name a few. He is the Chief Innovation Officer at Getin - Aceleradora (an accelerator for tech startups in Brazil). Ramon has a Bachelor's degree in Computer Engineering and two Master of Business Administration degrees, one in Project Management and one in Innovation Management. 
More about the series
Each conversation begins with a 30 minute interview, which is recorded (for UMD student professional development and coursework). When the interview concludes, the conversation will open up for guests to interact with our speaker and ask their own questions.