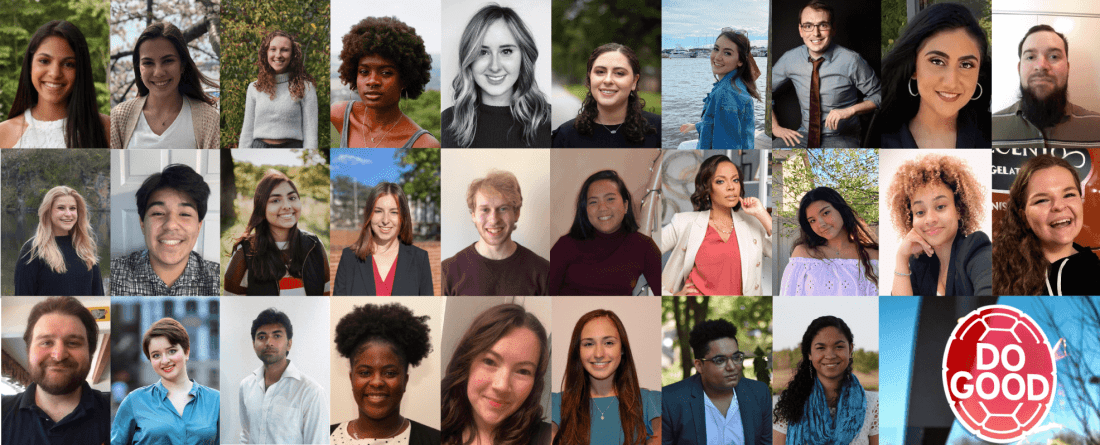 This summer, 34 University of Maryland students will intern with local social impact organizations as part of the Do Good Institute's Impact Interns program. Launched in response to COVID-19 limiting summer internship opportunities, this professional development and leadership pipeline links passionate and driven students to project- and social impact-based summer internship opportunities with alumni organizations and partners of the Do Good Institute. The program provides emerging social sector leaders with meaningful opportunities to gain professional experience, develop skills, build a professional network, and learn more about working in the nonprofit and social impact sphere.
From combating hunger to promoting public health, graduate and undergraduate Impact Interns are prepared to contribute to the innovative work of these 29 local organizations. Read more about each intern and what they are working on below.
Christina Armeni, TCP Academy
Christina Armeni is a rising senior from Columbus, Ohio pursuing a double degree in Journalism and Public Policy. She is passionate about learning about and sharing the stories of others. Her interests include human rights, sustainability and prison reform. She hopes to eventually write for a magazine or work for a nonprofit. Outside of being a student, Christina enjoys hiking, traveling to new places and scuba diving.
This summer, Christina will be working as a marketing intern for TCP Academy: a start-up micro school serving middle school students.
Alex Carey, Fair Chance
Alex Carey (she/ they) is a Master's candidate pursuing a degree in Public Administration. A recovering English undergraduate, she has worked on a political primary, performed an AmeriCorps service year through Public Allies, and worked in nonprofit communications before returning back to school. An avid writer, joker, and purveyor of one-liners and puns, her policy passions are fair planning, disability rights, and racial and LGBTQ+ equity. She's a messy cook and plays music- not terribly well.
This summer, Alex will be working with the communications and development team at Fair Chance, a D.C. nonprofit that focuses on capacity-building services for organizations serving impoverished children and youth in the DC Metro area.
Elizabeth Catchmark, Maryland League of Conservation Voters
Elizabeth Catchmark is a Ph.D. candidate in English studying the long Black freedom struggle and healthcare advocacy. She is a skilled program manager, curriculum designer, and educator. Elizabeth has taught several standalone courses, facilitated trainings and provided mentorship in diverse environments, and supported her academic writing program in the implementation of a holistic redesign of its flagship course. 
She is excited to translate her experiences in research and communication into policy analysis for the Maryland League of Conservation Voters. 
Racheli Cohen, Congressional Hunger Center
Racheli Cohen is a rising junior studying Government & Politics and Sociology, with a minor in International Development and Conflict Management. She is a member of UMD's Global Communities living-learning program and spent the past year serving as the Cultural Programming Chair for the Global Communities Student Association. Racheli is active in UMD's Student Government Association, where she is serving as a legislative representative and working on initiatives such as mental health awareness and dining services expansion. 
As an Impact Intern, Racheli will be supporting the Congressional Hunger Center's development team to implement its fundraising strategy, grow outreach, and assist in planning their annual fundraiser, the Hunger Leadership Awards.
Lily-Max Cooke, TCP Academy
Lily-Max Cooke is a rising senior studying Government and Politics with a minor in Nonprofit Leadership and Social Innovation. She is involved in the University of Maryland's Student Government Association and will be the Director of the Government Affairs Committee for the upcoming academic year. As a former intern in Maryland state government, she is excited to work with student groups on campus and advocate on behalf of student interests in Annapolis and as a part of SGA. 
This summer she will be working with TCP Academy, a nonprofit charter school, as their Business Development Intern where she will learn the ins and outs of nonprofit management and its role in assisting a community. 
Nathan Cremeans, Vietnam Veterans of America
Nathan Cremeans is a senior earning a bachelor's degree in Public Health Sciences. He grew up in Oregon and joined the Army after high school. After serving his country, he came to Maryland to learn how to better help others. In the future, he hopes to continue to make a positive impact on the lives of those around him.
This summer, Nathan will be interning with the Vietnam Veterans of America's Veterans Health Council, where he will continue to hone his skills and help his fellow Veterans get the recognition and care they have earned.
Catherine Curtis, District Alliance for Safe Housing
Catherine Curtis is a senior Public Policy BA/MPP student with a minor in Law and Society. A former student and teaching assistant for the Public Leadership College Park Scholars Program, she is committed to serving the common good as a future policymaker. 
This summer, she is working with the District Alliance for Safe Housing, which provides shelter and assistance for victims of abuse. Catherine will specifically be working on social media outreach and nonprofit communications. 
Caroline Davenport, Bethesda Green
Caroline Davenport is a senior majoring in Public Policy, minoring in Spanish and Sustainability. Before becoming an Impact Intern, she used her policy and communications skills at internships with the World Resources Institute and National Governors Association. She is passionate about sustainable development.
This summer, she will be working with Bethesda Green's Be Green Business team, spearheading the 2021 Summer Speaker Series for the Innovation Lab and strengthening the Innovation Lab Database of Impact Investors.
Kyle del Villar, Joe's Movement Emporium
Kyle del Villar is a rising senior studying Communications and Psychology. Before attending the University of Maryland, he attended Prince George's Community College where he completed his associates degree. Kyle has a strong appreciation for music and art and readily takes recommendations from people who are willing to share some of their favorites.
Kyle is excited to work in the Gateway Arts District with Joe's Movement Emporium where he will serve as a marketing intern. 
Kelsey Drotning, Heart of America
Kelsey Drotning is a fourth year Ph.D. student in the Sociology department where she studies discrimination, social disadvantage, and institutional violence at the intersection of race and gender. Her dissertation examines how cultural understandings of sexual violence are shifting through the lens of motherhood. Her other work examines social isolation and racial disparities using time diary data. Prior to attending the University of Maryland, Kelsey worked as a Program Assistant for the National Center for Victims of Crime in Washington, D.C. where she drafted training materials and compiled resources for advocates regarding crime victim compensation, stalking, and domestic violence. 
As an Impact Intern, Kelsey will be working for Heart of America where she will be evaluating the impact of Transformation Projects.
Mansi Gosalia, Vietnam Veterans of America
Mansi Gosalia is a rising senior majoring in Public Health Science and is an MPH candidate at the School of Public Health. She was a Rawlings Undergraduate Leadership Fellow and cares deeply about healthcare reform. Before becoming an Impact Intern, she held internships on Capitol Hill in the United States Senate and at the Maryland General Assembly. 
This summer, she will be interning with the Vietnam Veterans of America's Veterans Health Council to ensure that veterans have access to their healthcare benefits. 
Sara Hatfield, Bright Beginnings
Sara Hatfield is majoring in Community Health and is planning on graduating in December of 2021. She is a member of the Behavioral & Community Health Undergraduate Honors Program at the University of Maryland and is currently completing her honors thesis on the intersection of mental health and accessibility in higher education. On campus, Sara is the vice president of Public Health Beyond Borders and is leading their efforts to expand into a national nonprofit. As a Global Public Health Scholars alumni and Evolving Minds intern, she has implemented preventative mental health programming for freshmen and sophomores. 
This summer, Sara will be interning with Bright Beginnings and supporting the development of their Home-Based Programming.
Matthew Herskovitz, Bee Informed Partnership
Matthew Herskovitz is a senior studying English and Government and Politics with a minor in Creative Writing. One day, he hopes to complete an MFA in poetry after completing his undergraduate degree. He is from Reisterstown, Maryland. 
This summer, he will be interning with Bee Informed Partnership, a nonprofit working to support honey bee population growth, to help with their fundraising efforts.  
Jianna Howard, Next Gen Giving Circle
Jianna Howard just completed her third year of graduate work at the University of Maryland. She finished her Master of Public Health in August 2020 and proceeded to join the School of Public Policy to begin working on a Master of Public Administration, which she will complete in December 2021. In addition to her studies, she serves as the Chief of Staff for Graduate Student Government and works in The Stamp as the Graduate Assistant in Studio A. Jianna has a wide range of policy interests, but overall, she is interested in studying the history of education, health and criminal justice institutions, addressing disparities, and figuring out how to sustainably move forward. 
This summer, Jianna will be interning with Next Gen Giving Circle and will assist the Next Gen Giving team in creating an equitable grants process by working with donors and grantees to identify key priorities, research sustainable practices, and create new systems.
Tatiana Johnson, D.C. Policy Center
Tatiana Johnson is a rising senior studying Public Policy with a minor in Rhetoric. Hailing from Washington, D.C., Tatiana has a passion for giving back to her local community and intends to pursue a career in social policy and communications following graduation. 
This summer, she will be working as a communications and development intern with the D.C. Policy Center where she will help plan and execute development and fundraising events and support ongoing communications efforts.
Erick Kapp, Nonprofit Village
Erick Kapp is a rising junior majoring in Economics. He is passionate about educational equality, which led him to found the Education Equality Initiative, a nonprofit organization that aims to close the gap in educational opportunity by making educational resources, such as tutoring, accessible to all students. Erick believes in the domino effect of equality in education. 
This summer he will be working as an intern for Nonprofit Village helping to run their SOAR Incubator program.
Casey Kindall, Network for Victim Recovery of DC
Casey Kindall is a rising second year Criminology and Criminal Justice Ph.D. Her research interests include crime and place, the experiences of marginalized populations, and corrections. During her undergraduate career, she studied Psychology and Criminology and Criminal Justice at UMD. 
This summer, she will be working with the Network for Victim Recovery of DC on a concept paper about survivor-defined justice in marginalized communities. 
Kylee Manganiello, Empowerment Center
Kylee Manganiello is a doctoral student in the American Studies department at the University of Maryland. She graduated with honors in May of 2018 from Boston University, where she earned a BS in Social Studies Education. Before joining the American Studies department, Kylee was a K-12 classroom teacher in both public and private school settings. Currently, her research interests include identity formation, adoption, neoliberalism, and critical race theory. 
This summer, Kylee will intern at the Empowerment Center where she will work on a variety of projects that serve the Center's overall mission of providing programs and services that help develop the spiritual, cultural and life skills of youth, young adults and their families in the Washington D.C. Metropolitan area.
Ikhtiar Mohammad, ROOTS Africa 
Ikhtiar Mohammad is a Fulbright grantee at the Institute of International Education Exchange Programs and is a graduate student at the School of Public Policy. Ikhtiar has worked both as development practitioner and researcher at BRAC and BRAC University, Bangladesh. He served as a business consultant with the "Technology Innovations for Growth in Agriculture Bangladesh" project led by the Centre for Development Research at the University of Bonn in Germany. Ikhtiar holds a master's degree in governance studies from the University of Dhaka, Bangladesh and also holds an undergraduate and master's degree in Business Administration. 
This summer, he will be working as an Impact Intern with ROOTS Africa as a donor relations and fundraising intern.   
Samantha (Sam) Porzel, Population Services International
Sam Porzel is in her first year of the master's program at the School of Public Policy, specializing in health policy. Prior to attending UMD, Sam was a Peace Corps volunteer in Palapye, Botswana working in the health sector. With a background in social work, Sam believes in creating person-centered policies that empower people to live their best lives. 
She will be interning at Population Services International this summer as an operations intern, providing administrative support to the Program Management team. 
Antonio Santoro, Game Genius
Antonio Santoro is currently pursuing a dual master's degree in Social Work and Public Policy. He is most interested in concepts pertaining to society, culture, and humanitarian progress. Some books that inspire him include Les Misérables (Victor Hugo), The Sociological Imagination (C. Wright Mills), and Reinventing Organizations (Frederic Laloux).
This summer, Antonio will be working with Game Genius as a data analysis intern. He will be evaluating Game Genius' impact to help them validate or improve their current design approach.
Marissa Sariol-Clough, Urban Teachers
Marissa Sariol-Clough is a second year Ph.D. student in Education Policy and Leadership. Her background is in experimental psychology and statistics, and she has substantial experience working with young children in sports and educational settings. Marissa was drawn to education after completing her master's degree in the hopes of reforming and advocating for low-income children in early childhood education. Her research focuses on engaging minority and low-income parents in their child's education to improve their academic and long-term outcomes. She uses an equity-based lens to analyze current early childhood and education policies and stresses the importance of early learning in her research. 
This summer, Marissa will be working with Urban Teachers on their Performance and Evaluation team to analyze data and inform decision-making on the program's efficacy and long-term goals.  
Victoria Stavish, Community Youth Advance
Victoria Stavish is a rising sophomore majoring in Journalism and Information Science with a minor in Spanish. She is involved with Stories Beneath The Shell, WMUC Radio, WMUC News and Alternative Breaks on campus. Victoria also works as the blog and website manager for a local pet care company from her hometown, Columbus, Ohio. She is interested in learning more about the role that journalism can play in education equity. 
Victoria will be interning with Community Youth Advance, a nonprofit organization that aims to harness the power of the community to teach, reach and keep youth on the path to success. She will be assisting with donor, social, and digital outreach.
Esha Sunthankar, The Giving Square
Esha Sunthankar is a rising senior pursuing a Bachelor of Arts in Psychology. During her time at the University of Maryland, she has served as the Alumni Marketing and Public Relations coordinator for a nonprofit organization on campus called Camp Kesem and is a member of Delta Epsilon Mu, a professional pre-health fraternity. In her free time, Esha likes to read, hike, and paint. 
This summer, Esha is very excited to be working with The Giving Square and will be supporting the overall programs and communications of the organization through co-leading and co-designing programs, research, and strategy development. 
Aishwarya Tare, The Civic Circle
Aishwarya Tare is a rising senior majoring in Information Science with a minor in Art History interested in human-computer interaction, design, and social entrepreneurship. As a UX/UI designer, she is excited to build user experiences for social good and to give voices to underrepresented and undermined groups in society through empathetic user research. She focuses on social issues such as equal access for education and for mental health resources and served as lead designer for Do Good Challenge finalist and venture-track winner Chat Health.  
This summer, she will be interning with The Civic Circle to make the curricula more interactive. She will design and code a website that is more intuitive for all the demographics that the organization reaches.
Jordyn Taylor, Noble Uprising
Jordyn Taylor is a sophomore Public Policy major with minors in Spanish and Human Development, and is passionate about education policy, social justice, and women's issues. She is also a part of the Honors Humanities program in the Honors College. In her free time, she is team leader with Maryland Mentor Corps, where she mentors Prince George's County elementary students in reading. She also serves as the vice president for Kappa Omega Alpha, UMD's public policy professional fraternity.
Jordyn will be interning with Noble Uprising working to empower women experiencing homelessness with skills training and job opportunities. She will be working in project development.
Kurt Turnier, Joe's Movement Emporium 
Kurt Turnier is a graduate of the Nonprofit Management & Leadership Graduate Certificate program. As a first generation American of Haitian descent and higher education practitioner, Kurt had witnessed the disparities between students from underserved communities and students from well resourced communities as it relates to workforce development. As he molds his experiences toward a career in philanthropy and nonprofit leadership, he strives to design and implement effective academic and career-based systems that provide all students with access to vital developmental resources. 
This summer, he will be serving as a Research and Development Assistant at Joe's Movement Emporium, where he will be responsible for research, planning, and implementing new programs and protocols into the organization and overseeing the development services.
Kay Weekes, Game Genius
Kay Weekes is a rising senior studying Psychology, with special interests in inner child healing and the BIPOC & LGBTQ+ communities. They are a member of the Mental Health Student Advisory Board, an advocate for CARE to Stop Violence and help support the COVID-19 vaccine clinic on campus. Although Kay doesn't know exactly what they want to do in the future, they plan to find a way to blend their passion for creativity and social justice to make a difference.
This summer, they will be working with Game Genius, a nonprofit that specializes in using play-based services to create social change. Kay will be doing graphic design and content creation, along with preparing for the annual fall District Hunt.
Zoe Weisberg, WETATi 
Zoe Weisberg is a rising junior majoring in Marketing and Public Policy. At UMD, she is involved as an Ambassador at the Do Good Institute, a Maryland Images Campus Tour Guide, Director of Outreach for The National Residence Hall Honorary, and a member of the Delta Phi Epsilon Sorority. She is very passionate about combining her interests in business and social innovation to help make lasting change. 
Zoe will be joining WETATi as an Impact Intern and is very excited to help develop WETATi's fundraising and marketing initiatives.
Ilan Weitzen, A. James and Alice B. Clark Foundation
Ilan Weitzen is an MPP Candidate and Graduate Teaching Assistant at the School of Public Policy.  His focus is on education policy analysis and believes that the best way to address systemic inequity is through innovative, data-driven solutions that expand access to high-quality educational programs. He previously worked for the City of Olympia, Washington, aiding in the development of anti-poverty initiatives and leading the 2020 Point-in-Time Homeless Count. Outside of work and grad school, Ilan enjoys traveling to experience new foods, baseball, and hiking with his dog, Charlie.
This summer, Ilan will be a Program Management and Design Intern at the A. James and Alice B. Clark Foundation, analyzing the effectiveness of onboarding resources and programming for the Clark Scholars and Maryland Promise programs.
Shavon White, Young Black & Giving Back Institute
Shavon White is a 2021 Nonprofit Management and Leadership Certificate graduate. Shavon is interested in nonprofit development and is incredibly passionate about increasing diversity and economic equity within fundraising and philanthropy. In addition to being a 2020-21 TIAA Fellow, she is among the first cohort of the Greater Washington Community Foundation's Emerging Leaders Impact Fund. 
This summer, she will be working with the Young Black & Giving Back Institute in support of Give 8/28 Day — the only day dedicated to fundraising for black-led and black-benefitting grassroots organizations.
Sara Wiatrak, Friends of White Oak
Sara Wiatrak is a junior pursuing a dual degree in Journalism and Government and Politics with a concentration in International Relations. She currently serves as president of the Multiracial Biracial Student Association, is a Government and Politics Teaching Assistant, and works for The Diamondback and the College of Behavioral and Social Sciences. She has previously interned with the legal watchdog Citizens for Responsibility and Ethics in Washington (CREW) and is an alumna of the Global Fellows Program. 
This summer, she will be interning with Friends of White Oak researching and drafting strategies for urban development and renewal.
Charissa Zhu, Court Appointed Special Advocate (CASA)/Prince George's County
Charissa Zhu is a rising senior pursuing a double major in Psychology and Family Science with a Global Poverty minor. She is planning to seek a master's in Social Work and become certified as a Licensed Clinical Social Worker upon graduating from UMD in Spring 2022. On campus, she is involved in Alpha Phi Omega, a national community service fraternity, and Terps Raising Pups, a local chapter of the Guide Dog Foundation. 
This summer, Charissa will be serving as an Impact Intern at Court Appointed Special Advocate (CASA)/Prince George's County, where she will be working to improve volunteer retention and prepare volunteers for their role as advocates for children and youth in foster care. 
Fatima Zia, Joe's Movement Emporium
Fatima Zia is currently pursuing graduate study as both a Clinical Master of Social Work Candidate and Master of Public Policy Candidate at The University of Maryland. Fatima is an experienced research assistant, clinical assistant, and community organizer with a demonstrated passion for increasing access to mental health resources in underserved communities. She has worked with various nonprofits to assist historically marginalized groups, including women and ethnic minorities. Fatima's overall interests include program evaluation, community intervention and outreach, advocacy, and direct clinical care.
This summer, Fatima will be working at Joe's Movement Emporium as a Social Work Intern, providing counseling and therapeutic support to under-resourced youth and families.